April is Upon Us  

Greetings to all readers,

No foolin' - it's April. While the calendar year starts in January, in Japan, just about everything else begins in April. The school year, the fiscal year, companies' hiring years, and more. And it all seems to be demarcated by the sakura.

Ah, the sakura: cherry blossoms. All eight gazillion of them blooming at once, their delicate pink canopy juxtaposed against the trees' dark bark or the blue sky beyond, creating subtle, irreplaceable beauty that is so short lived. As clichéd as their presence may seem, they really are gorgeous.

And viewing them creates wonderful opportunities for sitting beneath them and eating and drinking sake. Hana yori dango is what they say. "It ends up being more about eating and drinking than the actual blossoms."

May you enjoy the season you have upon you with the sake you have near you in peace and warmth.
Enjoy the newsletter,
John                         

Sake Today Issue #8 is Available!                 
Sake Today issue # 8 is out and available! It's hard to believe but this marks our 3rd year anniversary! This issue features an article on Ishikawa prefecture's diverse character of sake by Matsuzaki-sensei, as well as my feature on Nanbu Bijin. Co-founder Ry Beville writes about a start-up sake brewery in Boston called Dovetail Sake (whose toji used to make samurai swords in Japan!). For education, we have articles about the role and history of toji (master sake brewers) as well as understanding SMV (What's that? Read the issue). Our photographers Matt Gammon and Brian Kowalczyk went on the road a lot over the winter to bring us absolutely stunning photography (and an article on sake and food tourism in the Kansai region). And yes, all the scrumptious food-pairing photos are there as usual.

Subscriptions, single issues as well as packages (all back issues + subscription) are available from the website: www.sake-today.com.
Please direct all inquiries about subcriptions to info@sake-today.com .

Sake Confidential - Now available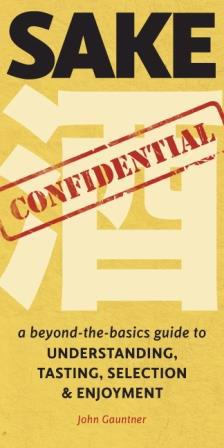 Interested in sake? Pick up a copy of my book! 
Sake Confidential is a beyond-the-basics guide to the sake world, and after a short introductory chapter on all things sake, it goes into depth on many topics not usually touched upon. It is a practical and concise yet complete guide to sake idiosyncrasies, misperceptions, and controversies presented in a conversational and informal tone. Easy to read and frank, it also includes sake recommendations tied into each of the topics presented.

Read a veritable cornucopia of reviews here a New York Times brief mention here, and order from your favorite bookseller here as well.

What is with all the hullaballoo?
Yamada Nishiki. One cannot tread far into the sake world without encountering the name of the most important sake rice in existence today. Yamada Nishiki.

It is the "king of sake rice," there is no challenger in sight. It is the best choice for top-grade sake for a handful of reasons, and it is as expensive as it deserves to be. Yet, while it is admittedly deserving of its reputation, it can be a bit "in your face" sometimes. Yamada this and Yamada that, yada yada yada. (Yamada yamada yamada?)

But, what is it, really? What is behind its fame and success? From whence did it come and when? What, f'gad's sake, is the big deal? I mean, it's rice, right?

Indeed, it is just one variety of sake rice, of which about one hundred exist
today. And it is the most grown sake rice, with about 1000 of the 1200 kura in Japan using at least some. But note, it is not by any stretch of the imagination the only game in town. There are plenty of other sake rice varieties that are interesting and lead to outstanding, deliciously enjoyable sake. The point of this article is not to worship Yamada Nishiki nor to idolize it, but to present some background as to what it is and why it is.

Taking a half-step back, let us recall that sake rice is as different from table rice as good wine grapes are from the fruit we buy at the grocery store. It is larger, has less fat and protein, and more starch which is centered in the grain, thus allowing the offending components to be more easily milled away and removed from the equation.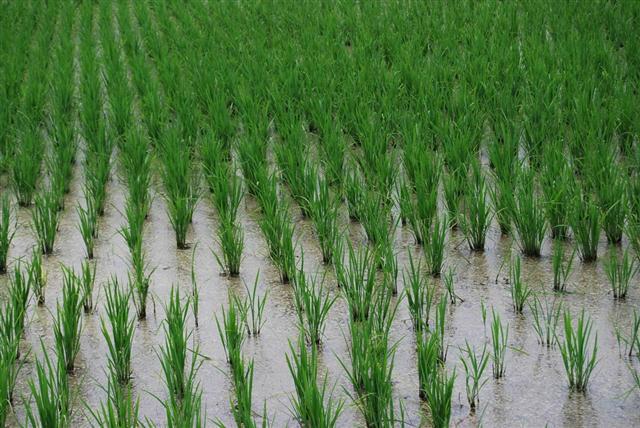 Most sake, in fact, is not made using sake rice. The 65 percent of the market that is non-premium (if enjoyable!) sake is made using much less expensive table rice, i.e. rice for eating. And much of that is perfectly enjoyable sake. Even some premium sake is also made with table rice; it is possible to make very decent sake from such rice.

However, the truth is that it is immensely easier to make good, tasty sake from proper sake rice. And not only is most premium sake is in fact made using sake rice, but in order to make great sake you must have great, proper sake rice. End of story. Full stop.

Furthermore, the better the sake rice the easier it is to make good sake, and great sake. Even within the realm of sake rice – and even within the realm of one variety of it – there are greater and lesser producers, harvests, regions, fields and grains.

Better might mean larger, more starch and in a manageable position and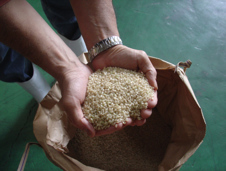 size in the grains, solubility that is just right, and more. Of course, price will vary with that quality, and the quality of the grains in even one single field will vary too. (They will be separated by size and other criteria, and a good or great field will have more great grains than a ho-hum or mediocre one.)

So wuzzup with Yamada Nishiki? Yes, it is big, even for sake rice. And it has an ideal-sized and centered starch center (known as a shimpaku, which means "white heart") enabling it to be easily milled so as to remove the fat and protein and leave the starch behind.

During fermentation it dissolves readily – but not too readily. It is harder to grow than regular rice, but not nearly as challenging as some other types of sake rice. And, of huge importance, it is predictable. Brewers know how it is going to behave – or at least, a bit more so than with other rice types. One reason for this is that it is so widely used that there is data out the wazoo.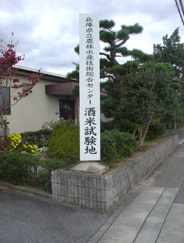 What does sake made with Yamada Nishiki taste like? It has breadth and depth, and flavor that billows into the expanses of one's palate. Much sake made with it has a wide range of flavors that somehow work together well, often with ideal levels of sweetness and umami. However, it is extremely important to remember that the range of flavors and aromas is massively wide, since in the end rice is only half the story. The way the brewer manipulates, directs and coaxes the rice through the production process is, as they say, "the rest of the story."

Just like any agricultural product, each variety of sake rice grows better in some regions than others, and has climates and soil types within which it thrives. Often these can be small and vary with just a short distance. And the best Yamada Nishiki undoubtedly comes from Hyogo Prefecture in western Japan, within which sits the city of Kobe.

Even within Hyogo there are regions, villages and even plots of land that yield superior Yamada Nishiki rice. And the two best villages in the region, country, world and Universe for Yamada Nishiki are Yokawa and Tojo. If you remember two place names related to top-notch Yamada, let it be those: Yokawa and Tojo. But as is always the case with sake, it's not that simple.

Yokawa is a township in the city of Miki in Hyogo Prefecture. However, Tojo

 no longer exists, at least not officially. (So, yes, you are being asked to remember the name of a place that no longer exists. Ain't sake fun?)

Tojo was a region that was annexed during a spate of consolidation of sparsely populated municipalities that took place in Japan a few years back. So now, what was the township of Tojo is currently the city of Kato. However, the Yamada Nishiki from Tojo was so damn good that it had branding power. So the growers of the region formerly known as Tojo banded together and registered "Tojo-grown Yamada Nishiki" as a registered trademark. So Tojo-grown Yamada Nishiki exists even if Tojo itself no longer does. Ain't sake fun?

Why does it grow best here? A veritable plethora of reasons! The soil is rich in minerals. The climate is perfect, and the Rokko mountain range to the south isolates the area just enough to make the difference between daytime and nighttime temperatures significant, which sake rice prefers since this climactic condition helps the starches accumulate in the center of the grain.

Yokawa-cho in particular is high in elevation, and the growers there use rice fields cut into the mountainside like a set of descending shelves, which lets the water flow down through the fields smoothly.



From whence did it come? Yamada Nishiki was created in 1936 as a crossbreed between two other rice strains, one being Yamadaho. This was also a great sake rice, but was too tall and lanky and frustratingly difficult to grow. So the prefectural agricultural research center at that time (which has since morphed into a broader organization but still exists in spirit) crossbred it with a shorter, sturdier sake rice called Tankan Wataribune. This made the progeny that became Yamada Nishiki more manageable and better in many ways.

Sake rice can be shipped all over the country, and brewers from northeast to southwest seek Hyogo-grown Yamada Nishiki for their top grades of sake. Not all, mind you, but many. However, Yamada Nishiki is also grown in many other places in Japan, some almost as well as Hyogo. In fact, 33 of Japan's 47 prefectures grow at least some Yamada Nishiki, although a full 60 percent of all grown comes from Hyogo.

Interestingly, though, Yamada Nishiki seeds have never officially left Hyogo

 Prefecture. This is significant because, in order to put a premium grade of sake on the label, a brewer must use rice that has passed a certain level of inspection. And in order to have rice inspected, the rice must be registered with the local authorities, and the seeds must also be sourced from a proper source. It is all a bit gray, sometimes even to sake producers.

So if the seeds never left Hyogo, how do other prefectures know that what they have is the real thing? And why do other prefectures recognize it? Hm. Not sure about that. Let's chalk that up to the mystique suffusing this venerable rice and sake in general.

Also, credit must be given to the largest sake brewers in the country, the current-mass producers of sake in the Nada region in Hyogo. It was they that drove the production of this standout rice from the start. When their technology began to help make decent sake with less expensive rice, Yamada Nishiki became more available to the rest of the sake industry. As is too often the case, their significant role may be unappreciated.

All of the above combines to create the legend, the reputation, and the mystique that surrounds and suffuses Yamada Nishiki. So next time you come across it – and that should not be long if you drink sake on anything remotely resembling a regular basis – bear in mind it is not just another rice. It's Yamada Nishiki.
The Merits of Smallness
Eschewing Growth for Enjoyment...
The 2015-2016 brewing season is drawing to a close. This month and next, most of the 1200 brewers in the country will be pressing their last batches and cleaning their tools, then closing shop until the fall of this year. As I look back at the kura I visited, one particularly interesting place sticks out in my mind.

In February I visited a brewer making a sake called Kirei, written with the characters for turtle and age. Tortoises live a long time, hence the auspicious connotations. It is a tiny company in Nagano called Okazaki Shouten, with the brewing being done by two people, the husband-and-wife team that own it. They do, in fact, have a little bit of part-time help along the way.

Obviously, they cannot make very much sake. In fact, it is a true micro-kura, with their yearly production being only 100 koku. A koku is a traditional unit equaling 180 liters, so that means they only make the equivalent of 10,000 large 1.8 liter bottles, or 2000 nine-liter cases.

There are hundreds of such small kura around Japan. Such places may barely eke out an existence, which is just fine by (at least some of) them. Their sake might range from "fair to middling" or it might be great like Kirei, and they may in fact have other sources of income. It doesn't matter. They love doing what they are doing. And that is all that matters.

However, in the case of Kirei, their smallness has not crimped their quality at
 all. Not. At. All. On the contrary, the reason they are so interesting is that last year their sake was the top sake in the government-sponsored tasting for the Kanto-Shinetsu region of Japan, which includes not only venerable Nagano but revered Niigata Prefecture as well. And Shinshu Kirei was tops. Wow. That is impressive.

But with such a small production, obviously there is not much of this sake to go around. Certainly the opportunity is there for them to expand, grow, develop, invest, hire – and all that stuff. Many would think they would ride this wave, and certainly they could. Some folks might think that any businessperson in his or her right mind would do so, right?

Sure. But sometimes it's not about that.

As Okazaki-san, husband-half of the dynamic duo, led me around the kura, the conversation naturally moved in that direction, and of his own accord he addressed the questions that he must get so often get asked. Why not make more sake? Why not grow, develop, expand?

"I dunno," he begins. "Sure, we could hire someone and increase our production at least a little bit. But the risk is for a company of our scale is huge. This new hire would then be a full one-third of our labor. Should something happen, we would immediately lose a huge chunk of our staff."

A

s we moved amongst the two rows of tanks of moromi (fermenting mash) they use in the small fermentation room, he continued.




"But it's not only that. If we were to hire people, I would necessarily need to go into management of our staff, and do other things related to maintaining and managing growth. While that is all perfectly valid and good work, it is not what I want to be doing day-to-day.


"In other words," he summed it up, "if we try to grow much, I will not be able to look after the moromi." So maybe he loses out on a chance for growth, but he's going to be happier doing what he loves, and that energy will get conveyed into his sake.

Very cool. They know what they want to be doing and are aware of the consequences of their choice to do that, as well as those of choosing something different – to grow. And they daily make a conscious and rational decision: they choose the merits of staying small.

I'll drink to that.

Note, there is also a brand Kirei in Saijo in Hiroshima. The brand name and characters are the same as the company introduced above, so to eschew confusion they often add the traditional name of Nagano Prefecture, Shinshu, to the name of this sake, i.e. Shinshu Kirei.

Note, too, their sake is light and young, with great balance and breadth rather than just impact, and perhaps more defined by banana and melon aromas than the wilder fragrances of many modern ginjo sake.
Announcements and Events

Sake Professional Course in Las Vegas

The next Sake Professional Course is scheduled for Las Vegas, Nevada in August. The precise dates have yet to be decided, but will likely be either the 8th to the 10th or the 15th to the 17th. For more information and/or to make a reservation, please send me an email to that purport. Also, when the date is finalize, i will send out a more agressive announcement. 


More information about the courses is available here, and testimonials from graduates can be perused here as well. The three-day courses wrap up with Sake Education Council supported testing for the Certified Sake Professional (CSP) certification. If you are interested in making a reservation for a future course, or if you have any questions not answered via the link above, by all means please feel free to contact me. 
 
                               ~~~~~~~~~~~~~~~~~~~~


Sake Education Council Website
Please take a moment to check out the website for the Sake Education Council, the organization behind the Certified Sake Professional and Advanced Sake Professional certifications. We plan to grow steadily, strongly and continually, and we will need the support of all those that love sake to do so. Follow us through the "usual suspects" of social media.

Don't forget the archives!


Older editions of this newsletter are archived

here

.
Sake Education Central


Sake's Hidden Stories and The Sake Notebook are now available for the Kindle, Nook and iBooks!
The Sake Notebook is now available for the Kindle as well as the Nook. And now, it is available for iBooks on iTunes as well!

Sake's Hidden Stories too is now availabe on the Kindle as well as the Nook. And now, it is available for iBooks on iTunes as well!

Both are less expensive than their original pdf version too. Now is your chance to learn more about sake from your phone or tablet! Check 'em out!
Sake Dictionary App for the iPhone, iPod and iPad

"For 99 cents, this app ROCKS!!"
     -a satisfied customer

There you are, perusing a menu, or standing in front of a shelf of great sake, or perhaps reading a sake newsletter… and up pops one of those hairy, pesky sake terms in Japanese. You know you have heard it many times, but dammit, you just cannot remember what it means now…
No problem! Just whip out your iPhone or iPod and fire up your trusty old version of The Sake Dictionary. In a matter of seconds, you'll be amongst the cognoscenti once again. But… if only you could pronounce it properly. Now that would really rock!
Done! Just tap on the term and you will hear a clear example of how to pronounce the term in Japanese. Repeat it a couple of times and the term is yours for eternity, to toss about and impress your mates.
What's more, it's less! Less than what it cost before, much less. Like less than one-seventh less. For a limited time only, the audio-enhanced version of The Sake Dictionary iPhone app is available for a mere $0.99.

The Sake Dictionary is a concise little package of all the terms you might ever come across when dealing with sake. Almost 200 of them - including sake grades, rice variety names, seasonal sake terms, special varieties, rare types, post-brewing processing words and the myriad terms used in sake production - many of which are not even familiar to the average Japanese person on the street - are listed up here with concise, useful and clear definitions and the written Japanese version as well. And now, with the new audio component, you can listen and learn just how to pronounce those terms properly.

Start to toss around Japanese sake terms like you were raised knowing them! Gain a level of familiarity hitherto unimaginable! Avoid frustrating paralysis when faced with a sake-related purchase!

Get your copy of The Sake Dictionary now and never be confused by sake terms - or how to pronounce them - again.

Get it here: http://itunes.com/apps/sakedictionary

(Note if you have already purchased it, this upgrade to the audio version is free. Just go to iTunes and get it!) 
Are you not getting this newsletter? I realize that is like asking that
"those not present please raise your hand," but for future reference, should you spontaneously stop receiving this newsletter, please go here and sign up again. Should that not work, please go to www.sake-world.com.

Email newsletter services are very careful not to be considered spam enablers, but the problem is that often very valid email addresses come back bounced as invalid. It is an unavoidable problem. So if you or someone you know is not getting this, or stop(s) receiving it inexplicably, please do take a moment to double check that you are still subscribed.

Sincere apologies for the hassle, mixed with gratitude for reading this newsletter.
I hope you have found the above information helpful and entertaining. For more information about all things sake, please check out

www.sake-world.com

. Until next month, warm regards, and enjoy your sake.


Questions and comments should be directed to John Gauntner, at this 
email address.

All material Copyright, John Gauntner & Sake World Inc.

Regards,
John Gauntner
Sake World, Inc.