Does some sake use more rice than other sake?
I recently received an email from a Japan-based reader that asked
about how much rice goes into a bottle of sake.
It read: "I am drinking a ginjo at 60% - it tastes fine, but watered down. (It was cheapish.) I am wondering how much (little) rice was used. I want a percentage stated on the label. My question: Is it possible to grind rice down to a low value to attract buyers, call it ginjo, and use less rice than usual? Any standards for this? Does ginjo use more rice than futsu?"
The short answer is that yes, some sake uses more rice than other sake, for sure. This is true, even though it is not how they measure it.
They (the sake-brewing industry) could, but it is not the angle that they take. Rather than talk about how much rice went into a bottle or batch, they speak of how much milling, how much post-fermentation dregs, added alcohol, and amino acid content. And not surprisingly, it is a deceivingly complex question.
To answer it properly, let us look at it a couple of ways. First off, when talking about how much rice goes into a bottle of sake, we need to specify brown (i.e. before milling) rice or white (i.e. after milling rice).
For example, take a ton of brown (unmilled, just harvested) rice. For cheap sake they might mill just 20% away, leaving 80% of the raw materials for the tanks. For daiginjo they might mill away 65%, leaving just 35% of the original raw materials for the same tanks. If the yields were the same for two given batches, then right then and there we see much more brown rice would be needed to make a one-ton batch if you end up milling more of it away before beginning. But that much should be fairly obvious. So let us look at after milling, i.e. the already-milled white rice that goes into a batch.
The next factor to consider is almost as obvious: is it a rice-only sake (junmai, junmai ginjo, or junmai daiginjo) or did they add alcohol to it (honjozo, ginjo, or daiginjo, or even a lowly futsu-shu)? When alcohol is added to sake, they do it at the end, stretching out yields. While that yield improvement is not the objective in
premium
sake, it nevertheless is real. So yes, if you are drinking a junmai style sake, if all other things were equal, they would have used much more rice in making it.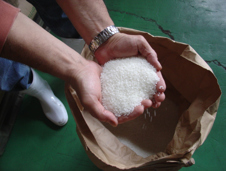 So, our friend's watered-down, cheapish ginjo may have been a non-junmai. This would indicate less rice was used.
A caveat is important here: this is not meant to imply that adding alcohol thins out flavor. It
might
. It
can
. But it does not
have to
. Too many other things affect flavor. Most significantly, it may just have been a regional or brewer-specific style.
Next on the list is: how fully did they ferment the rice that was used? In other words, a brewer can let or force a tank of fermenting mash go so long that they get every possible drop of alcohol that is physically possible out of the rice. Even within this point, there are several sub-points, but let us say they control starch to sugar conversion so as to maximize the amount of sugar from every grain of rice,
and
let the alcohol run up to 20%, whereupon the yeast throws in the towel and dies. The other end of the spectrum is sake in which not all the starch was even saccharified and/or the fermentation was curtailed at, say, 17% alcohol. Trust me, the latter will taste better. But it will call for much more rice to make a bottle of it. Even though that is not how they measure it.
How
do
they measure it? Most relevant to the above example, they weigh the dregs after brewing (kasu) and compare it to the weight of the original rice. The lighter the dregs, the more they got out of their rice, and the less rice they had to use to get it. And the heavier the dregs, the less they got out of their rice, and the more rice they had to use to get it.
Finally, there are other factors that affect the sensations of heaviness, richness, thickness and the lack thereof in a sake. For example, amino acids created by the koji, acids created by the yeast, and non fermentable touchy-feely-to-the-tongue sugars created by the enzymes from the koji can all add to the sense of thick or thin, heavy or light, clean or cloying, in a sake. So two sake with the same rice, same milling, and even same amount of dregs remaining can taste different in this aspect based on any or all of the above factors. It is not just the rice.
And just to be annoying and to complicate things more, maturation, pasteurization, filtration and half a dozen other "-ion" steps involved can have the same affect on the thick/thin heavy/light, rich/light, clean/cloying continuums. And these have nothing to do with the amount of rice used.
So back to the original questions as stated:
Is it possible to grind rice down to a low value to attract buyers, call it ginjo, and use less rice than usual?
Answer: Yes, it is. They can add more or less alcohol, or ferment the rice they choose to use more or less thoroughly.
Any standards for this?
Answer: No, no standards for this. But since they measure the same thing in other ways, none are really needed, methinks. That is why we cannot depend on the milling rate alone!
Does ginjo use more rice than futsu?
Answer: Hell, yes! No matter how you slice it, yes!
So yes, some sake does use more rice than other sake. And some ginjo uses more rice than other ginjo. But while this is true, there are many things that affect flavor and quality before this, and rather than measure how much rice goes into a bottle, there are a dozen other things (weight of the dregs, how far fermentation is allowed to proceed, compounds produced during fermentation) that they do look at and keep track of.
Like most things sake related, there is a simple short answer, and one that is much more deep and complex. And, like most sake itself, the only really factor worth measuring is the "
I-like-it-meter
" reading once you've tasted it. If that puppy is pegged, you're golden.