May Greetings to all readers,

As May and with it spring firmly ensconce themselves, the brewing season for this year is coming to a close. Few brewers have any sake remaining in fermentation tanks, and most of this season's brew is maturing a bit and waiting is turn.

I myself am on the road most of this month, hence the somewhat abridged newsletter. Enjoy it for its brevity!


Warm regards,
John Gauntner

Reading the Foam
Now, that's using your head!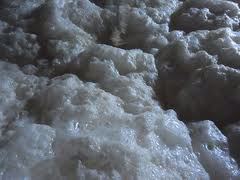 Long before the days of thermometers, hydrometers and barometers, brewers relied entirely on their senses to gauge the progress of a fermenting tank of sake. They might not have known the scientific causes, but experience and intuition told them how to interpret what they saw, tasted and smelled.

One of the most reliable of these empirical yardsticks -- one that is still used today -- is the appearance of foam on the top of the moromi (fermenting mash). Throughout the 18- to 35-day ferment, the foam will change appearance quite regularly -- and very clearly reflect what is taking place inside the tank. Over the centuries, names were given to the foam at each stage, making it easy to assess and convey the status of the work in progress.

After the yeast starter has been created, and after water, rice and koji have been added over four days, foam will begin to develop as the yeast cells process the sugars in the tank and give off carbon dioxide. This will rise to the surface, often dragging yeast cells with it. This is why the foam has 2 1/2 times as many yeast cells in it as the liquid beneath.

Two or three days into the ferment, small striations will appear on the surface, similar to taut muscle under skin; hence the term suji-awa (muscle foam). Next, a thick layer of soft foam will begin to cover the entire tank; this is known as mizu-awa (water foam).

The timing of these changes, of course, depends on myriad factors, such as how much the rice has been milled or the tank's temperature. But soon after this, the ferment will enter its most active stage, and foam will rise in great swaths, so that it looks like huge boulders tumbling over each other. This is known as iwa-awa (rock foam).

This continues into the highest stage of foam, known as taka-awa, when the bubbles themselves become very small and fine. This usually occurs around the 10th day or so, but there is great variation.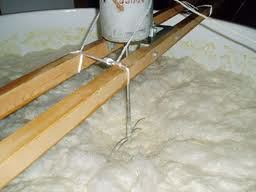 The foam rises so high that brewers usually use a simple rig consisting of a piece of wire that gently spins on a motor. Its sole purpose is to beat down the foam gradually, which spares them the need for high-walled tanks. It also aids in sanitation, as one of the greatest sources of sake-spoiling bacteria is foam that has dried on the tank's interior.

As the fermentation begins to wane, the foam too falls back, leading to the stage known as ochi-awa (falling foam). This segues into a stage with very large, soapy-looking bubbles known as tama-awa (ball foam).

After this foam also fades away, the moromi's surface is referred to as ji (ground). This stage has many sub-conditions with their own names. Small wrinkles in the surface are referred to as chiri-men (a type of rough cloth). A totally smooth surface is known as bozu, in reference to the shaved head of a priest. If rice solids that did not ferment have risen to the surface, it may look like a lid is on the moromi, and this is referred to as futa (lid).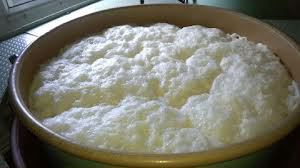 Much can be told about the quality of the sake at this stage from observing this surface. For example, if the lid is thick, it indicates that a significant amount of wild yeast ended up in the moromi and survived. This is because the rice fibers tend to attach themselves to many types of wild yeast and rise to the surface when pulled by the carbon dioxide molecules, giving that thick-lidded appearance. Brewers know, then, that a thick-lidded moromi in its final stages will often lead to a sake that is rough, acidic and less refined.

Naturally, today these observations are combined with chemical measurements, such as acidity, residual sugar and temperature, to create the precise and wonderful flavor profiles.

Note, there are yeast strains that do not foam up, which has several advantages, including permitting brewers to get higher yields out of their tanks, since they do not have to worry about leaving room for the rising foam. Let us look at these non-foaming yeasts in more depth next month.

Announcements and Events


Sake Professional Course

Dallas, Texas, August 8~10, 2013

The next Sakee Professional Course will take place August 8-10,
in conjunction with TEXSOM 2013 at the Four Seasons Resort and Club Dallas at Las Colinas in Irving, Texas

More about the seminar, its content and day-to-day schedule, can be found here.


The Sake Professional Course, with Sake Education Council-recognized Certified Sake Professional certification testing, is by far the most intensive, immersing, comprehensive sake educational program in existence. The three-day seminar leaves "no sake stone unturned."
The tuition for the course is $825. Feel free to contact me directly at sakeguy@gol.com with any questions about the course, or to make a reservation.
~~~~~~~~~~~~~~~~~~~~

Sake Education Council Website
Please take a moment to check out the website for the Sake Education Council, the organization behind the Certified Sake Professional and Advanced Sake Professional certifications. We plan to grow steadily, strongly and continually, and we will need the support of all those that love sake to do so. Follow us through the "usual suspects" of social media.


Sake Homebrewer's Online Store
Please be sure to check out Homebrewsake.com for supplies, information and a forum, including lots of supporting information on everything from recipes to history. I have been meaning to mention this site and the gentleman behind it, Will Auld, but have repeatedly forgotten in past newsletters. The site is replete with instruction, augmented with videos, schedules, and more. If you are even remotely interested check this site out right away.
Don't forget the archives!


Older editions of this newsletter are archived

here

.
Really

old editions are archived

here

.
Sake Education Central

Sake's Hidden Stories and The Sake Notebook are now available for the Kindle, Nook and iBooks!

The Sake Notebook is now available for the Kindle as well as the Nook. And now, it is available for iBooks on iTunes as well!

Sake's Hidden Stories too is now availabe on the Kindle as well as the Nook. And now, it is available for iBooks on iTunes as well!

Both are less expensive than their original pdf version too. Now is your chance to learn more about sake from your phone or tablet! Check 'em out!
Sake Dictionary App for the iPhone, iPod and iPad

"For 99 cents, this app ROCKS!!"
-a satisfied customer

There you are, perusing a menu, or standing in front of a shelf of great sake, or perhaps reading a sake newsletter… and up pops one of those hairy, pesky sake terms in Japanese. You know you have heard it many times, but dammit, you just cannot remember what it means now…
No problem! Just whip out your iPhone or iPod and fire up your trusty old version of The Sake Dictionary. In a matter of seconds, you'll be amongst the cognoscenti once again. But… if only you could pronounce it properly. Now that would really rock!
Done! Just tap on the term and you will hear a clear example of how to pronounce the term in Japanese. Repeat it a couple of times and the term is yours for eternity, to toss about and impress your mates.
What's more, it's less! Less than what it cost before, much less. Like less than one-seventh less. For a limited time only, the audio-enhanced version of The Sake Dictionary iPhone app is available for a mere $0.99.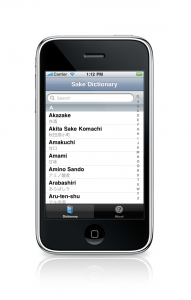 The Sake Dictionary is a concise little package of all the terms you might ever come across when dealing with sake. Almost 200 of them - including sake grades, rice variety names, seasonal sake terms, special varieties, rare types, post-brewing processing words and the myriad terms used in sake production - many of which are not even familiar to the average Japanese person on the street - are listed up here with concise, useful and clear definitions and the written Japanese version as well. And now, with the new audio component, you can listen and learn just how to pronounce those terms properly.

Start to toss around Japanese sake terms like you were raised knowing them! Gain a level of familiarity hitherto unimaginable! Avoid frustrating paralysis when faced with a sake-related purchase!

Get your copy of The Sake Dictionary now and never be confused by sake terms - or how to pronounce them - again.

Get it here: http://itunes.com/apps/sakedictionary

(Note if you have already purchased it, this upgrade to the audio version is free. Just go to iTunes and get it!)

Are you not getting this newsletter? I realize that is like asking that
"those not present please raise your hand," but for future reference, should you spontaneously stop receiving this newsletter, please go here and sign up again. Should that not work, please go to www.sake-world.com.

Email newsletter services are very careful not to be considered spam enablers, but the problem is that often very valid email addresses come back bounced as invalid. It is an unavoidable problem. So if you or someone you know is not getting this, or stop(s) receiving it inexplicably, please do take a moment to double check that you are still subscribed.

Sincere apologies for the hassle, mixed with gratitude for reading this newsletter.
I hope you have found the above information helpful and entertaining. For more information about all things sake, please check out www.sake-world.com. Until next month, warm regards, and enjoy your sake.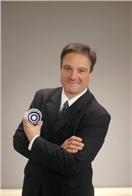 Questions and comments should be directed to John Gauntner, at this email address.



All material Copyright, John Gauntner & Sake World Inc.

Regards,

John Gauntner
Sake World, Inc

.