New Year's Greetings to all readers,
May 2015 be a great one for you... 
Greetings to all readers,
A Happy New Year to you all! May 2015 be blessed, happy and prosperous for us all.
Although I mention this every year, the traditional name for December in Japanese is Shiwasu, the characters of which mean "teacher" and "run," implying it is such a busy month that even the teacher is running around, as there is just too much to do to leave it all to subordinates. Well, my own shiwasu last month was so much running around that I did not get out a newsletter. I am sure you managed to enjoy good sake just the same, but please accept my apologies.
Please enjoy the new year in whatever heritage is yours, but at least enjoy it with some sake.
John Gauntner

Sake Confidential - Now available
Sake Confidential is a beyond-the-basics guide to the sake world, and after a short introductory chapter on all things sake, it goes into depth on many topics not usually touched upon. It is a practical and concise yet complete guide to sake idiosyncrasies, misperceptions, and controversies presented in a conversational and informal tone. Easy to read and frank, it also includes sake recommendations tied into each of the topics presented.
Read a veritable cornucopia of reviews here a New York Times brief mention here, and order from your favorite bookseller here as well. Enjoy it!


Sake Today Issue #3 - now available! 

Issue #3 of Sake Today has shipped, as those of you that are subscribers well know! If you have not yet subscribed, now is the time to do that. You can do that here, Like, now.
Like the first two issues, Issue #23 is chock-full of sake information on many levels with something for everyone interested in sake. Learn more about this issue's content here. You can order issue #1, issue #2, or all three - and subscribe.
The digital version for your e-reader is ready for download too, and that includes iTunes. You can also view some content online as well. So check out sake-today.com now - and keep current on all things sake.
Industry Snapshot: Good... or not?

'Tis hard to say...
Sake, it seems, is making a long awaited comeback in Japan. At least, in terms of visible attention and palpable interest in sake. There are many more events of recent that are well attended, and premium sake is more commonly seen at stores everywhere.
However, the numbers to support this are, for the most part, not quite there yet. Certainly a turnaround has begun. But in terms of actual economic reality, it may not be what many might think it is. And we have a ways to go before we know if any real momentum or critical mass have been achieved.
A recently run annual industry survey revealed some hardly surprising results.
Out of 1655 companies with licenses to brew, 1528 responded to a recent survey. Of those 1528, 844 (which is 55.2%) were "in the red or made less than ¥500,000 (about $6000)." But that is a 1.5% improvement over last year. 657 were totally in the red, which is again a 1.2% improvement over last year. Note, the number of producers dropped by 32 companies last year.
Overall production fell 3.3% and sake tax revenue fell 3.2%, but bafflingly, the operating profit of the industry in entirety was up 1173%! This, while hard to understand, is the bright spot of the data, and the one inkling that things are looking up.
This is made more complex by other sources, equally credible, that say the number of breweries has dropped to 1200 or so. That might mean "actively brewing," or "actively selling" since some might buy produce from other brewers and resell it. So the 300-odd kura disparity may be those that still have licenses but are not actively engaging in sake commerce. And that would make up the lion's share of those in the red.
Scales of operation: (1 kl would be about 5,555 1.8l bottles, or 13,887 720ml bottles.)
841 make less than 100kl, 49% of which were in the red
160 make 100 to 200 kl, 37% of which were in the red
71 make 200 to 300 kl, 16% of which were in the red
44 make 300 to 500 kl, 32% of which were in the red
35 make 500 to 1000 kl, 17% of which were in the red
20 make 1000 to 2000 kl, 20% of which were in the red
13 make 2000 to 5000 kl, 15% of which were in the red
14 (0.8% of the total) make more than 5000 kl, 29% of which were in the red
From the above: 0.8% of the breweries (the top 14) make 52% of all sake. Conversely, 94% of the industry, those that make less than 1000 kl, combine for only 23.9% of all sake made, with the remaining less-than-six percent of the breweries being midsized and making the remaining portion. As you can see, the industry is polarized.
The industry in total is working at 51% of capacity. In other words, they could make twice as much. The entire industry employs 19625 people.
So, outside of that little thing called operating profit, the numbers don't look all that good. However, without a doubt, sake is on peoples' minds and in their spans of attention. And that can only be a good thing.
The sake world, it seems, has many folds yet unfurled. 2015 holds great promise...
Rice Harvest - Yamada Nishiki plentiful!
Better than expected!
Sake rice supply is, for the first time in a handful of years, stable. More than stable, there may be a bit of a surplus, at least from some sources. While any surplus will work itself out (in other words,someone will end up buying that rice), bear in mind the dynamics and politics behind that are far too complex for a new-year's article on sake. But let's look at what is most interesting, relevant, and approachable for we sake fans.
As a quick if overly obvious review, sake is made from rice. While the 65% of the market that is run-of-the-mill sake is made from simple, less expensive, "table" rice, most (but not all) of the remaining premium sake is made from proper sake rice, which is different in many ways: it is bigger, harder to grow, has more starch yet less fat and protein, is eminently more mill-able, and is twice to thrice as expensive.
Overly long sentences notwithstanding, amongst good sake rice there are perhaps 100 varieties, all of which have their preferred regions and climates, and the tendencies when fermented. But easily, the most commonly used and the best sake rice by any metric would be Yamada Nishiki.
For a myriad of reasons, it has been in shortage these few years. Amongst that myriad include subsidies provided to farmers to grow less rice (based on demand estimates and to keep prices stable), cycles of nature, and a lack of communication between brewers and rice growers. It became quite severe these past couple of years, and some in the industry lamented it would take "until the Olympics" to get back to normal. (The Olympics will be in Tokyo in 2020, although I am not sure why that was used as a reference point!)
But alas, everyone cooperated. The government gave rice growers leeway to make more sake rice, the brewing industry conveyed their needs to a listening rice growing community, the byzantine rice distribution system's players worked some magic, and mother nature lent a hand as well.
So sake rice, in particular Yamada Nishiki, is stable this year. This fact alone will keep brewers from needing to use other good sake rice types, and that will keep supplies of those stable as well.
This, in the end, means more good ginjo for you and me. A couple of famous brands that depend on the supply of Yamada Nishiki will be easier to get. And the sake industry will be able to meet the need to make more in response to the recent rise in sake's popularity, both domestically and abroad.
Yippee!
But will it continue? Far too many dynamics are in play to know, but an observation based on several trends indicates yes. Sake rice, and therefore premium sake, should be in stable, growth-supporting supply for the foreseeable future. Yet one more reason to look forward to 2015.
Sake Professional Course in Japan 
January 26 to 30, 2015 -  only 3 seats remain!


This is it:  the most comprehensive sake course in existence. Three days of lectures covering the same content as the US-based courses, with tastings of upward of 100 sake, with evening meals accompanied by Japan's best stuff, followed by two full days of sake brewery visits. "No Sake Stone Remains Left Unturned" in this full-sake immersion program. Email me at sakeguy@gol.cm for more information and details

                                    ~~~~~~~~~~~~~~~~~~~~
Sake Professional Course Level II
with Advanced Sake Professional Certification Testing

Level II, the ASP course, is open to those that have successfully
completed the Level I CSP course. If you are one of those, and are interested in the Level II course, it runs from February 16 to 20, 2015. The content of Level II is more about developing your sake tasting skills. For more information, feel free to email me. 

                                     ~~~~~~~~~~~~~~~~~~~~


Sake Tours in Kyushu: Openings! 


There have been some last minute cancellations for the 2015 Sake Brewery Tours' Kyushu Tour and two spots are now open. So, to grab this great opportunity to join a fun, sake-centric cultural adventure, contact Etsuko at info@saketours.com.
We have two spots for the 2015 Kyushu Tour, February 2–6. This is the last year you can get a special subsidy from the Japan Sake and Shochu Makers Association.So, don't miss it!
The Kyushu Tour is a 5-day excursion into the world of sake brewing, drinking, and enjoyment featuring an exclusive seminar by John Gauntner.

The tour features sumptuous cuisine, quiet, luxurious, relaxing hot springs, and excursions to fantastic cultural highlights in areas seldom visited by foreigners. Kyushu, February 2 - 6, 2015 (Monday-Friday) Many think of the southern island, Kyushu, is the land of shochu.

Actually, Fukuoka where we visit four sake breweries, has always been a major sake region. The Kyushu tour is going to be for adventurous foodies, and it adds sake, nature, and a little bit of shochu to the mix.

We'll start by meeting sake brewers and rice growers, and end the day with sake pairings with the freshest fugu sashimi at your welcome dinner. Then we continue the quest with a shop-to-shop ramen crawl in Hakata, casual pop-up oyster BBQ by the port, and mysterious but tasty creatures from Ariake-kai Bay.

For refined palates, a taste of the best super premium gyokuro tea will be a real treat. On the final day, you will visit a cooking studio in Kumamoto where white smoke rise from the ground everywhere and steam your own vegetables in geothermal vents.

Later, you will have time to soak in open-air hot springs with a magnificent view of the mountains in Yufuin, Oita. Sake Breweries: Mori-no-Kura, Kitaya (2013 IWC Champion Sake), Wakatakeya, Niwa-no-Uguisu. Learn more here. 

The group size is limited to 14. E-mail Etsuko at info@saketours.com for more information.

                               ~~~~~~~~~~~~~~~~~~~~


Sake Education Council Website

Please take a moment to check out the website for the Sake Education Council, the organization behind the Certified Sake Professional and Advanced Sake Professional certifications. We plan to grow steadily, strongly and continually, and we will need the support of all those that love sake to do so. Follow us through the "usual suspects" of social media.

Don't forget the archives!


Older editions of this newsletter are archived

here

.
Sake Education Central

Sake's Hidden Stories and The Sake Notebook are now available for the Kindle, Nook and iBooks!

The Sake Notebook is now available for the Kindle as well as the Nook. And now, it is available for iBooks on iTunes as well!

Sake's Hidden Stories too is now availabe on the Kindle as well as the Nook. And now, it is available for iBooks on iTunes as well!

Both are less expensive than their original pdf version too. Now is your chance to learn more about sake from your phone or tablet! Check 'em out!
Sake Dictionary App for the iPhone, iPod and iPad

"For 99 cents, this app ROCKS!!"
     -a satisfied customer

There you are, perusing a menu, or standing in front of a shelf of great sake, or perhaps reading a sake newsletter… and up pops one of those hairy, pesky sake terms in Japanese. You know you have heard it many times, but dammit, you just cannot remember what it means now…
No problem! Just whip out your iPhone or iPod and fire up your trusty old version of The Sake Dictionary. In a matter of seconds, you'll be amongst the cognoscenti once again. But… if only you could pronounce it properly. Now that would really rock!
Done! Just tap on the term and you will hear a clear example of how to pronounce the term in Japanese. Repeat it a couple of times and the term is yours for eternity, to toss about and impress your mates.
What's more, it's less! Less than what it cost before, much less. Like less than one-seventh less. For a limited time only, the audio-enhanced version of The Sake Dictionary iPhone app is available for a mere $0.99.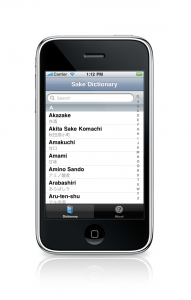 The Sake Dictionary is a concise little package of all the terms you might ever come across when dealing with sake. Almost 200 of them - including sake grades, rice variety names, seasonal sake terms, special varieties, rare types, post-brewing processing words and the myriad terms used in sake production - many of which are not even familiar to the average Japanese person on the street - are listed up here with concise, useful and clear definitions and the written Japanese version as well. And now, with the new audio component, you can listen and learn just how to pronounce those terms properly.

Start to toss around Japanese sake terms like you were raised knowing them! Gain a level of familiarity hitherto unimaginable! Avoid frustrating paralysis when faced with a sake-related purchase!

Get your copy of The Sake Dictionary now and never be confused by sake terms - or how to pronounce them - again.

Get it here: http://itunes.com/apps/sakedictionary

(Note if you have already purchased it, this upgrade to the audio version is free. Just go to iTunes and get it!) 

Are you not getting this newsletter? I realize that is like asking that
"those not present please raise your hand," but for future reference, should you spontaneously stop receiving this newsletter, please go here and sign up again. Should that not work, please go to www.sake-world.com.

Email newsletter services are very careful not to be considered spam enablers, but the problem is that often very valid email addresses come back bounced as invalid. It is an unavoidable problem. So if you or someone you know is not getting this, or stop(s) receiving it inexplicably, please do take a moment to double check that you are still subscribed.

Sincere apologies for the hassle, mixed with gratitude for reading this newsletter.
I hope you have found the above information helpful and entertaining. For more information about all things sake, please check out

www.sake-world.com

. Until next month, warm regards, and enjoy your sake.


Questions and comments should be directed to John Gauntner, at this 
email address.

All material Copyright, John Gauntner & Sake World Inc.

Regards,
John Gauntner
Sake World, Inc.