New Teachers & Workshops Enhance our Summer Class & Workshop Schedule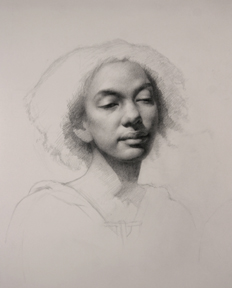 "Pigeon" by Joshua Langstaff
I'm always trying to find high caliber artists who also love teaching and I have scored! Joshua Langstaff has agreed to come teach the atelier methods he learned under the tutelage of Juliet Aristides in her acclaimed Classical Atelier at the Gage Academy of Art in Seattle. He has studied with other master representational painters including Anthony Ryder, Michael Grimaldi and Steven Assael. He was also a member of Jacob Collins' Hudson River Fellowship for its first two years. In 2009, Joshua was named one of "21 Under 31, Artists to Collect Now" by Southwest Art Magazine. His work has been featured in The Artist's Magazine and in several art instructional books including: Lessons in Classical Drawing: Essential Techniques from Inside the Atelier by his former teacher Juliette Aristides. One of his sketches is currently featured on Utrecht Art Supplies drawing pencil sets. This summer he is teaching Analytical Drawing (SA 14) and Classical Figure Drawing (SA 15) on Tuesdays. We both thought this would be the best way to start since drawing is so fundamental to all of the representational arts. This Fall he will come and teach the atelier methods of painting.
One of my favorite local painters, Amy Brnger, has agreed to teach a Tuesday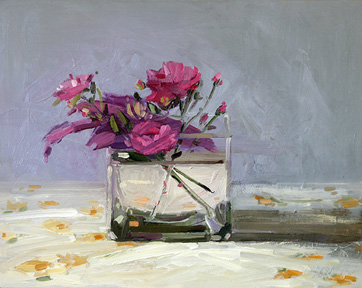 "Roses & Clematis" by Amy Brnger
Flower Painting in Oil
(SA 9) class. I've seen her work for years at Nahcotta in Portsmouth and am always drawn to her painterly renditions of still lifes- especially her flower paintings which are radiant, fresh and lively. What a treat to have her show us all how to painted rapidly, in an effort to capture the changing nature of organic forms. Alan Ammann offers two new classes- Floral Still Life in Oil (SA 11), and Basic Oil Painting (SA 10) as well as his Portrait Painting in Oil (SA 12). Alan is a teacher who inspires and instructs with insight and intelligence, creating an encouraging environment for painterly explorations.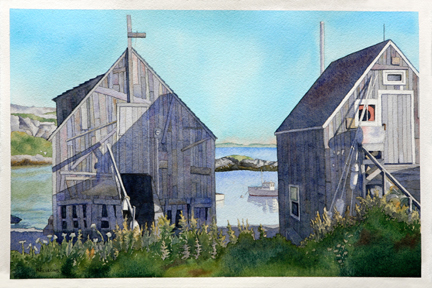 "Fishing Shack" by Ken Fellows
Ken Fellows has kindly agreed to come teach a 4 week Landscape in Watercolor (SA 6) class- a plein air class to explore painting scenic vistas with a focus on capturing light, rendering shadows, and contrasting the geometric order of architecture with the randomness of surrounding nature. An academic physician (in radiology) at Harvard and the University of Pennsylvania Medical Schools, Ken has had a lot of teaching experience and has been diligently studying watercolor painting with Dewitt Hardy (who is teaching a 6 day Watercolor Landscape: Painting Sea & Sky (SA 2) workshop, June 17 – 22. Ken has just gotten so good, impressing me with the stellar quality of his work.
Sculptor Lauren Dow, one of the proprietors of Green Foundry here at Sanctuary Arts is offering a Social Media for Self- Promotion class (SA 25) Tuesday evenings. Lauren is so adept at keeping everyone up-to-date with foundry and personal news and has decided to share her expertise. Kim Ferreira, former proprietor of Three Graces Gallery, is offering Build a Website in Wordpress (SA 26) on Wednesday evenings, as well as her awesome Adobe Photoshop, The Basics class (SA 27) class, meeting Thursday afternoons. I've just finished taking her Adobe Photoshop class and it was very informative. While I still need lots of practice, at least I now know what is possible. Kim is a very patient and kind teacher- perfect for those of us who did not grow up in the computer generation. Her website class should be just the ticket for artists who want a website but can't afford a professionally created one, or for those who want to manage and update their own content.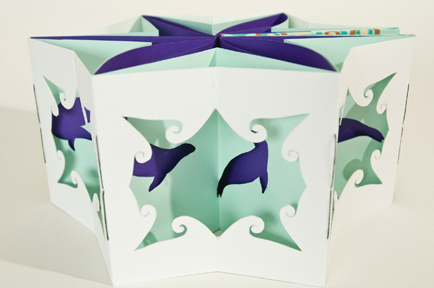 "Star Seal" by Johanna Finnegan Topitzer
Book artist Johanna Finnegan-Topitzer is returning after a hiatus to bring two workshops- Flag Book (SA 22) and Carousel Book (SA 23). She and her husband, Jeremy, were recently awarded a residency for August 2013 at the Grand Canyon National Park to create sculptural books of the Grand Canyon.
And this is just a taste of what is available this Summer. Peruse and enjoy our catalog on line at www.samctuaryarts.org and come enrich your lives with learning a wide variety of art forms from very talented professionals.
.