Christopher Pothier - Encore Act This Summer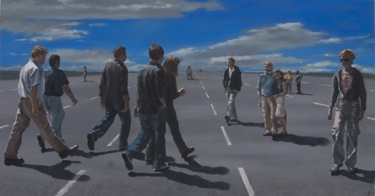 The Road by Christopher Pothier
Sanctuary Arts is pleased to announce that Christopher Pothier is returning this summer to teach two classes; Still Life Painting in Oil and Painting the Figure in the Garden and Studio. I study painting with Chris whenever I can, learning a great deal from his teaching methods and thoroughly enjoy his infectious sense of humor.
Christopher came about becoming a painter indirectly. His family wanted their kids to do really well in school, and let them explore their own interests. Although they knew nothing about art, they were very encouraging, positive and supportive. He wanted to be a scientist as a young kid and as he grew older, got more involved in the study of philosophy and architecture. A very visual person whose brain teamed with images, he realized he needed to express himself visually and began drawing and painting on his own.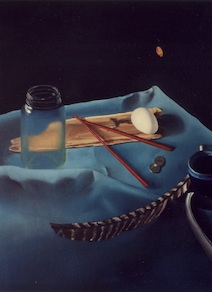 Still Life by Christopher Pothier

Dropping out of college for a couple of years, he studied drawing, took a couple of continuing education courses, and immersed himself in art. Returning to U Mass Amherst, Chris was fortunate to find a mentor- realist painter William Patterson (represented by Sherry French Gallery)- who taught him all the technical stuff. Under his one-on-one tutelage, Chris painted reproductions of Renaissance paintings from museums and books, learned to work with color juxtaposition and organize and correct mistakes. He feels he owes so much to Patterson, who was the only representational instructor at that mostly conceptual school.

I asked Chris about his transition from student to professional artist, a
Self Anguish by Christopher Pothier

transition that can be extremely daunting. Chris attributes his success in his artistic path to his arrogant and stubborn nature. He thought he could do anything better than any boss and, after working a year in construction and painting houses in Boston, decided he needed to be self employed. Knowing a lot of Irish guys who owned pubs, Chris began teaching himself to do decorative finishes and murals, while doing commissioned and personal paintings on the side. His mural business lasted 12 http://years, allowing him to develop his personal work, painting for himself without worrying what anyone thought. As the economy deteriorated, his mural work dwindled and he went to his studio just to paint. He was fortunate to find markets to sell his work, especially Bowersock Gallery in Provincetown, who really appreciate his work. Chris has also taught part time for the last 6 years, enjoying the social aspects of teaching and mentoring others.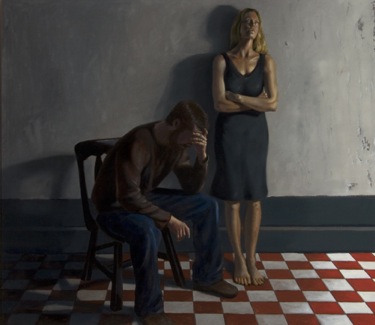 The Married Couple by Christopher Pothier
I quizzed Chris about his personal work. He doesn't like to be pigeonholed, using the figure in many ways; single or in multiples, in low lit interiors or outside scenes with many figures, expressing emotion and creative narratives that are open to interpretation. Many of his paintings come from dreams or thoughts, especially his work with multiple figures. In his more intimate work, he uses his own and his wife's figures, not as portraits, but as symbols for serious subjects. His still life paintings portray objects that are part of his personal collection, examined from different perspectives and angles.
He enjoys creating a weird narrative, sometimes organizing objects according to constellations. While his figure work comes from a combination of observing life and working with photographs, his still life painting are completely painted from observation.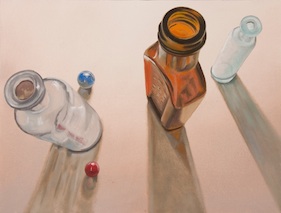 Old Bottles and Marbles by Christopher Pothier
Chris is a workaholic, spending 8 – 10 hours a day in his studio. Working alone since he was 26 years old, he enjoys researching and creating a painting, appreciating the solitude his studio life provides, in contrast to the chaos of a home life with three young children. Chris enjoys the social aspects of teaching and is generous with his knowledge. As a painter, he is an avid observer of the human condition and as a teacher, an excellent purveyor of the technical and philosophical aspects of painting.