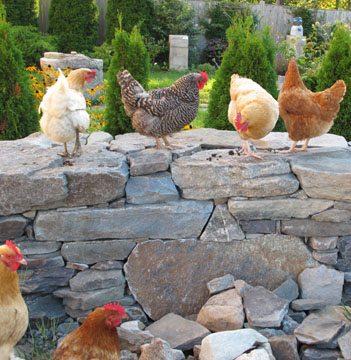 Chickens Admiring our New Wall
Learn to build a dry stone wall!

Learn a bit of the history of stone walls and our New England Heritage in this four day workshop with a master stone wall artisan and sculptor Steven Carpenter. The first class will journey to local sites to view Steven's designed and built stone work and review the necessary tools for the construction of a dry stone wall. Learn how to set stone, without mortar, from the base stone to the capping stone. In the process you will be taught to safely move stones from small to large, become familiar with the hammer and chisel for cutting stone, and train your eye to recognize and understand how shapes and textures of stone can come together to create a work of art. (SA 25)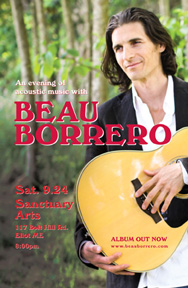 CD Release Party!
Save the Date- Saturday September 24 at 8:00 pm.
FREE
Beau is a good friend of my son Aaron. I've been listening to his new CD and am so impressed. Please come join me to celebrate Beau's CD release tour.




Getting Back to Basics with "Old Favorites"


Trolley Trestle by Dewitt Hardy




I've been ruminating about my "old favorites", the classes and teachers I don't usually mention because they are the backbone of this school- the ones that has been offered at Sanctuary Arts "forever" (12 years). Dewitt Hardy (visit www.dewitthardy.com) has taught here since the early years, offering his crusty wisdom in sound bites. Arguably the most respected watercolorist in this seacoast area, Dewitt is a real working ARTIST, painting on site and in the studio, frequenting and organizing life drawing sessions, and passing on his accumulated studio practices to fortunate students. Dewitt is a step by step teacher, teaching the fundamental techniques of watercolor in a way that is easily understood and practiced. I've taken many of his classes and am always impressed with his professional approach to inoculating students with his technical view point. (SA 5 & SA 6)





Citron Limon by Caroll Ann Morley

Carol Ann Morley

is another instructor

who sets the standard for excellent artistry and teaching. In all my many years of schooling, I have not had a better drawing instructor. In fact, she is the first drawing teacher I've ever had who actually teaches very technical aspects of drawing in a clear, measured waythat covers all the traditions of good draftsmanship. As a sculptor, I have avoided actually learning to draw, until recently, and am finding it a rewarding exercise in learning to see and represent what I see with a variety of materials and techniques. Carol is a patient and excellent guide on my path towards

learning to draw.

(SA 7 & SA 12)


Sean Beavers

(

www.seanbeavers.com

) has taught, been a housemate and rented a studio here at Sanctuary Arts and has been a pleasure to get to know. A soft spoken, very knowledgeable, kind and diplomatic oil painting teacher, students hang on his every word.

Unwrapped by Sean Beavers

He is a teacher of the highest caliber, teaching everyone from beginners to more advanced students with a quiet intelligence

and dignity. I have never seen him put a student down.

He knows how

to guide a student from whatever level they are at towards achieving more than they have thought possible. I have been slogging my way through so many of his color charts, learning how to mix color, blend and soften edges, work with light, shadow and atmospheric perspective. The more I learn, the more I see there is to learn. My favorite part of class is "story time" where we sit around him in a circle as he shows us a particular artist's work that demonstrates the lesson for that day. He is a treasure of a teacher. His work can be seen at Arcadia Gallery in NY, Quidley & Company in Nantucket and Boston.

(SA 11)

Bracelet by Alice Carroll

Alice Carroll

is one of those

instructors whose students keep on coming back. A jewelry and metals teacher, she is organized and has an ability to work with students with diverse levels of competence. Her very technical classes require lots of patience and hand holding until students acquire the skills to create their ideas. I've co-taught with Alice and find her to be that rare combination of knowledgeable and personable,

with the ability to clearly teach a highly technical class without loosing her "cool" as students attempt to solder, saw, cast, rivet, etc. The industrious sounds of hammering and sawing and the laughter that accompanies those endeavors is a jo

y to hear.

(SA 24 A & B)


Brooch by Alice Carroll