Iron Pour!
This month I am writing to introduce you to Lauren Holmgren and Josh Dow, the principles in Green Foundry who are offering
Driftwood & Lace: Organic to Bronze (SA 17)
. They enjoy teaching, and besides their classes at Sanctuary Arts, have taught at the New England School of Metalwork in Auburn Maine, Haystack, Bristol Community College, and Saugus Iron Works.
Classes with Josh and Lauren are small, since casting is complex, with a diverse group of people, from lobstermen to dentists, enrolling to learn this technical and alchemical process. Driftwood & Lace is a class offering a direct burnout process for anything organic to become bronze. Students have cast mice in traps, lobster claws, avocados, birds, fruit, tree branches and vines, from ceramic shell molds that are fired, the debris removed, and bronze poured into the mold, creating exact replicas in bronze.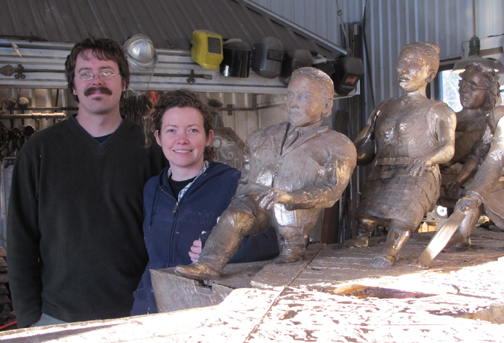 Josh & Lauren with Crosswalk by Ernest Montenegro


I've known Lauren and Josh since they wandered by 6 years ago when I was erecting a steel foundry building (on the theory "if you build it they will come"). They insisted they were going to run the foundry once they finished college at Mass Art, and proceeded to do so, teaching classes in foundry processes and casting my work in bronze and the work of so many students and professional sculptors. I have watched them grow from foundry novices to accomplished metal casters, always improving their knowledge and techniques. They became part of our communal household and even held their wedding here this past June. They have enriched the fabric of life at Sanctuary Arts, raising chickens and honey bees and being bossed around by their cat George.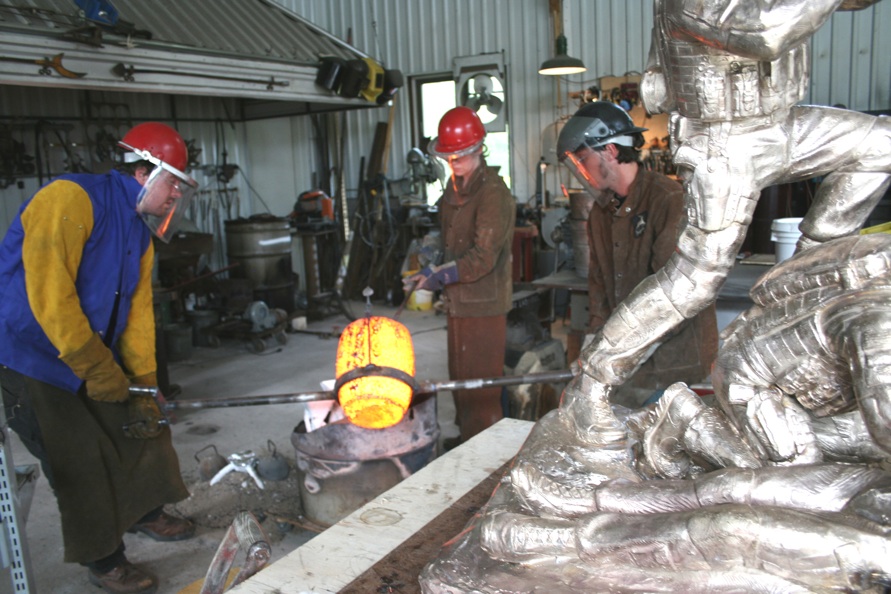 Josh and Lauren w/part of sculpture by Jeff Buccacio


As professional metal casters, every project this duo undertake is unique. From working artistically through collaboration as co-designers, to casting completed sculpture, they seldom work on the same thing twice. Molten metal is the jewel of the foundry, a mesmerizing, beautiful, magical process that transforms clay, wax, or even lace and driftwood to bronze, iron, or aluminum.


Recently they have been collaborating with a small foundry to cast objects in steel, stainless steel and copper. Their gratification comes from seeing the original sculpted piece that the artist has spent so much time, effort and material on, become a finished product that looks like a new sculpture. Often the artist is surprised to see the beauty of their finished product. From the original piece to the finished metal is a complex process that the artist rarely understands until their piece makes that transformative journey.


Green Foundry processes are environmentally friendly, limiting the use of synthetics, and boiling out the wax rather than burning it out. This saves all the wax and does not pollute the environment.
Iron Guild at Mac Steel, August 2010
Creatively, Lauren and Josh are co-founders of a
performance iron casting group
begun in their college years at Mass Art. They travel around New England putting on night time molten iron spectacles for the public. One performance I saw this year at Mac Steel, a 100 year old scrapyard spanning 80 acres in Rutland Vermont. Using scrap metal from the yard, they built a large scale set and sculptures which they anointed with fire, simulated lightening and molten iron, while musicians played.
It's a spectacle and performance that I will never forget. As a traditional sculptor, I am usually skeptical about the merits of performance art, but they have converted me with their exceptional prowess and creativity. They also perform yearly at the
Steelyard
in Providence Rhode Island.
http://ironguild.net
When asked about their future plans, both Josh and Lauren say they would like to continue to maintain a viable business with customer satisfaction as their main goal, but would also like to focus some energy on their own creative projects and perhaps entice more artists to cast in iron.