Gail Sauter- Artist & Creativity Coach Extraordinaire!

Gail Sauter's Oil Painting Boot Camp (SA 15) is designed as the class she wishes she could have taken as a young artist- combining a mix of drill sergeant, motivational speaker, confidence builder, and creativity coach.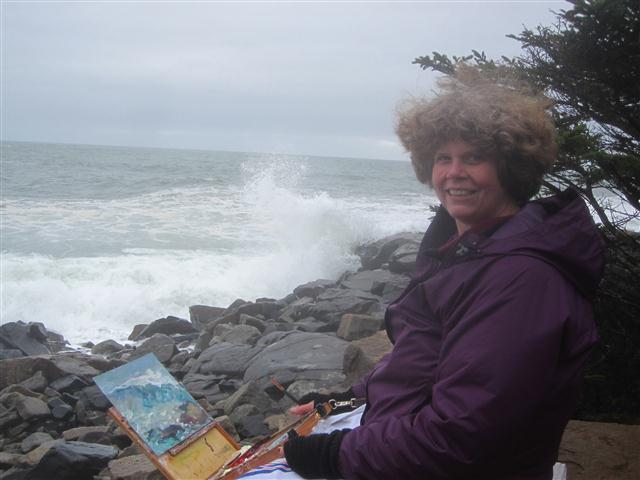 Gail Sauter at Work
Her critiques are, first of all, kind, but with an emphasis on getting each student to reach into themselves. She feels that technique should serve the intention of the painter and that it is more important to express your message with power than it is to accurately report on what is in front of you. Style develops through the process of learning to paint and it is in our individual painting strengths and weaknesses that we flavor our paintings and present our viewpoint. She feels that her job as instructor is to help students get out of their own way by encouraging them to identify their personal painting quirks, to value them, and to paint the paintings that are inside of them by growing those quirks and building on them.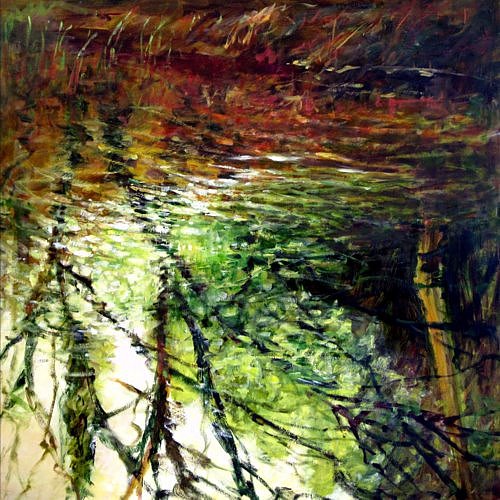 "Gail's classes have led me to search confidently, trying new methods and techniques in order to find my own personal voice. Our weekly class discussion, based on Master artists, personal experience and reflection on my goals, has given me a solid base and encouragement to explore and discover my strengths. Hands on class painting has opened new avenues to seeing and seeking solutions in my own avenue of creating." (Judy Andrews, artist, creator of our wonderful sculpture gardens and long time student at Sanctuary Arts)
Gail has always known she would be an artist. Her mother is a musician and her father a photographer. She grew up drawing while her mother practiced, and got her first camera at age 5. They were living in Japan and Gail has vivid memories of taking photographs of the countryside and people. Living in different cultures and in many parts of the United States has given her an insight into the universality of people around the world. This is an important thrust of her work today and she travels extensively to paint on location. She feels it is important that artists reach out and connect one with another and share our sameness while we celebrate our differences. Painting is her vehicle for expressing those deep connections and speaking a universal language across cultures.
Friends have been talking about Malcolm Gladwell's book "Outliers" which says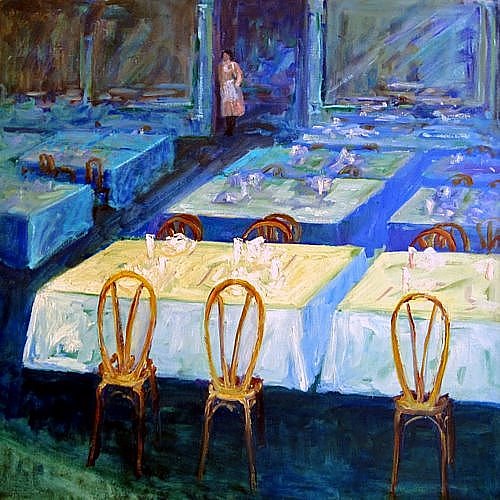 All Ready
success in a profession is the result of hard work- 10 years of endeavor before becoming "successful". It is intriguing that Gail, in order to express herself more strongly, has worked with three major mediums in the past 30 years (10 years in watercolors led to 10 years working with pastels which led to 10 years working in oils). Each move to another medium has been prompted by her need to grow and express her vision in new ways. Each medium has brought with it its inherent strengths and weaknesses—the transparency of watercolor, the opacity of pastels and the endless combinations of both in oils. She has learned from each and is synthesizing her experiences in all of them in her current work.
Below is an excerpt from Maine Art Scene online magazine, Dec 19; Maine Painter: Interview with Gail Sauter by Brenda Bonneville
Do you have a subject matter that defines you as an artist?
I'm intrigued with memories—not the depiction of what I'm seeing, but the after image that stays in my mind's eye. It's what we remember and what we carry with us. It can be someone that reminds me of someone else, someone doing something I've seen before, archetypal relationships, landscapes that evoke a mood—anything that conveys a universal truth.
I am in the studio essentially all day long, every day of the week…except when I'm not. Most of my paintings are begun on location, but my "sketching" is done by looking at my subject. This can take as long as 45 minutes of direct observation before I begin to paint. I feel that this can be the most crucial time of the whole painting process. The longer I look before beginning to paint, the clearer the idea for my painting becomes. Although they are small (generally 10x10), my field pieces are fully realized paintings and not quick studies. From those smaller paintings, larger works are created in the studio, oftentimes bearing only a slight resemblance to the original "seed" idea.
Whether you are a stale old-timer, a newcomer wanna-be, or in a mid-career muddle, a class with Gail Sauter can shake you up- in a very good way.
You can see more of Gail's work and visit her website at: www.GailSauter.com