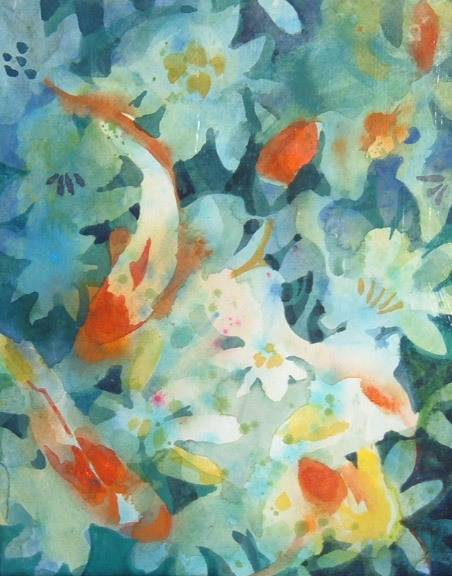 Dustan Knight, who is teaching Floral Painting and Drawing for Teens this semester, is a very active, hard working career painter with 3 upcoming shows in the works. In June she shows at Art Stream Gallery in Rochester with new work. In July she is represented with her watercolors in a 2 person show at Bowersock Gallery in Provincetown MA, and in August she has a watercolor exhibit at Three Graces Gallery in Portsmouth NH.
Dustan was nice enough to come by for a cup of tea and talk to me about her education, inspiration, teaching, and her career and relationship with galleries.
Dustan Knight, one of the best educated artists I know, has acquired an illustrious education; Philips Exeter Academy, Duke University with dual majors in Fine Arts and English, Pratt with dual majors in Art History and Studio Painting, and Boston University with her Masters in Art History. As a result of the world of information she has acquired, she can speak eloquently about art- any kind- for as long as you listen. She is also a bit of a performer and is very comfortable in the classroom. After years of teaching at the New Hampshire Institute of Art and other liberal and art colleges she now prefers teaching workshops and more innovative classes. Her teaching goal - to make students excited enough about art they will keep creating their work long after the class has ended. While demanding at certain levels, and wanting to see her students improve, she feels painting should be fun and that anything can be an inspiration. Dustan is adamant about the necessity of keeping art in the schools and feels that the future will be owned by the artistically inclined.
CHOOSING A GALLERY
I asked Dustan how she goes about choosing a gallery. She looks for a generous, reciprocal relationship and acknowledgement that the gallery and the artist are on the same team with the same objectives. She appreciates a gallery that has confidence in her and also has patience with her since creativity is not always on tap. Besides her excellent relationships with Three Graces Gallery and the Bowersock Gallery, she exhibits with Art 3 in Manchester. She tries to approach these business relationships as professionally as possible.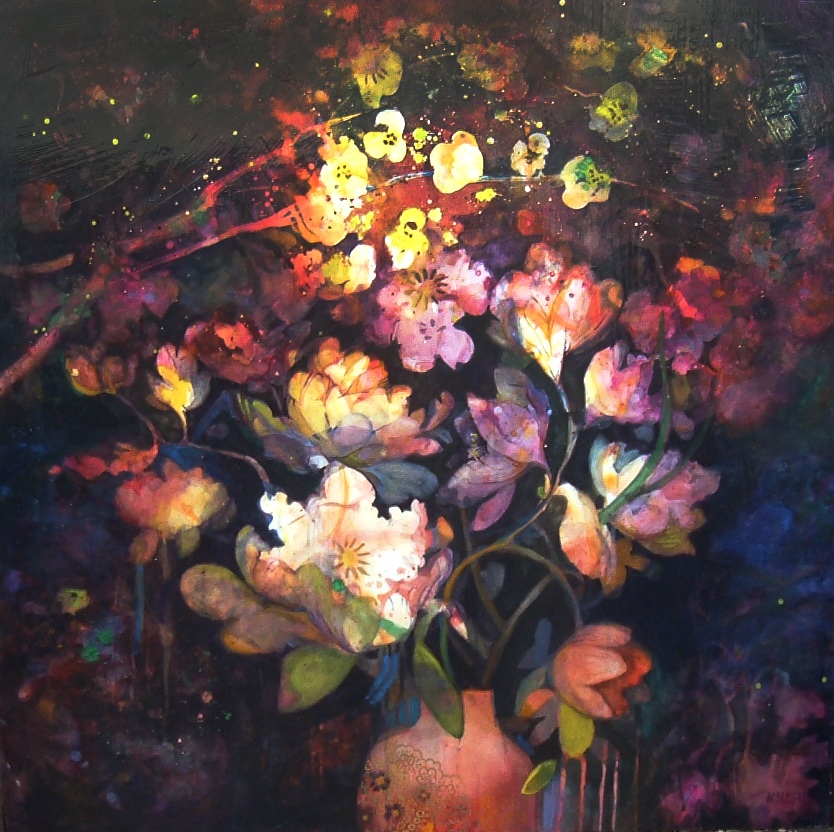 PAINTING TRANSITIONS
I was curious about the subject and medium transitions I have seen with Dustan's work over the years of our acquaintance. She's a painter who has expressed herself in a number of voices, mediums, and styles. Her artistic sensibility was influenced by her post graduate years in NYC when the Expressionist movement reined with the belief that art should be a passionate statement from the artist's innermost self. Her early work was very large, dark, and abstract and expressive with literary influences that included the Existentialists like Samuel Beckett and T.S. Eliot. Her work, viewed through a romantic perception of life, was exquisitely gloomy, depicting lost, tragic images of modern man. When she left the city. moved back to NH, got married and had children she landed squarely in her present. She cast aside doubt and began acting intentionally. "Unlike existential man, afraid to act because of consequences, a woman with dependents realizes it is not fair to be self indulgent and needs to step up to the plate, clean up the cat poop, and do the dishes", says Dustan. Being freed from that paralyzed, existential state allowed her work to become joyful as expressed in her large, vibrant watercolors.
The artist's choice of watercolor as her primary medium is surprising for such intellectual expressive thinker. She has had to invent her own techniques. Because watercolor is often not taken as seriously as works on canvas, she researched ways to laminate watercolors to panels, applying acrylic medium to protect the surfaces. This innovative technique allows her pieces to be presented without that protective, obfuscating layer of glass, so her paintings can go very big and have a large presence. Her process makes the medium less obtrusive allowing her to focus on image, color design and movement.
Dustan's inspiration and artistic challenge come from many sources. She is thrilled to be taking an Ikebana (Japanese flower arranging) class. Large commissions for public spaces such as her recently completed percent for arts at Manchester Community Colleges Library challenge her to try new mediums and even larger formats. Dustan says she thought she was an intimate painter, but now finds great reward in being able to affect anonymous populations with commissioned art work. Hospitals especially interest her as providing an honorable way to help a vulnerable audience through the external stimulus of art.
Currently Dustan is writing a textbook geared towards teaching teachers to teach watercolor, and hopefully setting standards for good teaching methods. She is also in the early stages of establishing a New Hampshire Watercolor Society as an online resource for New England.