March Art Starts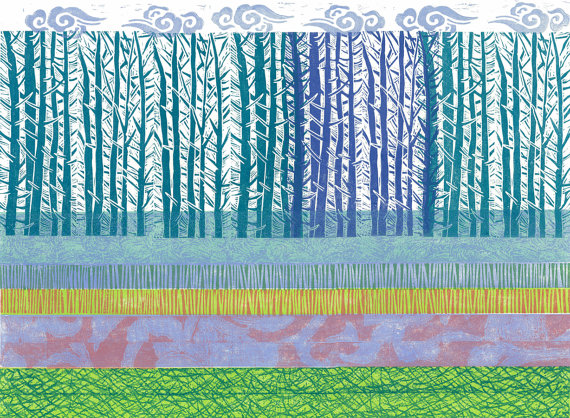 Violet & Turquoise by Shane Chick
There are a plethora of classes to choose from that begin in March. Shane Chick's Wood Block Card Making Workshop (SA 7) runs for 3 Saturdays, 11 - 2 beginning March 2nd. Students will learn the art of designing, carving and printing from woodblocks. Shane will simplify the process so you can end with gorgeous cards and the knowledge to reproduce the technique.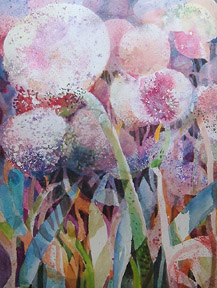 Alium by Dustan Knight
Dustan Knight's 6 week Inside/Outside Water Media class (SA 10) class begins Wednesdays beginning March 20th, from 9 – 12. Dustan's class is designed to work outside on location or in the studio using photos and sketches. Basics of Landscape painting are broken down into simple weekly exercises which are demonstrated by the instructor. The emphasis will be on sketching, designing, and values, progressing into color and painting techniques in acrylic, watercolor or gouache. Dustan is also teaching a one session workshop – Big, Loose & Easy Watercolor Florals (SA 20) that meets Saturday, March 30 from 10 – 3. Learning the essence of fearless spontaneous painting, working wet into wet with later glazing and detail work is an approach that celebrates the unique creative spirit of each artist.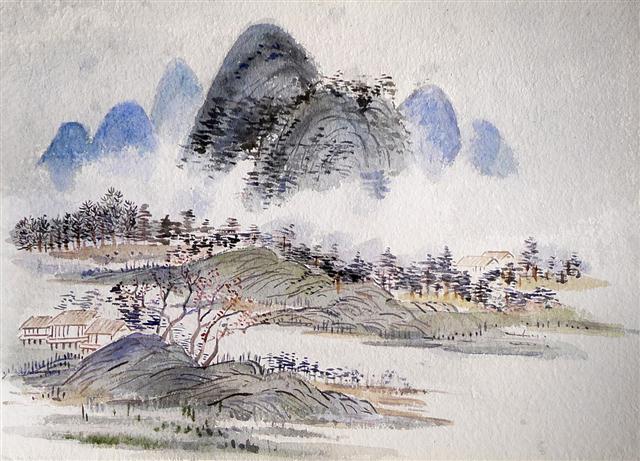 Early Spring by ShiaoPing Wang
ShiaoPing Wang's Chinese Ink Painting (SA 13) explores the tonality and mark making of traditional Chinese ink painting, embellished with subtle hints of watercolor. With five colors of grey, students will build an ink mark making vocabulary that turns dots and strokes into plants and landscape.. Her 4 week class begins Wednesday March 20, 6 – 9.

Norma Machado welcomes all levels in her Pastel Basics;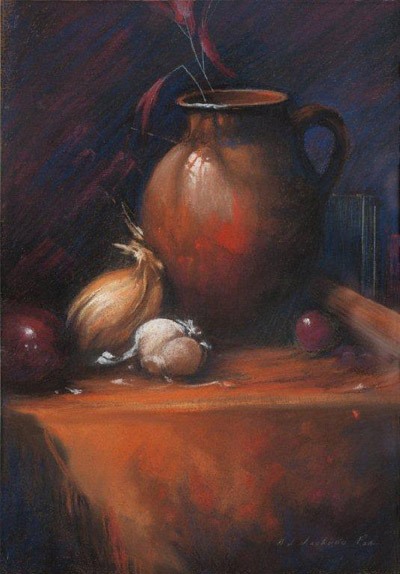 Edibles by Norma Ma

chado
A Guide to Successful Pastel Painting (SA 18) and her Essentially Pastel: Rivers, Beaches & the Open Sea. (SA 19). Each workshop is one daylong session from 9 – 4, Saturday March 16 and Saturday March 23. The first workshop reviews basic applications and techniques to enable the student to explore the vibrancy and diversity of the pastel medium. The second workshop explores nature's waterways and the open sea. The student will learn how to structure the wave in open water and as breaking waves on a wet or sandy beach. Rushing water as it makes it's way down a fast moving river will also be explored in the use of pastel techniques.
Katy Baucke's iPad for Artists ( SA 22) 6 week class begins Wednesday March 6 from 1 – 3 and Thursday March 7 from 6 – 9.. Meeting once a week (the mailed brochure incorrectly states it meets once a month) this class is for the artist who wonders how to apply the magic of the iPad to their own work. This class is designed for the open minded, curious and adventurous; those who, after an introduction to the iPad and the apps most used by artists, will focus on creating their own art.