Begin March Madness with Dustan Knight's Mindful, Mad Abstraction

Mindful, Mad Abstraction (SA 12) begins Wednesday, March 7th, 9 - 12 with professional artist/historian/provocateur Dustan Knight (www.dustanknight.com). Only a small part of the Art Pie is realism ...most artists practice a level of abstraction in their work. Enjoy your tour through the bold graphics and crazy splashes of America's great abstract painters and learn to be fearless as you discover your own preferences for Expressive or Formal abstract painting techniques.
Dustan also offers two Tuesday night, one session workshops- Fast, Fabulous Florals (SA 8) and Crashing Surf (SA 9)
Also beginning March 7th, photographer Kim Case offers Getting the most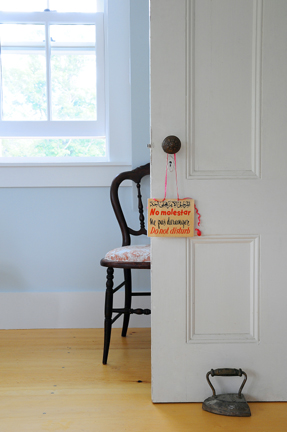 Molestar by Kim C
out of your Digital Camera (SA 21) for 6 weeks beginning Wednesday, March 7 from 1 – 3. Kim presents her technical information in a calm, enlightening manner, banishing the mysteries of the digital camera.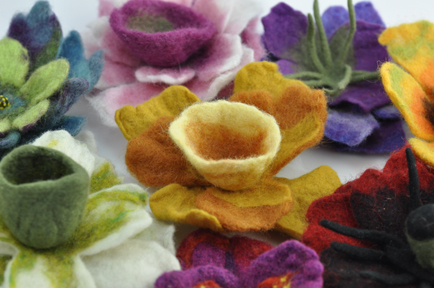 Felted Flowers by Jennifer Field
Avid wool felter Jennifer Fields offers Felted Florals (27B) on Saturday March 3. Her Felted Jewelry class produced some beautiful pieces of adornment. On April 14 she will offer Felted Birds (27C) so you can create a standing or flying bird of your choice.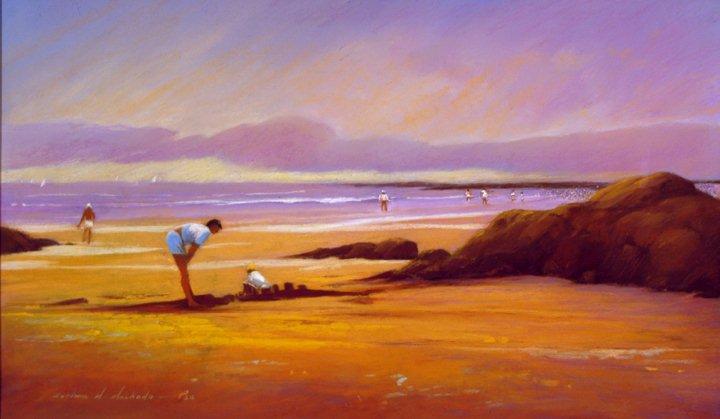 Beach Day by Norma Machado
Want to learn how to "paint" water in a mill pond or open sea? Pastels- Seeking Diversity (SA 2) beginning Monday March 19 from 1 – 4 with superb pastel painter Norma Machado will do that, as well as teach you a variety of techniques to describe objects in a landscape.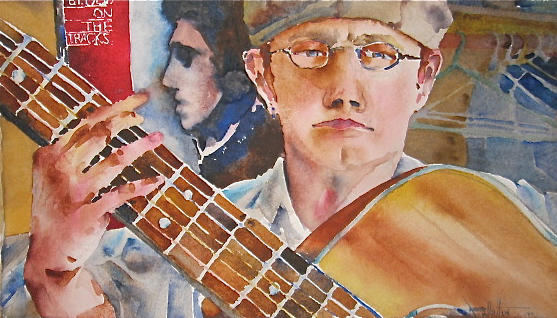 Tangled up in Blue by Russel Whitten
Russel Whitten's Still Life in Drawing & Watercolor (SA 17) begins Thursday, March 15 , 6 – 9. His Portrait in Drawing & Watercolor class is going on now with great erergy and enthusiasm.

Pictures of Words (SA 20) meets for two Saturdays, March 24 & 31 from 10 – 1. ShiaoPing Wang will teach you how to incorporate Chinese characters working as symbols, into your painting. Last semester's class produced delightful results.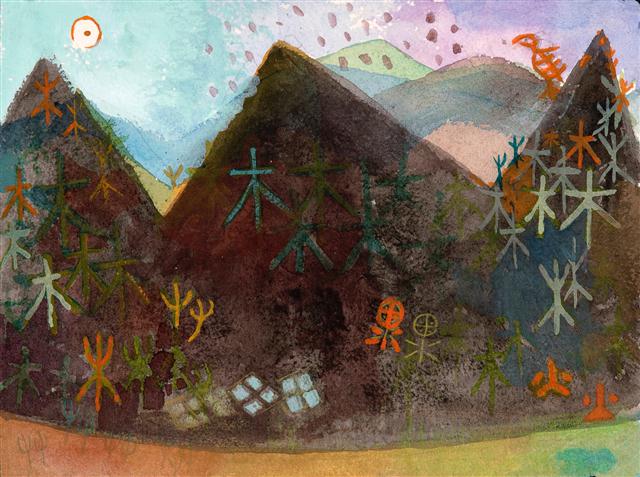 Magic Mountain by ShiaoPing Wang