Erin Murray, Sanctuary Arts' new Drawing and Painting instructor came by for a visit to talk about her upcoming classes and her personal artistic inspirations. Articulate about her work, Erin exudes passion about her personal goals and ideas about teaching.
Her
"Drawing Beyond the Imagination" (SA 11)
, is a great class for beginning and intermediate students who want to "learn how to draw", and obtain the tools to create personal images, whether finished or expressive.
Students will be given specific training to create illusion, form, light, space, measure, and the loss of edges, working with contour and tone, positive and negative shapes and construction lines.
From keeping a small sketchbook using active lines to search out form, to making Master drawing copies and examining in depth the work of contemporary artists, the class will be an active learning environment.
Subjects include the direct observation of both Still Life and the Figure. Erin thinks (as do I) that if you can understand and create the figure, you can do anything. She has a new art forum online for students to exchange information and ideas, share images of contemporary artists and note arts events of interest.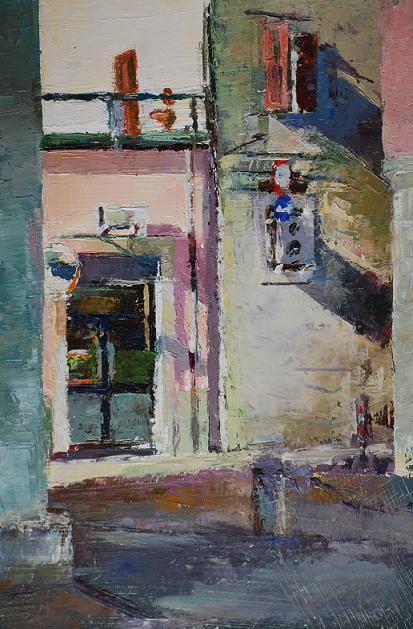 Il Tigre by Erin Murray
Erin is also teaching
"Painting Light" (SA 3)
, a class for students to "learn how to paint" in oils-
how to use tools, painting structure, tonal ground, how to see color through light and for the more advanced, develop continuity, structure and stability throughout a piece.
Figure is a part of this class, teaching students how to paint multiple figures in a narrative composition, using the tools of color transparency, repetition, and composition, while learning to use painting materials to their best ability. Erin's goal is to teach the student so well that when they leave this class, they will be able to paint anything, using their skills of shaping and understanding light to work individually toward their own goals. She will host two "plein air" painting classes in addition to the classes scheduled for optional participation.

Erin's Personal Work- Creating Culture
An identical twin, Erin Murray is interested in what makes her different, exploring individuality and twinhood in her paintings. Repetition and multiples of the same figure are evident in her work. Erin grew up in Virginia on a sheep and horse farm and loves natural things. The messiness of drawing and painting mirror the organic nature of her life when growing up.

A visual storyteller, narration, imagination, and fantasy inform her work Her interactive figures can reflect social, political, or environmental issues. As an artist, she is sensitive to and has empathy for the "Outsider" in society, exploring that "otherness" through portraiture, figures and the inter-relationships of multiple figures.
Last Supper (remix) by Erin Mur

Women's issues, and how her work relates historically to other women artists concern her as she considers the rewards of social hierarchies- being a part of the system or a marginalized outsider. Her desire to emotionally express relationships in an effort to show how we understand who we are is part of her ongoing artistic quest.

Recently Erin created a painting a day or more, for a month, showcasing Portsmouth and it's environs as a benefit for A Safe Place, raising money to help the shelter provide for the victims of domestic abuse. She seems to have enjoyed the rigors of daily landscape painting as an enhancement for her considerable technical skills- skills she will be happy to impart to her students.