Warm yourselves with these February Classes!

Are you trying to find, or focus on, your own artistic voice? Or are you tired of the medium you've worked with for years? Get out of that rut and try some of our scintillating class offerings. They will stretch your horizons. I'm an inveterate class taker. I'm always trying to hone or acquire new skills, and I love that I get to do that in classes here at Sanctuary Arts where I can find folks like me, who have a passion for creating.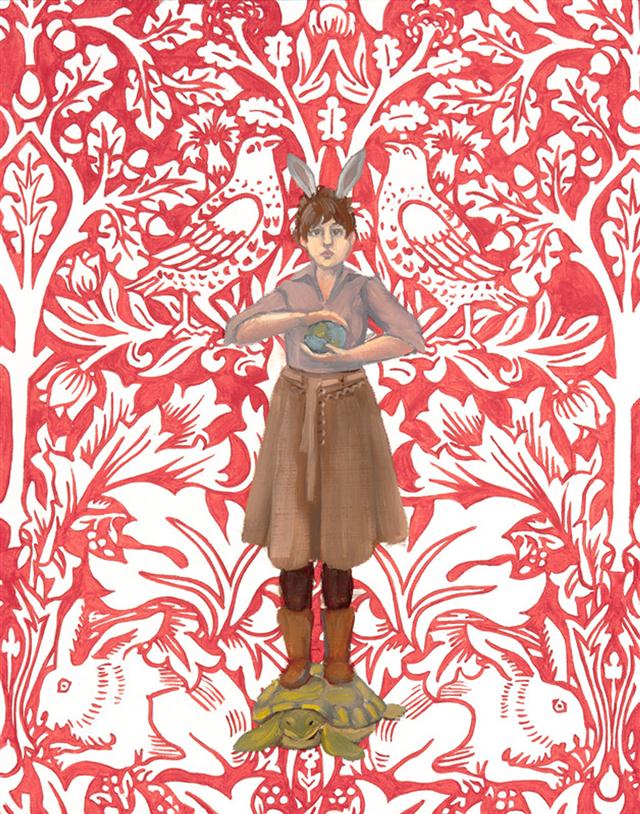 "The weight of the World" by Kim Ferreira
I'm enthusiastic about taking a class with Kim Ferreira who just recently closed Three Graces Gallery, whose loss all of us in the local art community mourn. But Kim now is focusing on her own artistic endeavors, including new work for the Enormous Tiny Art show #13 at Nahcotta which opens February 1st. Kim is also a web designer and designed the Sanctuary Arts web site- www.sanctuaryarts.org, as well as my personal web site- www.christophergowell.comand many other seacoast artist's sites as well. She will share her photoshop skills in Adobe Photoshop; The Basics (SA 23). I'm excited to take this to see if I am capable of understanding the process of image manipulation in hopes of furthering my composition skills for painting and enhancing the images I take as a rather lousy photographer.
"Shape Image" by Katy Baucke
Portsmouth painter Katy Baucke lives in a mac world and will share her expertise in creating art with the aid of an iPad. (Correction: The brochure states the class meets once a month, but should say once a week. The website is correct -SA 22, iPad for Artists) The class will meet in a seminar format. Students will be introduced to the iPad, learn what apps are being used by artists, and then have a chance to apply this knowledge to their own work. Artists of all disciplines are welcomed. Katy is also offering The Alchemy of Art (SA 3), a five session workshop that meets the third Mondays of each month. Using the ancient science of alchemy as a metaphor for the creative process, students will explore contemporary issues as viewed through the lens of great and timeless art in this multi media class.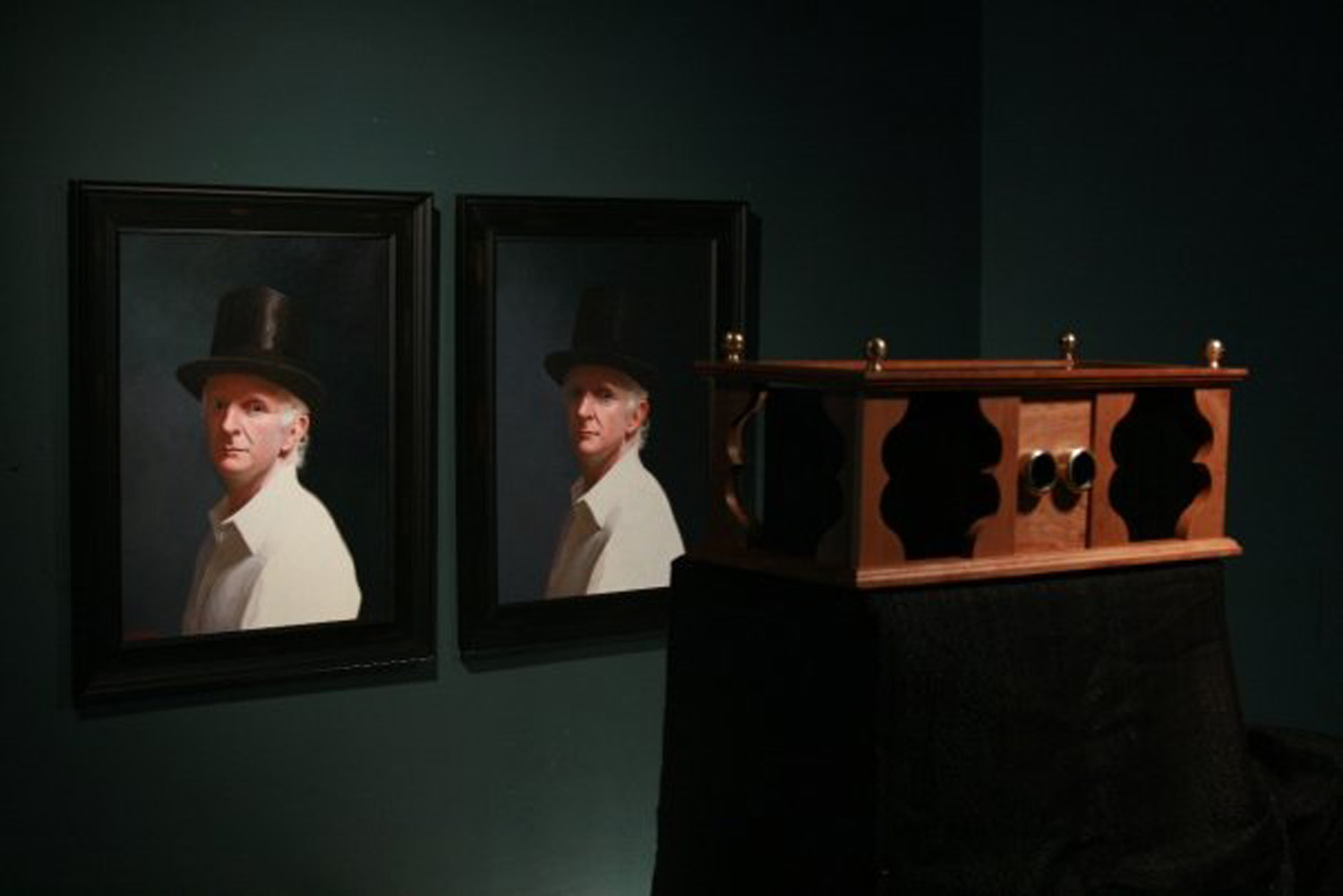 "Stereo" by Alan Ammann
Alan Ammann's Portrait Painting (SA 2) class begins February 4th. If you are fascinated by portraits, as I am, you will enjoy this introduction in a step-by-step process that begins with the study of facial structure and proportion in an effort to create a real likeness. Alan has so much information to convey and does it in a passionate, knowledgeable way. This is a class to really immerse yourself in. Alan was a semi-finalist for the Outwin Boochever Portrait Competition 2009 of the Smithsonian's National Portrait Gallery in Washington D.C. The piece consists of a stereoscopic pair of oil portraits and a hand built viewer. When one views the paintings through the viewer, the images merge to form a 3D image much like that of an old Viewmaster toy.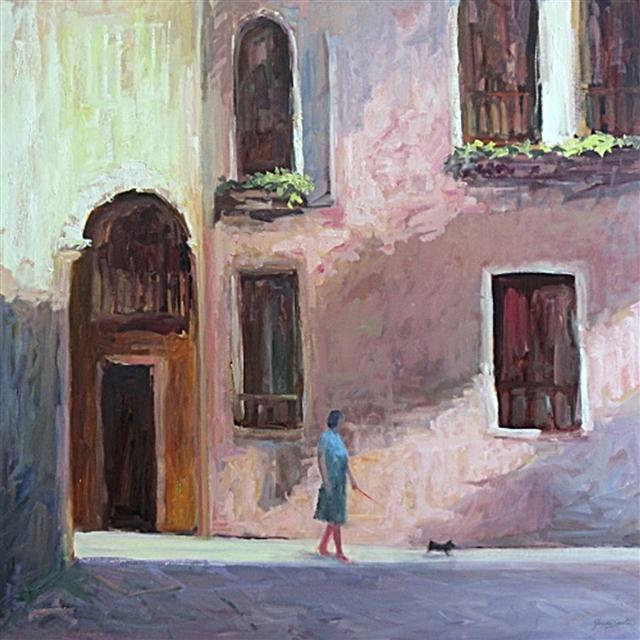 "Stroll" by Gail Sauter
Gail Sauter's Painting Boot Camp (SA 14) classes begin Thursday, February 7th. In an interview by Maine Art Scene Magazine, Gail says, "I'm intrigued with visual memories — not the depiction of what I'm looking at, but the after image that remains in my mind's eye. It can be someone that reminds me of someone else, or someone doing something I've seen done before. It can be everyday scenes or water reflections — anything that taps into a universal experience. I find magic in these moments, in their transition from what we see into what we remember, and the way they linger, dwelling within us. I believe in art that inspires the spirit while engaging the mind." Gail's classes build confidence and teach students to think more spontaneously while creating lively and intuitive work.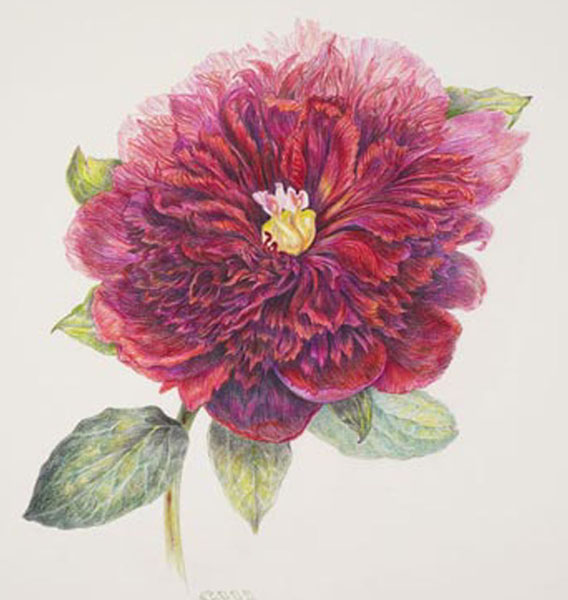 Botanical Illustrator Carol Ann Morley offers two marvelous classes. I believe she is the premiere drawing instructor on the seacoast. Her Botanical Drawing (SA 11) class begins Wednesday February 6 th and is simply superb. Knowledgeable about both plants and drawing techniques, Carol delivers an information packed class. She is also teaching The Pleasure of Sketching (SA 6) beginning February 19 th which allows students to enjoy the relaxed art of loose sketching and unfinished drawings.