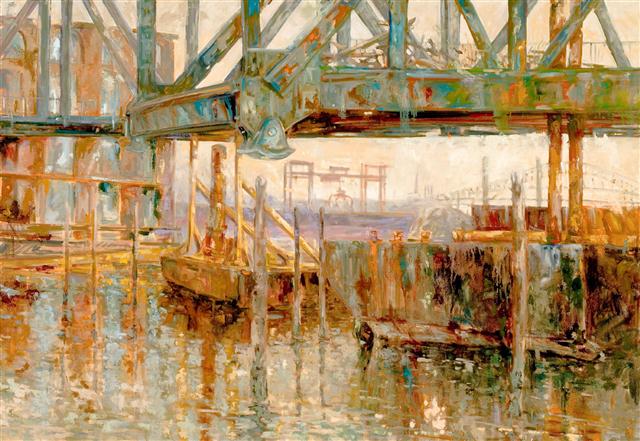 "Scrap Metal" by Lennie Mullaney
A Crooked Line of a Creative Life; Introducing New Sanctuary Arts Instructor,
Lennie Mullaney
Artist Statement
"My paintings are an interpretation of the urban landscape where I live. I am drawn to places that are well worn, in transition or in decline. Like giant found still-lifes, there is a sense of the accidental and evidence of the human presence. My paintings investigate the accommodation and compromise necessary between nature and modern society. During warm weather I paint on location en plein aire and during the winter months I work in my studio from sketches, small studies and photos. It is through the act of painting, I explore my own transitions and seek my own transformation."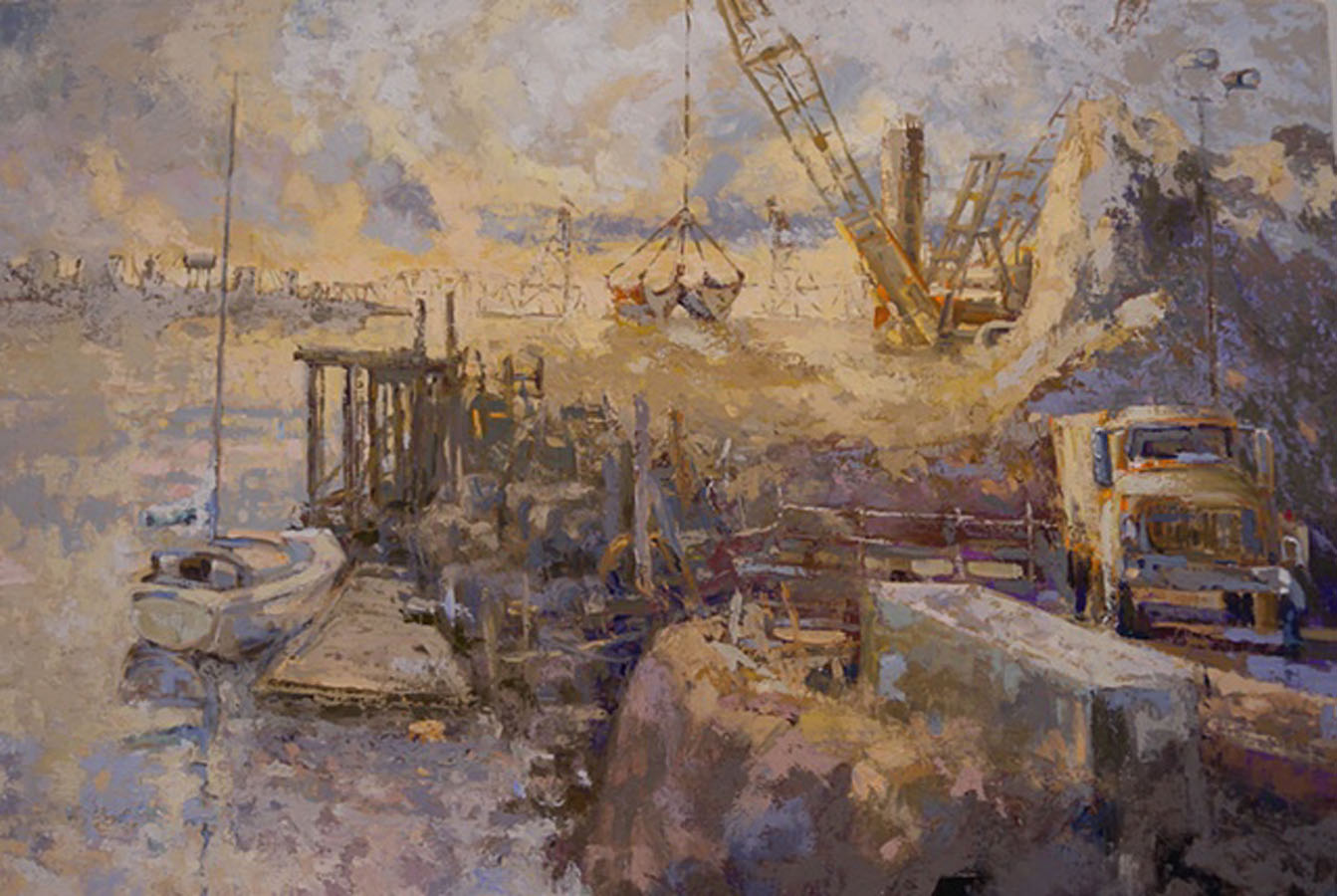 "Yellow Truck" by Lennie Mullaney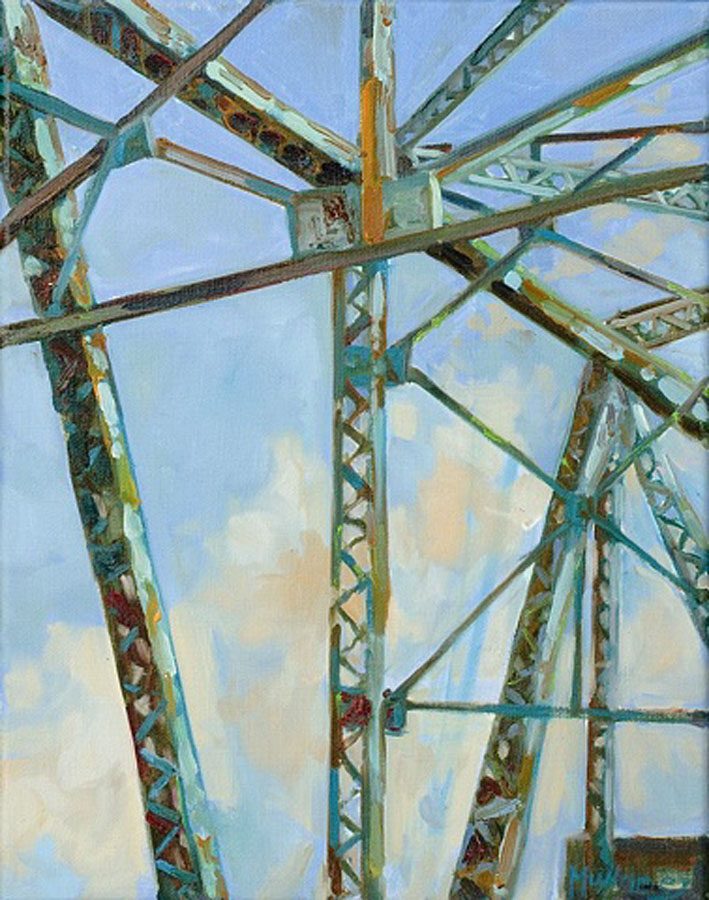 Blue Skylight
I've been reading Calvin Tomkins' "Lives of the Artists", which includes portraits of ten artists whose work and lifestyles embody our ideas of contemporary art.. The artist's approach to living and the conditions surrounding their creations are fascinating. I interviewed recent MFA graduate (from UNH) and new SA painting instructor, Lennie Mullaney, who came by to share her squiggly path to becoming a painter. Lennie, the oldest daughter of a family of 11, learned to be structured, organized, set goals, but be flexible when things did not go as planned. With no encouragement from her family to attend college, (scarce college money went to the boys) she worked her way through school, waitressing, got married, and raised 4 children while earning several college degrees.
After graduating and beginning a business career, Lennie switched to teaching English and Social Studies in Middle school, integrating her avid interest in Art in everything she taught. She included art, music and dance when teaching a novel, even employing a donated car as a "vehicle of expression" when teaching metaphors. When teaching Social Studies, she integrated novels that went with the country being studied, bringing in poets, visual artists and musicians while students created a body of work, incorporating dance, music and poetry during the year that reflected the themes presented. Art was used to teach cultural diversity and tolerance, earning Lennie several awards celebrating her excellent curriculum. Wanting to teach art, she earned a M. S. in Art Education, without first earning a BFA, on the strength of her portfolio. Lennie always wanted to be a painter, taking workshops when she could, studying with Jack Flynn, Jack Beal and Sondra Freckleton, and Caleb Stone, among others.
Once her children left home and her husband decided to retire early, they moved to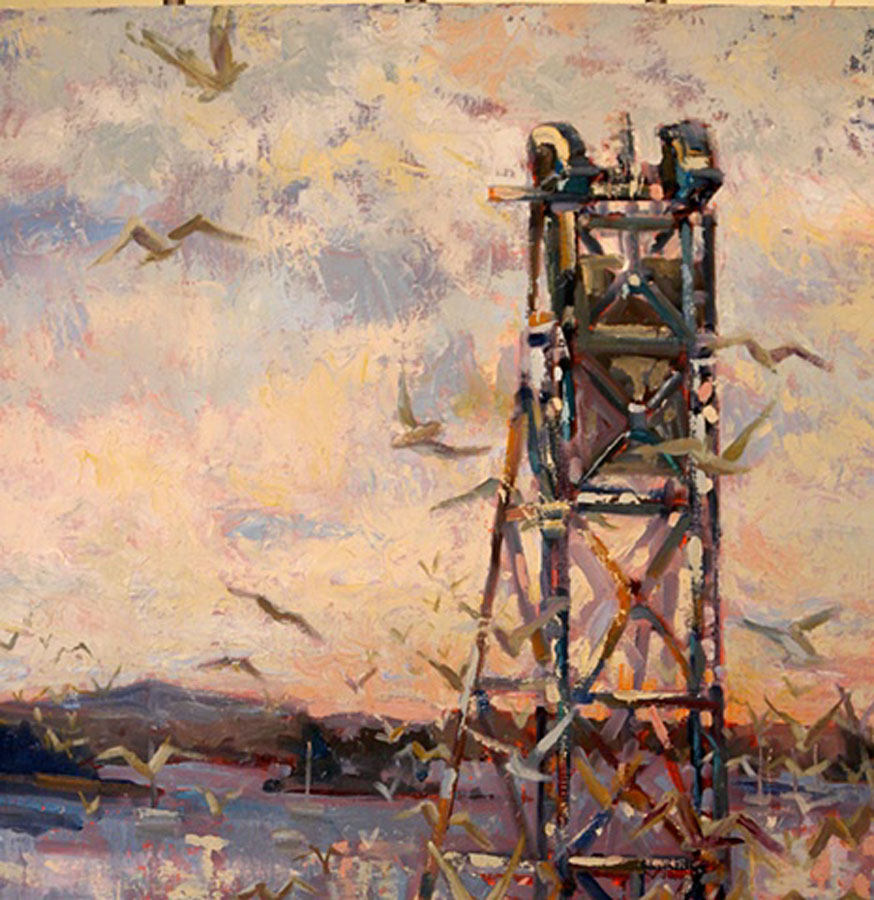 Bird's Eye View
Harpswell Maine, chosen for its cultural and ethnic diversity, proximity to good galleries, and arts community. They had a beautiful home, a boat- a perfect life. Then she lost her husband to cancer and her world turned upside down. She had the options of grief and mourning or she could choose what she wanted the rest of her life to be. In a leap of faith, she sold her house in 24 hours in the midst of a blizzard that had taken out her power. She and her son moved to Portsmouth. She applied to the Masters program at UNH and was put on a waiting list. She immediately went to study for 6 weeks in Italy at the International School of Painting, Drawing and Sculpture. Lennie and her son both enrolled at UNH, he to earn a BFA in Woodworking and she to earn an MFA in Painting, again returning to Italy to study painting as part of that program.. She and her son had 3 years of intense collaboration, talking about and making art non-stop. He created easels to mimic and showcase her paintings of the Piscataqua bridge and they even studied with some of the same teachers.. Her son is now off to San Diego to earn his MFA. Lennie remarried, avidly pursues her dream to be a full time painter and has a new studio in the Button Factory.
Lennie says you always have a choice in how you respond to difficult situations. You have control over how you react. She chose neither to be a "survivor" or a "victim", but to live in the moment and enjoy each day. Making Art for her is a method of response, of understanding the world. You let go, cease to worry about control. In the midst of emotional turmoil, drawing and painting resolves everything.

Lennie will be teaching a "Painterly Approach to Pleine Aire Painting" (SA 17) on Friday afternoons, 2 – 5, beginning September 28th and a
"Weekend Plein Aire Workshop"(SA 18) on October 6 & 7, 9 – 4.
Visit Lennie's website- www.Lenniemullaney.com to see more of her work.