Sanctuary Arts 11th Annual Iron Pour Benefit & Sculpture Garden Open House



IRON POUR! SCULPTURE GARDENS! ARTS &CRAFTS FAIR! FOOD! MUSIC!

June 15 (rain date Sunday, June 16)
11 – 4




Come tour the Sanctuary Arts sculpture gardens, purchase gifts at our Arts & Crafts Fair and create your own iron tile from scratch! Enjoy the day with us and scratch your own design into a sand mold. Hang around and watch as we cast 2300 degree iron into your mold!! From 11 – 1, carve into our tile sand molds for a fee of $15 per mold. All molds must be completed by 1pm. Hang out for a visual treat as Green Foundry members pour iron into your own scratch sand molds. When they cool off, tiles will be broken out of the molds and cleaned up. You are ready to take your tiles home to adorn your abode! Process is completed by 4 pm and is family friendly. All proceeds will benefit Sanctuary Arts' new scholarship program.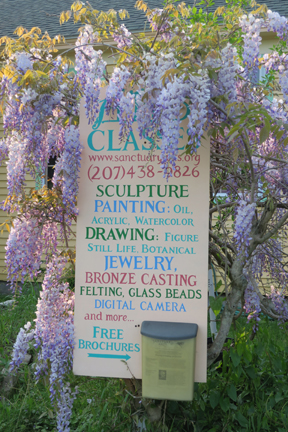 The grounds will be open, including the formal sculpture garden designed and planted by artist Judy Andrews. Enjoy our patio and walkways by artist Alan Eves and our stone walls by sculptor Steven Carpenter. Come view the gardens by Julie Marvin, our resident gardener/designer who keeps our grounds beautiful.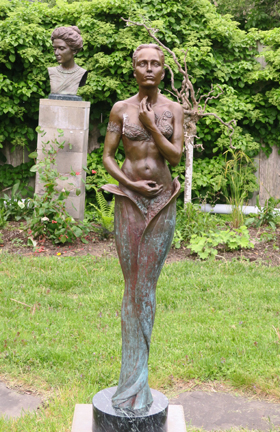 Listen to live music, enjoy some snacks, wander the gardens, create your own iron tile. Our Arts & Crafts Fair includes bronze and resin sculptures, painting and mixed media, collage, and handmade leather bags. Handmade burritos will be for sale. For further information, contact Lauren Dow at

greenfoundry@gmail.com

or email

christopher@sanctuaryarts.org

or call
(207) 438-9826 www.sanctuaryarts.org. Sanctuary Arts, 117 Bolt Hill Road, Eliot Maine.



For something
completely different, painter Courtney Lampert offers Free Form Embroidery (SA 15) for 3 weekends in June and July. This class is suitable for both young folks (10 and up) and adults. Embroidery is having quite a moment in fashion right now, with a growing number of artists and designers posting pictures of their delicate work on social media. The techniques they use tend to be traditional – with embroidery hoops and crewel needles a common feature – but the subject matter is often anything but. Come explore your own creative imagery with a truly portable medium!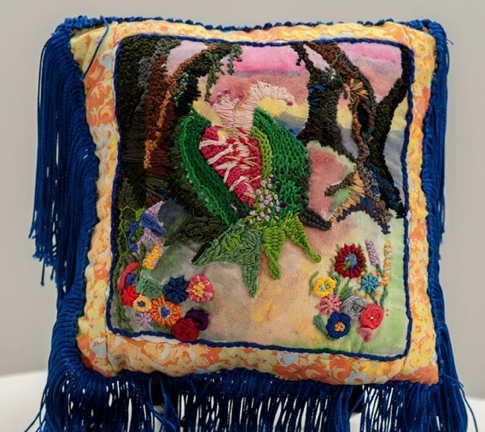 Sean Kramer offers a number of 4 week classes, including Fresco Painting (SA 9), Metal Leafing: Basic Techniques (SA 10) and Contemplative Art Practices (SA 11).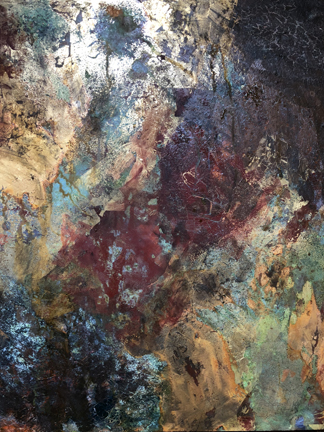 Sean is a wonderful instructor in rather arcane art practices, beginning his classes with yoga stretches and meditation. He has a font of knowledge that he shares in clear, step by step ways. I've taken most of his classes and highly recommend them.


Summer classes and workshops all begin NOW!
It's not too late to sign up!
For a full catalog of 24 classes & workshops go to http://www.sanctuaryarts.org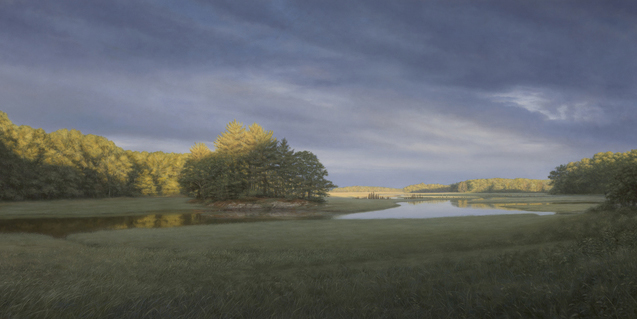 "After the Storm" by Sean Beavers

Our Plein Air classes still have room, including En Plein Air Landscape Painting Workshop (SA1) with Sean Beavers (June 21 – 24), Plein Air Sketchbook Adventures (SA2) with Bill Paaralberg (June 3 – July 22), and Drawing in the Garden (SA3) with Carol Ann Morley
June 4 – 25).
" Pierce Island "Bridge by Bill Paarlberg
Studio classes are up and running, beginning Monday June 3rd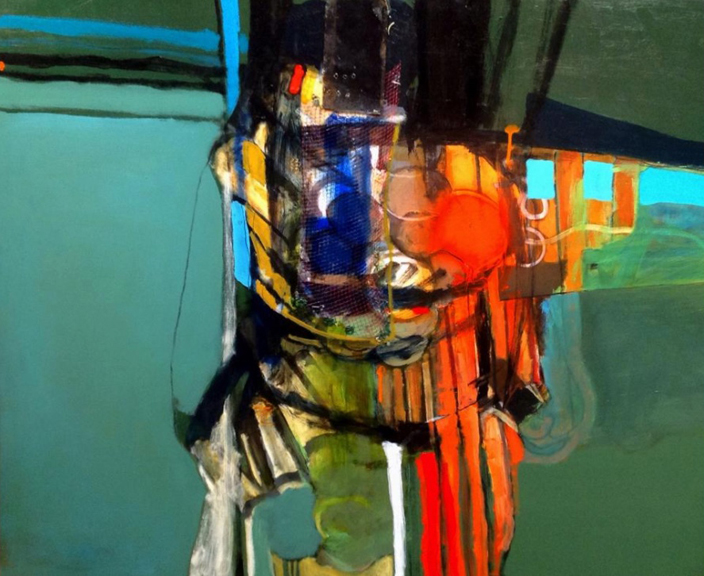 Join Tom Glover's Abstracting the Seacoast (SA 6) with the medium of your choice; oils, acrylics, watercolor, and collage. The ocean, tide pools, docks, mudflats, bridges, rivers, rocks and detritus of the shoreline are the laboratory for abstraction. Come work with a master painter who will talk about color and its evolution through the development of abstract painting.
Sketching at the Zoo &
Drawing Animals

Carol Ann Morley still has room in her Sketching at the Zoo; York's Wild Kingdom (SA 12), Thursday June 6, as well as her follow up 3 week class Drawing Animals (SA 13). Carol is a great drawing instructor and has a special love of animals.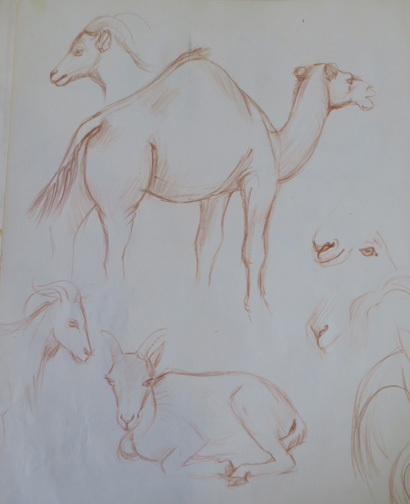 Jewelry, Intro to Sculpture &
Pottery on the Wheel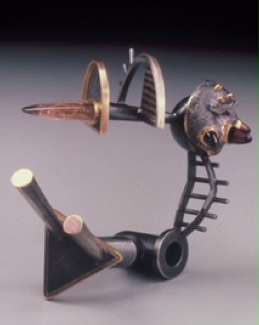 Cuff Bracelet by Rob Peacock
We have some great 3 D classes beginning this coming week as well. Two jewelry classes- Hollow Form Jewelry Construction with Rob Peacock (SA 18) beginning Tuesday June 4 and Intro to Jewelry with Alice Carroll beginning June 7 are offered for those who wish to learn metalsmithing techniques.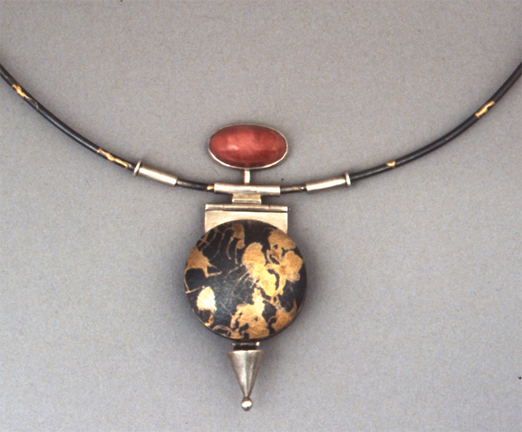 Necklace by Alice Carroll
Bob Ellis, our neighbor ceramic artist, offers Pottery on the Wheel (SA 22) and still has room in his Wednesday June 5th class from 9 – 12. Our new gas kiln has had spectacular results!




Pots by Bob Ellis
Lauren Dow, one of our Green Foundry proprietors, offers Intro to Sculpture (SA 19), a great course for those who want to learn a variety of tools, materials and techniques used in creating three-D images. Terra cotta clay, plasticene, wax, plaster, bronze and concrete are the materials included in this diverse class.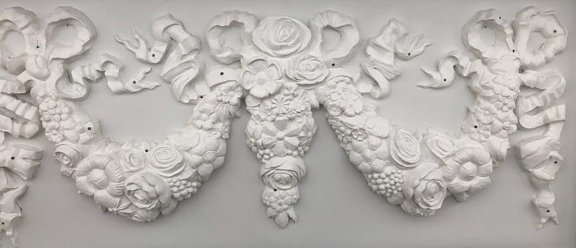 Decorative Frieze by Lauren Dow
We have a wonderful array of courses to suit the discerning pallette for a Summer of lively, artful learning. We welcome you to join us! www.sanctuaryarts.org