Plenty of Time Left to Dip into some Summer Classes

July Offerings Include:
"Shipyard" by Erin Murray
SA 7, Painting "En Plein Air" in the Seacoast, Erin Murray , Instructor, July 9 – 13, 3 – 7 daily

Want to capture the warm light of summer? The glisten of water? This is an excellent opportunity to work with masterful painter and teacher Erin Murray who is traveling from Baltimore to offer this chance to work on your observational skills and understanding of color. Painting sessions will take place in Kittery, Eliot, Portsmouth, Rye and North Hampton. So get out your paints and get ready to see the world in a new way.

SA 13, Still Life In Drawing & Watercolor, Russel Whitten, Instructor,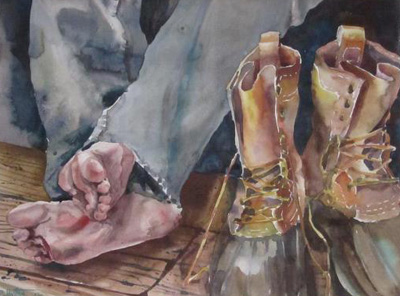 "Feet" by Russel Whitten
Wednesdays July 18 – August 15
Providing training in the direct observation of form, the emphasis of this studio class will be on tonal drawing and controlling watercolor in an effort to re-create the appearance of nature. Learn the basics of perspective, composition, value and color with a great instructor.
SA 15, Summer Printmaking Workshop, Shane Chick, Instructor, Thurdays 6 - 9, July 5 - 26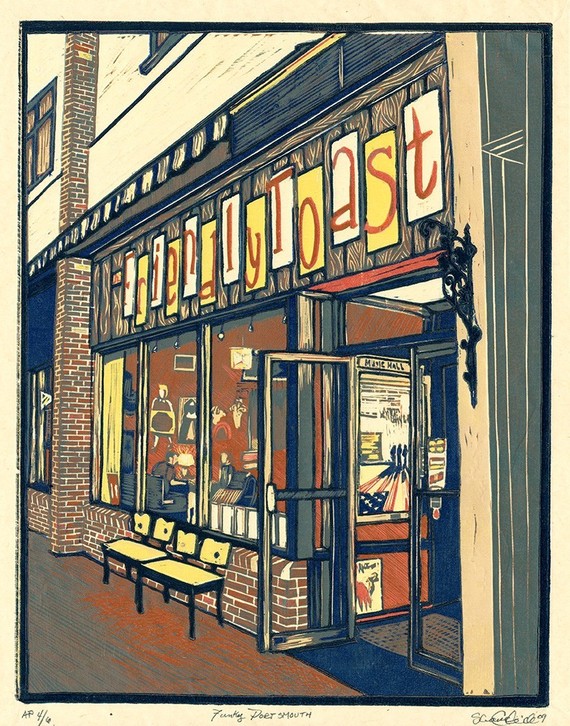 "Keeping Portsmouth Funky" by Shane Chick
Perfect for the novice printmaker who has a busy schedule and has made plans to vacation during the summer months, this class will not only offer access to a great etching/relief press but also the advice and tutelage of personable Shane Chick. You will be provided wood or linoleum to carve, a variety inks and mediums, tools that are always sharp and a fun creative atmosphere of fellow artists
"Painted Bunting" by Jennifer Field
SA 24, Felted Birds, Jennifer Field, Instructor, Saturday July 14, 10 – 5
Create a standing or flying bird of your choice using wet and needle felting techniques taught by artist Jennifer Field, who now has a glass bead studio at Sanctuary Arts. I took her class last time and made a wonderful bird that everyone plays with. It's like sculpting directly in color, something that sculptors rarely get to do. Simply beautiful results can be had in this well taught workshop.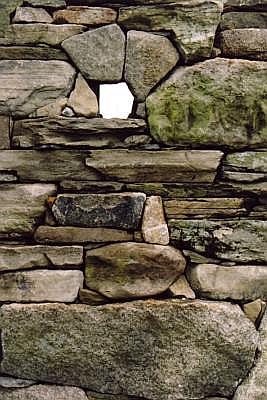 Dry Stone Wall by Steven Carpenter
SA 29, The Artful Dry Stone Wall,
Steven Carpenter, Instructor,
Saturday & Sunday July 21, 22,28, 29, 9 – 3
Learn a bit of the history of stone walls and our New England Heritage in this four day workshop with master stone wall artisan and sculptor Steven Carpenter. Journey to local sites to view Steven's designed and built stone work, review the necessary tools for the construction of a dry stone wall, and visit a quarry to select interesting and appropriate stone. Learn how to set stone, without mortar, from the base stone to the capping stone. In the process you will be taught to safely move stones from small to large, become familiar with the hammer and chisel for cutting stone, and train your eye to recognize and understand how shapes and textures of stone can come together to create a work of art.

SA 30B, Bentwood Garden Creations Workshop, Shane Chick, Instructor, Saturday July 7, 10 – 2
Our Maine forests are full of interesting and beautiful materials that can be used to create a wide range of garden accents. Shane Chick can teach you how easy it is to take full advantage of these materials to make an arbor, trellis or bean climber with nothing more than the materials you find, some twine and a pair of common garden shears.. This one day workshop should get you on the road toward a fanciful garden full of bentwood sculpture. Enthusiastic participants in Shane's previous one day workshop created a beautiful trellis and a variety of structures for plants to climb. Our chickens loved this construction by Ruby Jones.