SCULPTURE GARDEN OPEN HOUSE & IRON POUR
Saturday June 18, 11 – 4 (Rain date; Sunday June 19)
View our beautiful sculpture garden with pieces created by talented area artists and tour Green Foundry, our iron, bronze and aluminum casting and teaching facility. (Check out
SA 15
&
SA 17
for our bronze and iron casting classes).

Also, Sanctuary Arts is opening its doors to the public for a "HOT" fundraising event to benefit our artist friend Ali Goodwin, recently diagnosed with breast cancer.
IRON POUR FOR A CURE!
Cast iron with Green Foundry, friends, and students who will be hosting Iron Pour for a Cure. A donation of $10 will purchase a "scratch" mold- a block of hardened sand.. Participants will carve a design into their mold. At 2:00 the crew at Green Foundry will cast molten iron into all the scratch molds prepared. Participants can take their masterpieces home at the end of the pour!
En Plein Air Weeklong Landscape Painting Workshop

This summer Sean Beavers, our own "famous" artist, is offering an "En Plein Air" week long Landscape Painting Workshop from June 13 – 17, 9 – 3. (SA 1)
Sean demonstrates techniques and the specialized ways of working involved in the challenges implicit in painting in an ever changing, active environment. The quality of light, weather, tides, temperatures, drying times of mediums, are all challenges the studio artist gets to avoid.
The traditional layering of paint and quiet contemplation does not work when the artist struggles to grasp that fleeting cloudscape. Sean teaches the basics of how to deal with those challenges and what to pay attention to. An artist just can't get the feel of light, space and air when working from a photo. The artist's eye records with so much more nuance than the camera ever can.
This two-fold approach of demonstrating techniques in the morning in an informative studio session, lets the student get a grasp on processes that make the most of changing outdoor conditions in the afternoon. The attempt to depict light, space, atmosphere, and perspective while painting trees, clouds and water is an invigorating challenge for both novice and professional painters.
Sanctuary Arts' new Summer Class & Workshop schedule is online.
Sean Beavers - the background

Last summer, as a painting novice, I was fortunate to be able to take Sean's workshop (see side note) and am contemplating taking it again, just for the breadth of knowledge offered in this combination studio and on- location class.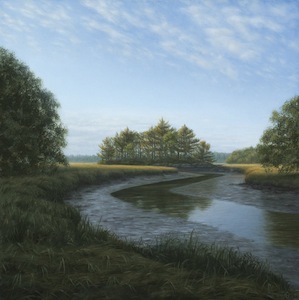 Morning Marsh by Sean Beavers
When arriving at a painting destination, Sean typically wanders around until he finds a view that appeals to him. Initially, he creates loose, simple sketches of the basic shapes for his composition- 3 or 4 simple lines for placement so that it will all fit. Using a lightly toned panel, as the Hudson River school of painters did, so he doesn't have to fight with the stark white of the gessoed panel, he works from the background forward so he can overlap the trees over the sky. He uses different techniques and mediums so the earlier stages can set-up a bit faster and some layering can be achieved. On occasion he may do the finishing touches in the studio and with the sketches that are successful, will create a larger, more finished studio painting, often selling the study as well as the studio piece. About a third of his artistic output involves the landscape, sometimes incorporating still life in the landscape- his "Stillscapes" or, with some of his paintings of his fiancee', painter Sydney Bella Sparrow, incorporating the figure in the landscape.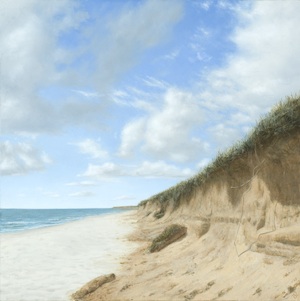 South Shore Study by Sean Beavers

I am always curious about an artist's initial forays as an artist. Sean's was a traditional progression- from drawing on walls to sketching on paper.

A major turning point for him occurred when, as a young teenager, he saw a retrospective of Van Gogh's work at the Metropolitan, a show which included preliminary work- drawings and sketches as well as hundreds of finished drawings and paintings. To see this relatively short life represented by such a powerful show was awe inspiring. In his later high school years, he taught himself how to paint with acrylics and oils from pictures in books. And his family visited Rockport MA where he first saw people outside painting and actually selling their work. He spent a lot of time bothering them, amazed that they could do that for a living.

A life spent drawing and painting has been a natural fit for Sean, who has never had any doubts about his calling as an artist.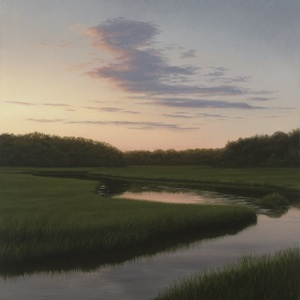 Evening Light Study by Sean Beavers

As a young man, he liked creating, designing and building things and was interested in engineering and architecture, but his more creative side won out over his left brain, practical side. He attended the School of Visual Arts, studying with Steven Assael and Marvin Mattelson, who became his mentors. He studied fine arts painting and illustration, eventually finding that his "real" arts education was in the Illustration department where he learned his technical skills. He worked as a commercial artist for 10 years and became frustrated making art for others. In the year 2000, he decided to make personal art his focus, with his first solo show at Anderson-Soule in Concord, which sold very well. In 2006 he had an early career retrospective at Philips Exeter Academy with more than 50 pieces on exhibit. He shows at The Banks Gallery at Strawberry Banke, Quidley and Co. in Boston and Nantucket, The Cooley Gallery in Lyme CT, and Arcadia Gallery in New York.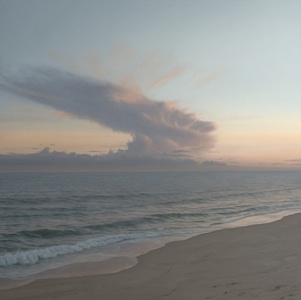 Sunset over Madeket by Sean Beavers

Currently he is working with musician Andy Happel on a collaborative piece for a traveling show called Painters, Players, and Poets, sponsored by the Maine Center for Creativity.

For those who prefer to work in watercolor for a one week intensive, check out SA2 Watercolor; Coastal Vistas with Master watercolor artist Dewitt Hardy, June 20 – 24.