Paper for most people is simply a means to an end: a way to leave a message, make a statement or maybe even practice that jump shot.

But for Johanna Finnegan-Topitzer, paper is a way of expressing a message, rather than just "leaving" a message. Her meticulous work stretches the concept of paper and reflects her varied interests and background. Read on for information on what an "artist" book is and how Johanna brings it alive.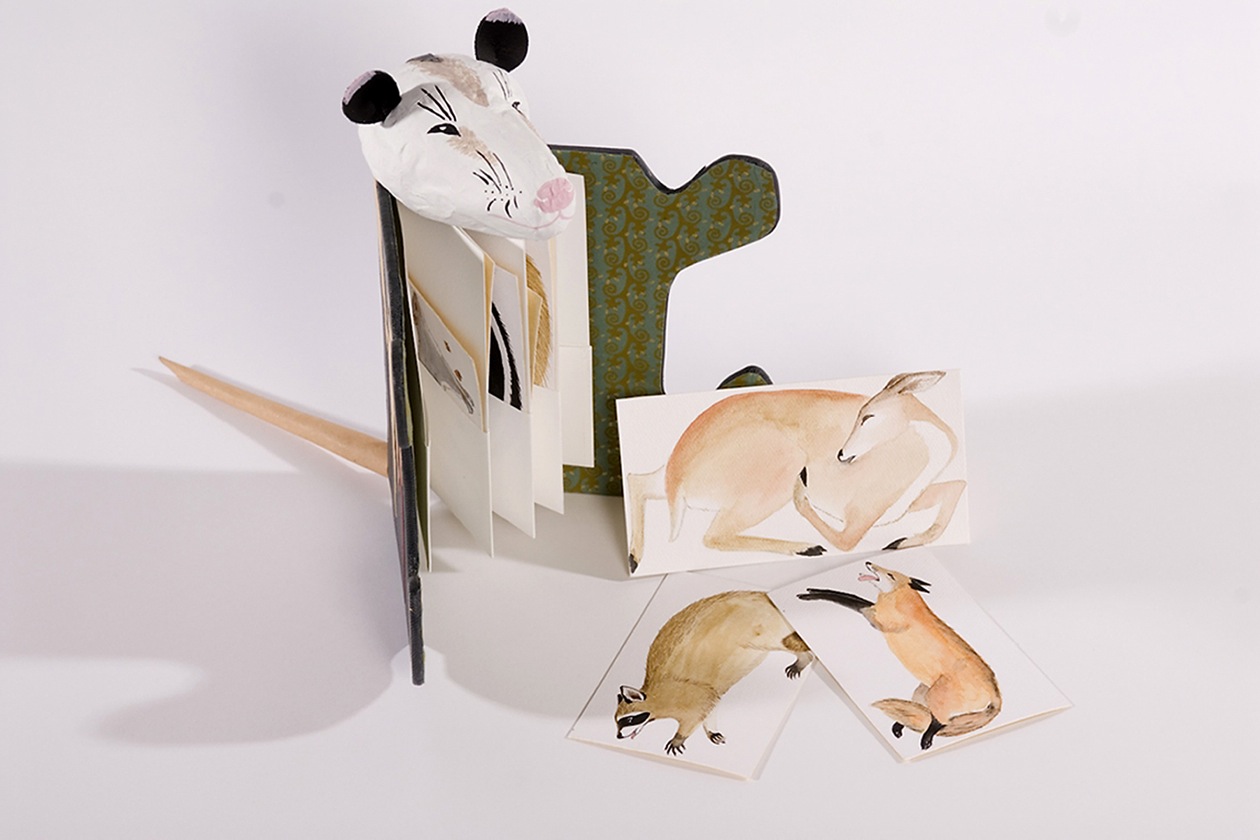 Limited edition artist books are a relatively new art form, one that is fervently embraced by Johanna Finnegan-Topitzer, proprietor of Selkie Bindery in Rollinsford, New Hampshire. Johanna, like so many of the instructors here at Sanctuary Arts, has a multi-faceted background in terms of education and interests. After earning a BA in Communications and Art at UNH and a Masters in Folklore at University College Cork in Ireland, Johanna became a researcher in an archive in Boston. There she met bookbinder Mark Andersson, who made repairs on antiquarian books as well as beautiful protective enclosures. After taking an inspirational workshop from him, she decided to leave her research cubicle and went back to school for a two year program in the craft of bookbinding, studying with him at the North Bennett Street School where he was head of the Bookbinding Department.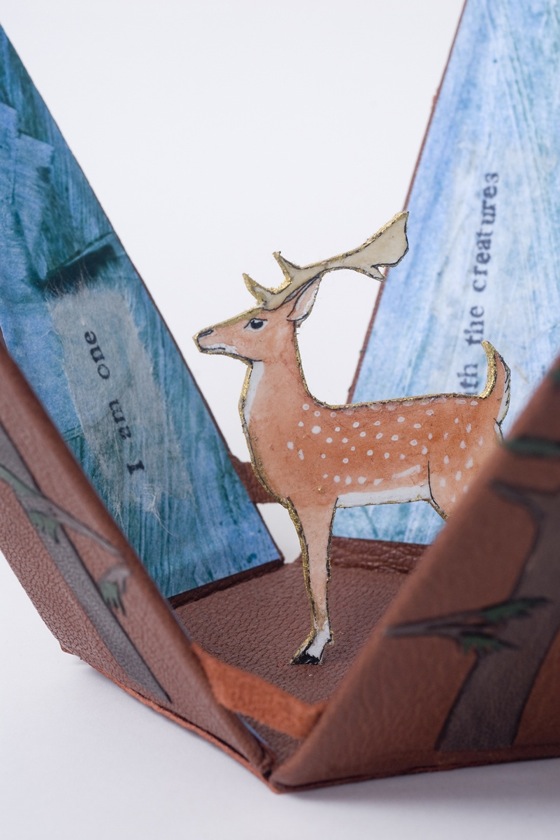 Director's Notes:
Johanna's Saturday workshop, Three Dimensional Paper here at Sanctuary Arts meets March 27th from 9 – 4.
And don't forget, the 4 week Ceramic Open Studio continues. Session C starts April 7th and Session D starts May 5th. Looking for something more hot and heavy? Josh Dow & Lauren Holmgren's Iron Casting Bonanza workshop begins Thursday April 29th.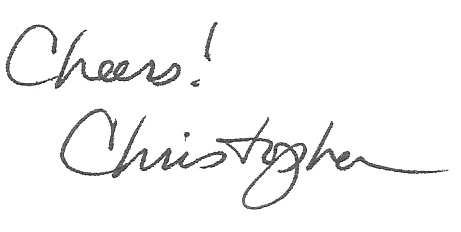 Johanna creates one of a kind and editioned books that often take the shape of the main characters, who are mostly animals. Her Folklore background is evident in her series of books. A current project, a wooden running rabbit, embraces a Native American tale of how rabbit brought fire to the people, incorporating stained glass to represent fire in her mixed media piece. Johanna spends her time finding innovative book structures to express her interest in folk tales and New England animals.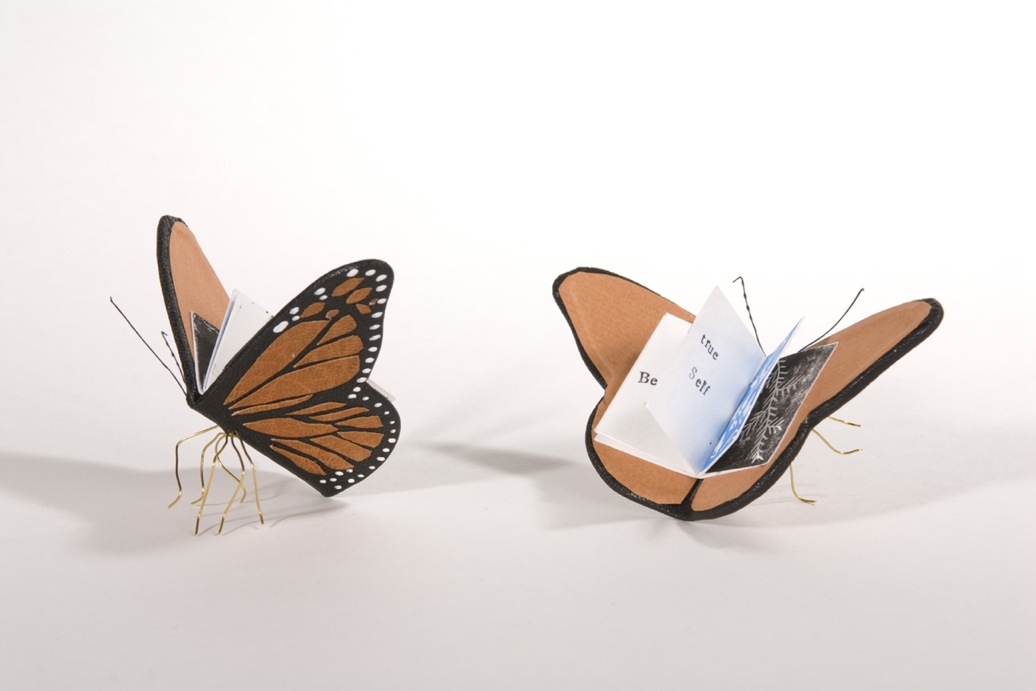 Her goal is to create a construction that, from the outside, conveys the story that is on the inside. Her preferred materials include cloth, leather, paper, paint, printmaking, and collage. The "story" line can be an original, simple poem of a few words- a haiku without rules. Johanna's retelling of old tales in 3 dimensions makes for compelling art.
Like many artists who spend a lot of time alone in their studios, Johanna enjoys interacting with people interested in creating. Her interest in new ideas arising from old traditions has given her perspective of life where so much is fascinating. And she loves to communicate her interests in the classroom. She has taught Celtic design, mythology, and art to adults and kids and teaches English as a second language because she loves to meet people from other cultures. She has taught at Penland School of Craft and besides Sanctuary Arts, she teaches at the North Bennett Street School and will be teaching at The New Hampshire Institute for Art.


Kristin Fellows, Student of Johanna Finnegan-Topitzer
Her work can be seen at the Center for Maine Craft, the Sharon Arts Center, Exeter Fine Craft, and Portsmouth's
Three Graces Gallery.
Johanna can be found the first Thursdays of every month from 6 – 9 at the lower mill in Rollinsford in the hallway where tables are set up for many of the working artists to display and sell their creative wares, plus she participates in Open Studios in May and November. She does book repairs, specialty photo albums for weddings, creates one of a kind art books, makes cloth presentation boxes for print makers and photographers, and is open to commissions. Her work can be viewed on her website at
www.selkiebindery.com
and she can be contacted at (603) 988-4474 or through email at
jft@selkiebindery.com
.
"I love the work of Johanna Finnegan Topitzer! A few years ago a mutual friend mentioned that I should go check out Johanna's studio. I was told she was a bookbinder, and as I had recently decided to integrate functional art into Three Graces, I was curious. Her work completely altered my perception of a book. Johanna's books are interactive sculptures; her ideas are thoughtful and genuine and masterfully constructed. I love that she is not only inspired by the ancient tradition but also challenges herself to create new works that in many ways break old rules. (Johanna is also a warm and wonderful person and a delight to work with!)"
~
Kim Ferreira, proprietor of
Three Graces Gallery
, 105 Market Street, Portsmouth NH