Mary Byrom was one of those fortunate children who was enrolled in art classes from the age of 5, at a private institute in her home town. There she was introduced to a plethora of media, clay, paper, pastels, watercolor, oil -you name it. She was immersed in the world of art, as well as music, with her mother encouraging her creativity.

During her art studies in high school and the beginning years in college, she received a strong, traditional arts foundation As an undergraduate she was an art and botany double major and she continued to study with visiting artists, paint in acrylics and work in her own fiber studio. With a strong academic background in drawing, painting and design, she did textile design, and created dance theater costumes and sets for dance companies in NYC.

A car accident put an end to that facet of her artistic career, and while recovering in Vermont, she started painting again- thick, abstract large paintings in multi media sculptural paint. She received commissions for designing sculptural installations, including a large fiber piece for the Burlington Airport. Mary printed and dyed fabrics and started designing for weavers, working with surface design. Her techniques included silk screen, hand painted fabric, batik, Shibori (Japanese resist technique), and Ikat. Ikat is a process where the fibers are dyed, before woven, in a particular pattern of resists. When woven, a planned image emerges. These designs were worked out on a grid, with all the warp and weft tied and dyed, sometimes taking a month before being woven. Mary found this collaboration with a weaver a very rewarding one.
Mary moved to the Seacoast, had her first show of cast and dyed paper merged with fibers, gold, glass, and metal to create empty clothing reminiscent of Japanese armor at The Portsmouth Collection. Two months later, Mary was hit by a car in a crosswalk and was unable to stand or paint at an easel. For ten years she had physical therapy every day and began swimming to regain strength.
During her recuperation she made a collection of artist books about her healing process, and, when she felt a little better, painted small landscapes from memory of hiking in Vermont. Then Mary had a break through. She started Falun Gong, practicing every day for eight weeks, and all her symptoms disappeared.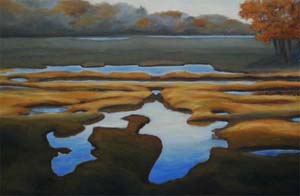 Harris Island Marsh

At this time, Mary was introduced to Sanctuary Arts and began long term study with Sean Beavers, which she says was a great re-entry into working in oil. She took a landscape painting class with Sean and Rob Sullivan and loved it. She went on to study with plein air master Scott Christensen in Jackson Hole, an incredible intensive summer program that freed and opened her up. She returned for further advanced study, submerging herself in plein air painting. Painting in Wyoming and Idaho with Scott pushed her to develop competency with field sketches, solidify plein air skills and institute solid guidelines of classical landscape composition.
Along the way, Mary's children's musician husband, Marcus Gale, asked her to do watercolor illustrations for his CDs, website, print media, and TV animations. After working with Scott Christensen in oils out west, Mary began grabbing her watercolors to work from her car in bad weather. She always sketched compositions before painting en plein air, and began adding watercolor sketch pencils to get color into her sketches, thinking, "this is fabulous!". Mary paints year round in all kinds of weather and uses watercolor when traveling, sometimes doing watercolor studies before doing an oil. Her sketchbooks in watercolor allow her to scout locations quickly, jotting down information about the sites efficiently. Now she is moving into her studio to do much larger oils, influenced by her loose watercolor field studies. Mary is an ardent painting practitioner and an excellent, knowledgeable teacher who loves to share her enthusiasms. Join Mary in her Sky, Land, & Water workshop (SA3) and her Sketchbook Journal; "En Plein Air" (SA 6).