While on your Winter Vacation in Santa Fe….
We are excited to announce several new works installed in the galleries and in the gardens by Bien Irizarry, Joseph Sisneros,
Denise Williams, Gareth Andrews and Linda Bolhuis.

You will be inspired to take them home with you.

We invite you and your friends to visit the most unique gallery in Santa Fe, Shidoni . We are located in Tesuque New Mexico with an eight acre garden and two indoor galleries

Be sure to ask about the 'Convenient Payment Program' as a way to stretch out the payments.
Shidoni's Sculpture Supply Store has a large number of hand tools, armatures and wire, calipers and other essentials available for sale.
Sculpting Tools
Armature Kits and Wire
Oil Based Sculpting Clay
Shidoni's own blend of Casting Wax
Victory Brown Wax
Sprue Wax
Mold Making Supplies
Patina Chemicals
Literature
Safety Supplies
Join us on Facebook just click the link below.

505-988-8001
Bien Irizarry


Scupltor Bien Irizarry was born on the island of Puerto Rico in 1957. Bien found himself living most of his youth in New York City. While he spent many hours touring galleries, museums and public works so essential to his artistic development, he honed his skills with an esteemed education. Bien attended the School of Art & Design, The Arts Students League, and the National Academy of Arts – all in New York City where his focus was draftsmanship. Later, he traveled around the United States working at art foundries, mastering the trade, and casting his own work into bronze.Today, Bien resides in Santa Fe, New Mexico for the camaraderie and community, galleries and marketplace, landscape and quality of life. Bien Irizarry is one of the lead artisans at the world renown Shidoni Foundry in Santa Fe.
At the age of 5, Bien encountered the masters – Renoir, Modigliani and Picasso. This proved to be life changing. "They were the most beautiful things – I was captivated." he says. "It was then I knew that I would be an artist."
Bien sculpts because of the three dimensions that move him to react with creation. His love of color is evident in each work, but his mastery of carving, mixing media, and assembly to achieve his artistic stories prevails.
His subject matter remains simple yet powerful: branches, clouds, stones – even a bird. "I relate to these in a fundamental and metaphorical way," Bien says. "I can compose with branches quickly, covering surface space, expressing hardship, death, new beginnings and life through a range of textures and movements. Clouds allow me great space, pressure, and atmosphere. Stones or rocks are ancient, wise and defiant. The bird fantasized freedom."
Clear acrylics are a favorite medium and are the primary element in his work. He fascinates his viewers by the effects of light, the control of gravity, easy carving, and assembling in a modernistic manner. The wood then lends distinct warmth. Natural stones and rocks provide weight and earthy color.
Bien Irizarry currently exhibits in several galleries in the Southwest, and his collectors are from all over the United States. Bien's sculptures are all one of a kind. There are no edition sizes. Each piece contains materials found in foundries and are sculpted together in a way only Bien Irizarry can bring to life.
Photos and Artist Statement courtesy of Barbara Butkus
Joseph Sisneros
Joseph Sisneros
"Horned Owl, Buffalo and Barn Owl"
Joe R. Sisneros was born and raised in Tesuque, New Mexico. He is a self taught artist who currently lives and works in Tesuque. His family on his mother's side has been in the Tesuque area since 1850. He went to elementary school here in Tesuque and to high school in Santa Fe.
After high school Sisneros first began his career at the Art Foundry in Santa Fe. He worked there for 3 or 4 years starting from the bottom and working his way up. The next 13 years were spent working for the Allan Houser Foundry. It was here that Sisneros actively started producing his animal sculptures. Turtles and grizzly bears with their cubs were some of the first. Since he has been with Shidoni he has gone on to produce a series of steer skulls, owls, and buffalo. Sisneros works in the Shidoni Foundry as a supervisor and has been doing foundry and art work for the last 20 years.
The name Sisneros is of Spanish descent and literally translated means "Keeper of the Swans". It is fitting to him as Sisneros began his love for animals and art as a young man in elementary school. His inspiration comes from all around him. He has developed a large visual diary and he draws from it when sculpting his animals. A majority of his works begin in wax, others has started in clay. The end result is always a beautiful hand patina bronze.
His wall pieces have been a little more abstracted. Monica's Harvest was a work piecemealed from other divested works, in which Sisneros composed and welded them into its final form. His next projects are an edition of Buffalo Skulls and owls that have a more contemporary appearance.
Joe R. Sisneros is exclusively shown at the Shidoni Galleries in Tesuque, New Mexico.
Denise Williams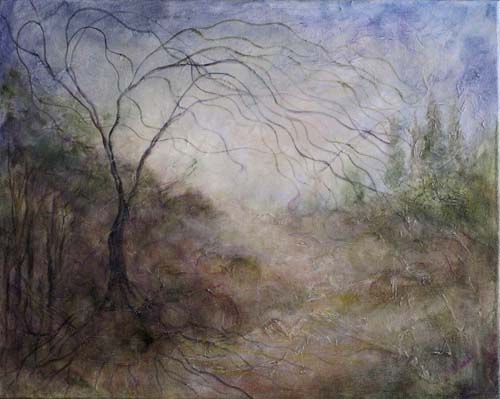 Denise Williams
"Whisper Of The Willow"
16" x 20"
Denise is a self taught artist, working diligently for the last 20 years to create a new and unique style utilizing traditional archival materials. After much intense and very thorough research, it is thought she accomplished this goal in 2004 within what she refers to as the Diaphaney Series, both in artistic representation of subject matter and in the finish of pieces as well. The end result is a depth and luminosity of product that is felt to be unique in the market. This technique involves the building of many layers and textures utilizing Acrylic, paper, canvas, varnish and gel medium.
"My work is about things seemingly unessential- truth, justice, wisdom, and human experience, inspired by Jean Dubuffet. I would like people to see my work as ardent celebration. Regarding artistic presentation, I heel Paul Gauguin's advice that the obligation of the artist is to create, not imitate."
"In Santa Fe, I have learned many things of art, first to let my instincts guide me and not to worry about ambitions, or to be concerned about what is therein, but to render art as born from the soul. Art, as my child taught me, should have a life of its own as the night and day of which we inhabit and one should render many views therein – that is what we mean by abstract art or thinking"
Gareth Andrews


Gareth Andrews
"Sons of Death"
Gareth Andrews

"Anthem"
Gareth traveled to Alaska to "see the state", he settled in Fairbanks. His interests in whaling and in Eskimo legend have been nurtured there. He had the opportunity to see whales off the south coast of Alaska. And so, the first bronze of the series, titled 'Anthem' depicts not Eskimos, but the crew of a Yankee Whale boat in 1850 that went out to meet the Humpback whale. Six stout men depicted in the boat are out to hunt the Humpback by striking the calf first knowing that when they do the cow will come to its rescue and thus they will capture the cow. But in this captured moment the bull has turned the table on the hunters and leaps from the water and in seconds, line, harpoon and boat will give way as he crashes back into the sea rescuing his calf. Viewing this piece one experiences the excitement of the moment in the power of the bull and there is a feeling of wonder that such an inflexible media could so aptly portray the action of this piece.