- TAPA Annual Conference - April 6-7, 2018, Double Tree, 400 Dallas Street, Houston, TX

- 1st Annual Advanced Child Protection Law Course - April 19 - 20, Austin, TX  [Watch for details.]

- Annual BOD Meeting - June 21-23, 2018, 4415 South
  IH-35, Austin, TX
  (Annual Meeting of Members - June 22 - 1/2 day of  
   CLE; watch for details)

- TAPS - October 2018, Austin, TX


Fort Worth Paralegal Association
District 3 Members

Susy Johnson
passed the TBLS certification examination
in Real Estate Law

Doris Jackson
received the Pro-Bobo Paralegal of the Year Award
from the Tarrant County Bar Foundation

Jessica Amyett, CP
will serve as President of the Fort Worth Paralegal Association for 2018-2019



Congratulations Susy, Doris and Jessica!


District 14 Member

Maria Sturdy

President of Northeast Texas Association of Paralegals
was voted


2017 Paralegal of the Year
Congratulations Maria!
District 16 Member

Yolanda Garcia, PLS, BCP, TBLS

passed the TBLS certification examination
in Civil Trial Law
Congratulations Yolanda!

Law firms and legal departments with 100% of their paralegals enrolled as PD members, will qualify for the "100 PD Club" and receive recognition in the summer 2018 TPJ.


For a "100 PD Club" questionnaire, please e-mail President@txpd.org and type "100 PD Club" in the subject line.


SAVE THE DATE - TAPA CONFERENCE
As a Paralegal Division member, you have access to the PD Job Bank!
Log in at

txpd.org

and check it out on the
Members Only
tab.
Paralegal Division CLE Calendar


The Paralegal Division website has a CLE calendar with events all over the State of Texas.

When looking for live events in your area, remember to visit our CLE calendar at https://txpd.org/calendar/calendar.asp.
Looking for affordable CLE?
Visit the PD On-Line CLE store for some of the most affordable
CLE around.
http://txpd.inreachce.com/
NEED CLE??
Obtain the CLE programs and many more!

Just a couple of available titles

:





 


The TPJ Winter 2018 Edition is available today!

The Paralegal Division of the State Bar of Texas digital Texas Paralegal Journal (TPJ) is available!

Please take the time to review the digital TPJ!
         Ad Size/Location                                Per Ad         
Premium (Inside Cover)                   $500.00
Full Page                                                 $425.00
Half Page                                                $250.00
T
hird Page                                              $125.00
*Sustaining Members receive a 10% discount.  (The 10% discounts cannot be combined with any other discounts.)

Go to www.txpd.org for details on advertising.

CLE CEtoGo Podcasts and On Demand Programs
Presented by the Paralegal Division
Don't have time to leave your desk for a CLE event? If you need CLE, the Paralegal Division offers Online CLE. The Online CLE catalog @ http://txpd.inreachce.com/ is a combination of past on-site CLE as well as webinars that have been presented by the Paralegal Division.

March 21, 2018; 12:00 p.m. - 1:00 p.m.

Civil Judgment Collection:  Squeezing Blood from "Turnips"


Speaker:  Jonathan Wharton of the Law Offices of Jonathan Wharton

Civil judgments against individuals and small businesses generally aren't worth the paper they're written on. Your client was wronged, the court says you're right, but the defendant never pays. There are some basic techniques you can use to figure out whether a defendant can actually be made to pay, even if they will not cooperate. This presentation will go over the fundamental techniques (primarily online) that paralegals should know to determine if a defendant can be forced to pay up.

Registeration Link.


More CLE topics are added monthly. View the catalog to see what may interest you. If you are a certified paralegal, this may just be the "go to" place to obtain the CLE. You may also download most of the CLE topics to a podcast so you can listen as you drive to work!
CALLING ALL WEBINARS!
H
ave you seen an especially helpful CLE in your district?   If so, please let us know.  We are always looking for good presentations to present through webinar.
Please contact Shannon Shaw OnlineCLE@txpd.org to provide information about potential webinars.
 PARALEGAL ETHICS HANDBOOK
The Paralegal Ethics Handbook is a resource for all paralegals that addresses ethical
 considerations for 17 practice areas
as well as considerations for in-house, corporate, freelance, administrative, governmental, and regulatory law paralegals.


How to Order and Save 10% - Order online at LegalSolutions.com, and at CHECKOUT enter Promotion Code 10ETHICS and the discount will be applied. Or order by phone at 1-800-344-5009. 10% discount applies to this book only; expires 12/31/2017.
This handbook: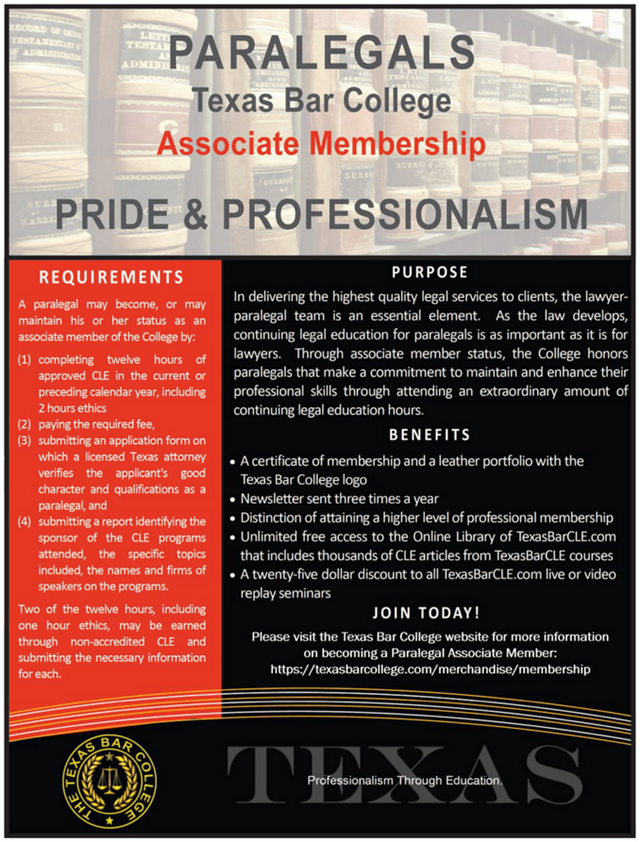 Eligible paralegals can become members of the Texas Bar College. See here for details of member benefits and how to become a member.
Merianne Gaston has retired after 9 years with State Bar College.  Please contact Katherine Korrodi at Katherine.Korrodi@texasbar.com if you need assistance at State Bar College.
The Paralegal Division has an excellent mentorship program.  If you are new to the profession or an experienced paralegal venturing into a new field, our mentors would be happy to assist you in your transition.

Mentoring knows no bounds, including geography! Be paired up with someone in the State of Texas and communicate by phone, email or face-to-face. We are currently accepting new applications, if you wish to become a mentor or a protégé. Please see the following criteria:

Mentors - Voting, active members in good standing, with at least seven (7) years of paralegal experience, are qualified to serve as Mentors. Mentors must complete the requisite application acknowledging Mentor has read and agrees to follow the Mentor Program Guidelines.

February Random Question - sponsored by US Legal Support
"What section was created by the State Bar of Texas this year?

Protégés - Protégés must be Division student members in good standing, or active or associate paralegal members of the Division in good standing, with two (2) years or less of paralegal experience. Protégés must complete the requisite application acknowledging Protégé has read and agrees to follow the Mentor Program Guidelines.


Please fill out the Mentor and/or Protégé request form under the members-only area of the Paralegal Division website ( www.txpd.org).

Once completed, submit them to Deb Pointer, Mentor Program Coordinator, MentorProgram@txpd.org. If you have recently submitted an application but have not been contacted by anyone, please forward it to Deb so it can get processed promptly.

Visit the PD's website for more FAQS regarding membership, ethics, and other topics - www.txpd.org and click on "FAQ" tab.



Need to replace your membership card?  Please send $25.00 made payable to the Paralegal Division along with a letter requesting a new membership card to:

Rhonda Brashears
Paralegal Division Coordinator
P.O. Box 19163
Amarillo, TX 79114


The Paralegal Division
of the State Bar of Texas
P. O. Box 19163
Amarillo, TX 79114
Email: 

pd@txpd.org
Phone:  (806) 803-3267
2018 - 2019 Paralegal Division Officers
  2018 - 2019 Officers of the Paralegal Division
Stephanie Sterling, TBLS-BCP, President
Megan Goor, TBLS-BCP, President-Elect
Javan Johnson, ACP, TBLS-BPC, Treasurer
Sherylyne Hollinger, RP, PHP, Secretary
Edna Garza, TBLS-BCP, Parliamentarian
EXCEPTIONAL

PRO BONO SERVICE AWARD



  
Download a nomination form here.
PROPOSED 2018 BYLAWS CHANGES - VOTING BEGINS ON MARCH 24, 2018


The Paralegal Division Active members will be voting in the Spring 2018 Election on the following four Proposed Bylaw Changes. The Online Election will commence on March 24, 2018 and conclude on April 7, 2018.

The Proposed Amendments are being posted for your review prior to the Election. Should you have any questions about these changes, please contact your District Director, and/or the President, Mona Tucker, at president@txpd.org.

See the proposed bylaw changes here.
NEW ETHICS CLE REQUIREMENT
Paralegal Division's vision is empowering paralegals; as such the Board of Directors feels that ethics education is important and voted to approve a new ethics CLE requirement. Effective for the 2017-2018 Renewal Period, all renewing active and associate members will be required to have one (1) hour of the current six (6) CLE hour requirement in ethics obtained by May 31, 2018. Please note that the 1 hour ethics credit must meet the criteria for approval of continuing education courses as listed in the

Standing Rules

(see I.I.4.) and cannot be counted as a self-study hour.
U.S. DISTRICT COURT FOR THE WESTERN DISTRICT OF ARKANSAS CLOSURE
The clerk's office for the U.S. District Court for the Western District of Arkansas in Texarkana, Arkansas will be closed temporarily until further notice. During this time, the Clerk will be unable to accept in-person filings or payments at the Texarkana, AR office.
Please direct all mail and phone calls to the Fort Smith office.


Mailing Address:

Judge Isaac C. Parker Federal Building
30 South 6th Street
Room 1038
Fort Smith, Arkansas
72901-2437
Phone: (479) 783-6833
MEMBERSHIP PRO-RATED DUES - ENDS FEBRUARY 25TH
JOIN THE PARALEGAL DIVISION FOR HALF PRICE!



That's right! the Membership Pro-Rated Dues Application Period is December 1, 2017 through February 25, 2018. So from now until February 25, 2018 you can join the Paralegal Division for half price! There has never been a better time to see what the Division has to offer you!
(See here for full details.)
Membership approved during this pro-rated period will expire on May 31, 2018, at the end of the Paralegal

Division

fiscal year. Active and Associate members will be required to obtain 6 hours of CLE prior to May 31, 2018 to renew. One hour of the required CLE must be ethics and 2 hours of self-study can be claimed.
 SUSTAINING MEMBERS OF THE MONTH
The Paralegal Division owes a great debt of gratitude to the following sustaining members of the month:


Thank you for
your support of the Paralegal Division!

               For more information about the sustaining members of the month, please visit our
        webpage at http://txpd.org/vendors.asp.
                                  If you would like to be a sustaining member or have a recommendation,
please contact Susan Davis at vendors@txpd.org.
RANDOM QUESTION WINNER, SPONSORS AND THE RULES
Congratulations - You are the January Random
Question Winner!

January Random Question Sponsor
February Random Question Sponsor
OFFICIAL RULES FOR ANSWERING THE RANDOM QUESTION –
Find the random question in this month's newsletter; and send an email with the subject line "Random Question" and the correct answer to e-newsletter@txpd.org no later than midnight, March 1, 2018. The names of all members who respond with the correct answer (by the deadline) will be placed in a random drawing, and the winner will receive a $25 gift card from the sponsoring sustaining member. The winner will receive notification of the award and the prize, and his/her name will be announced in the next volume of The Pulse. Winning participants are ineligible to win again for the next 2 consecutive months.
               
                                                                    Are you Certified or Certificated?
                                                                                                  Submitted by Ellen Lockwood, ACP, RP

If you have completed a paralegal training course, whether it is a bachelor's or associate's degree program, a master's degree program, or a certificate program of any kind, you are certificated NOT certified. To be certified, you must have qualified for, taken, and passed an exam offered by a certifying organization such as TBLS, NALA, and NFPA.  Only then may you state you are certified.  Some paralegal programs will say that their graduates will be certified, but this is not correct.

CHILD PROTECTION LAW SECTION
INVITATION TO JOIN THE CHILD PROTECTION LAW SECTION
[submitted by Sally A. Almendares, Houston, TX]
On January 26, 2018, the State Bar of Texas Board of Directors voted unanimously to create the State Bar of Texas Child Protection Law Section. This section is encouraging paralegals to become involved with this section so that the needs and legal training of paralegals in this specialized area will be addressed.



To become a member

: 
Use your State Bar of Texas Paralegal Division bar number and log into your "My Bar Page" account via the State Bar of Texas website at

www.texasbar.com

.  From the right side of the welcome page, select "Join Sections". Then select "Child Protection Law" and follow the instructions to become a member. Membership is $20.00.
TAPA ANNUAL CONFERENCE APRIL 6-7
NEW EDITION OF PARALEGAL ETHICS HANDBOOK PUBLISHED

The Houston Corporate Paralegal Association is hosting this year's TAPA conference from April 6-7.

They have a wonderful line-up of speakers for the all-day CLE.


The conference will offer 6 hours of CLE credit, including 1 hour of ethics, a fun social event and a leadership series. The conference will be at the Double Tree in downtown Houston.

You may have received the registration packet directly
from HCPA, but if not, follow the links below.

Direct link to register for the conference: https://hcpa.starchapter.com/meet-reg1.php?id=36


Direct link to the hotel room block: https://aws.passkey.com/e/49573762


SAVE THE DATE - PD ANNUAL MEETING - JUNE 22, 2018

FREQUENTLY ASKED QUESTION

SUSTAINING MEMBERS - HAVE
YOU SET UP YOUR SUSTAINING MEMBER AD?
Sustaining Members of the Paralegal Division can advertise (listed as a vendor) on the Paralegal Division website.

To become a Sustaining Member, please go to Membership/Applications Tab at www.txpd.org and follow the directions for applying online. 

If you have not set up your ad, please contact Rhonda Brashears, PD Coordinator: pd@txpd.org to get started.
  BE FEATURED IN OUR DID YOU KNOW. . . AREA
Share your talents with your colleagues!
Each month, in our DID YOU KNOW... section, we strive to bring you useful tips and tricks contributed by paralegals like you, specifically for fellow paralegals.

The best tips and tricks are learned by practicing paralegalism. Please share your wealth of knowledge...send your comments, suggestions, and advice to us at e-newsletter@txpd.org, and you too can be featured in the Paralegal Pulse!


Thank you for your participation!
Did you know that ...
 as a member of the State Bar of Texas, you can join a Section of the State Bar pertaining to your practice area? Annual dues range from $15.00-$40.00 depending on the Section. Visit this page to see a list of the Sections of the State Bar of Texas. From there you will be directed to My Bar Page to join online using your bar number. 

[submitted by Pam Eti, ACP, Dist. 4 Director, Austin, TX



you no longer have to call the court to check for available hearing dates in Travis County. You can check the county and district court future setting here: https://www.traviscountytx.gov/courts/files/dockets/civil. Then, just call the court when you're ready to set.  [submitted by Mona Tucker, PD President, TX]
If you have any suggestions or questions, feel free to email us anytime. We hope to hear from you soon! Our email address is e-newsletter@txpd.org.


Best regards,

Sheila D. Posey, TBLS-BCP
Chairman, PD E-Newsletter Ad Hoc Committee
Paralegal Division
State Bar of Texas