Health system changes, Midland HTC update, Restarting HFNZ events, New HFA resource, Upcoming events, and all the Latest News from HFNZ...
The latest from the Haemophilia Foundation of New Zealand - May 2022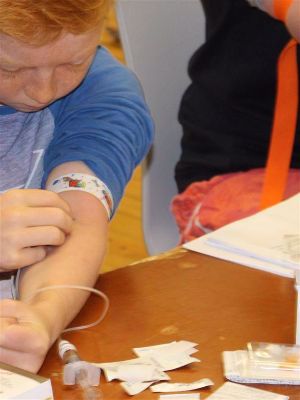 There have been a number of changes to the health system signaled by the Government recently.
We have already heard the proposal to move from the current DHB system to a centralised system, under the auspices of Health NZ and the Māori Health Authority. We hope that this will help facilitated better decision making, and improve the data available about people with bleeding disorders.
In the budget we we very pleased to see health as a priority. More money has been made available to Pharmac, and the health system in general, which we hope translates into better decisions around medicine purchasing for people with bleeding disorders. We would like to see Hemlibra for all severe haemophila A, as a starting point.
Today the Government announced that they largely agree with the 33 findings of the independant review into Pharmac. They indicated that Pharmac will be required to consider more than cost, as they assess new medicines for purchase. Of particular note is the recommendation that
Pharmac take on board the voices of health consumers and those with lived experience of conditions, particularly for those with rare disorders.This was reinforced by
Health Minister the Honorable Andrew Little's comment that the Ministry of Health "
will fundamentally change the way we approach rare disorders".
All of this is very encouraging for people with bleeding disorders, and HFNZ are looking forward to contributing to these discussions.
The Midland HTC would like to introduce the newest member of the team, Dr Gustavo Faulhaber.
Dr Faulhaber is a specialist haematologist. He had his training in Brazil, having a broad experience in both clinical and laboratory Haematology where he attained a Masters and PhD degree in Medicine.
Before coming to the Waikato Hospital Gustavo was Professor at the medical school of the Federal University of Rio Grande do Sul, in Brazil, and Director of Zauol Haematology lab, which is the regional reference laboratory for the diagnosis of haematological disorders. He has worked with haemostasis and thrombosis patients for more than 15 years.
Other news, the HTC are introducing a new virtual clinic for their mild bleeding disorder group. This will take the form of a yearly update via email and will ensure that no one is lost to follow up, and not losing the direct contact links with us for any problems in between follow up times.
The launch date for this was Friday 22 April 2022. The first patients to be included in this clinic will have already received a flyer explaining the process.
We're all very excited that Women's Weekend is finally about to happen. After a lengthy postponement and several programme changes we're now all set to go.
There are 40 women heading for Dunedin next weekend, all set to enjoy a fantastic programme, and some high quality reconnection.
It's all very exciting, and we just can't wait!
You can read all about it in the August issue of Bloodline.
At HFNZ we work hard to offer a range of events designed to cater for members of all ages and stages. From our National Family Camp, for families of newly diagnosed children, to Adult Weekend, we want to ensure that we are supporting the needs of members throughout their lives.
After two years of Covid distruption, we're looking forward to running some of our key national events over the next 12 months.
As mentioned above, Women's Weekend is coming up next weekend in Dunedin. Attendees have a fantastic programme lined up for them, including some inspiring speakers and workshops, and the opportunity to get out and about socialising.
Keep an eye out for the full report in the August issue of Bloodline.
Planning is in the early stages for an Adult Weekend before the end of the year. Probably later in November, when the weather's a bit warmer again. Keep your eye on your inbox for more information about this event.
National Family Camp
is scheduled for Ngāruawāhia on
11 -14 April 2023
. This key event in the HFNZ calendar was originally planned for April 2022. Sadly, Covid restrictions forced a postponement, and now we're looking forward to April 2023. If you have a newly diagnosed child in your whānau, and you haven't attended National Family Camp before, this is the best place to start your HFNZ journey. With parent-focused education sessions, and many child-centred activities, you'll come away with a whole new understanding of your child's bleeding disorder, and a support network to match.
Of course, there will also be assorted regional events as the year rolls on. Like the national-level events, these regional activities provide a fantastic opportunity for members around the motu to get together, share some stories, and learn from one another.
Haemophilia Foundation Australia has published a new education resource, Haemophilia testing in women and girls: Your questions answered. It's a comprehensive booklet about genetic testing and factor level testing in haemophilia for women, girls and parents of girls.

There are often many questions and things to think about when checking to see if a woman or girl is affected by haemophilia.
HFA developed the booklet to answer these and other questions in collaboration with women and parents in the Australian community, Haemophilia Treatment Centres and genetics and legal experts. It includes infographics, tables and personal stories from community members Jane, Sharri and Michelle.
Download the booklet from the HFA website - https://tinyurl.com/haemophilia-testing-WG

Also, look out for the short and simple version, which is coming soon!
Keep your member details up to date
In order to get the most out of your membership, it's important to keep your details up to date. The key details are email address and date of birth.
Posting invitations and information to members is an expensive business, and where possible we would prefer to make contact electronically. If you have an email address, but you're not sure that we have it,
please let us know
.
If we have no DOB for you we can't filter you in to age-based mailing lists, like Adult Weekend, Youth Camp, and Women's Weekend. Again, if you're not sure that we have your DOB,
please let us know
.
Here's what HFNZ have lined up for members in the coming months:
Women's Weekend
10-12 June, 2022. Dunedin.
Youth Leadership Workshop
August, 2022, Wellington
Late November, 2022, Auckland.
National Family Camp
11-14 April 2023 in Ngāruawāhia.
If you have any questions about any of these events, please don't hesitate to drop us a line at
info@haemophilia.org.nz
.
|