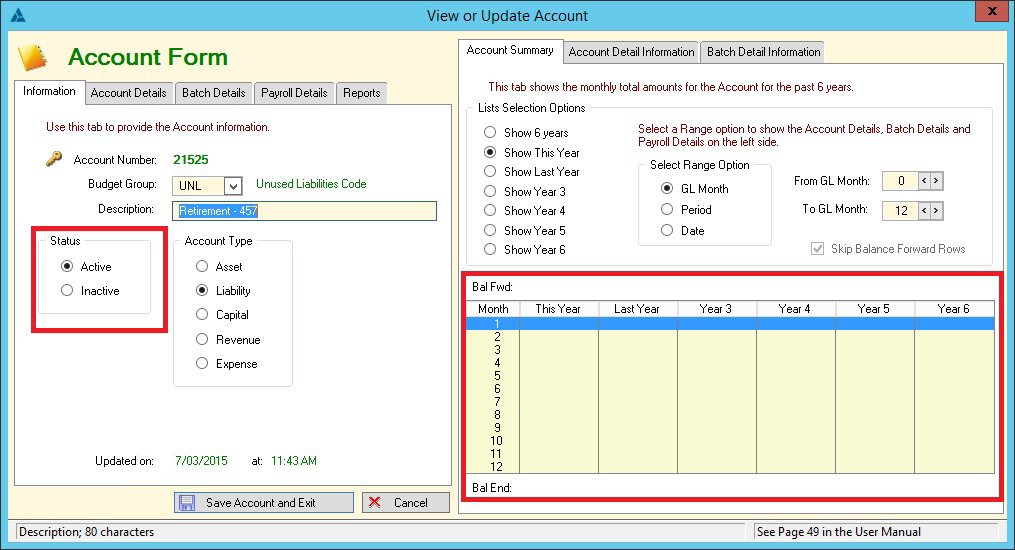 Marge provides a chart of accounts that matches the list put out by the state and provides linkage of those accounts to the line items in the State of Wisconsin's Form CT. Most municipality's will not use all those accounts or budget groups. We realize that a municipality's needs may change over time and as a clerk or treasurer you may be afraid to get rid of a certain account. Marge allows you to mark accounts and budget groups as inactive.

To get to the screen shown above, you would first select the General Ledger tab and then the Chart of Accounts sub-tab. If you are attempting to inactivate unnecessary accounts, click on the List of Accounts Button. If you are attempting to inactivate Budget Groups, click on the List of Budget Groups.

Then by highlighting either the Account or Budget Group, you can determine if there has been any activity in the last 6 years. We strongly recommend inactivating any account or budget group that does not have activity for the last 6 years. To do so, click on Update Account or Update Group and toggle the Active status to Inactive. You can chose later to activate a group or account if the municipality determines the need to track such expenditures in the future.

Once an account is inactive, it will not appear on dropdowns during the distribution or receipt process. So it helps to prevent errors as well.



The Budget Planning Report (Report 6) is found under the Budget Groups Button and reports tab on the right. You can generate this report several times during the process. You will need to calculate what the expected Estimated Remaing Expenses are for each line item. You can also make adjustments to the budget numbers for 2016 and 2017 (in the example) as needed.


To update a line item, use the tools on the List of Budget Groups Screen to narrow and allow selection of the correct line item. When it is highlighted, chose to Update Group.


When those final numbers have been entered and the Budget Group has been saved, you can run Report 6 again and the program will calculate the variation for you and populate that portion of Report 6.

NOTE: When the year end process is completed, the numbers entered into Estimated Expenses field will be converted back to an empty field for the next year's budget process.
As always, we are here to help should any questions arise while you are creating 2017 budgets. Feel free to email us at support@townhallinc.com or phone us at 1-800-528-9086.