July 2017 eNews



Where are you Jeep?

Where is your direct support for recreation?


"Why the Jeep Wrangler is such a money spinner for FCA

By Glenn Brooks 6 July 2017 just-auto.com

There are certain cars that just keep on selling, no matter what their age. The Wrangler is about to enter its tenth year of production and yet sales keep rising. As was the case in 2016, production looks like being in excess of 250,000 units in 2017 too."

Is it because four wheelers keep buying them?
It could make such a difference to the ability of UFWDA and our associated organizations to advocate to federal, state and local policymakers if there was some financial support from the Jeep brand, which has certainly benefited from the efforts of volunteers to grow interest and to retain opportunities to four wheel on public lands.



The new Jaguar E-Pace SUV might be a little harder to modify than a Jeep, but it looks like it's thrown down an interesting challenge.

With the UFWDA online annual meeting scheduled for 22 August 2017 you are reminded that we are looking to fill some BoD positions and have a series of annual awards waiting for nominations from our U.S. and international membership.
The Jack Edwards Memorial Award
Four Wheeler of the Year Award
Environmental Affairs Four Wheeler of the Year Award
Contact Tom Mandera for a respective nomination form for those categories.

A reminder again that the UFWDA 'online' store is temporarily disabled. The donation function is however still available and your support is most welcome.


Your input of topical material for each eNews is still vital, so please keep UFWDA and our readers informed by emailing to editor@ufwda.org before the 10th of each month. If your organization has a website with interesting stories etc. then send a link to editor@ufwda.org

Don't forget that we need your stories and photos for the next UFWDA Voice by the 20th July. Who will feature on the front cover?


Peter Vahry; editor



Can New Jeep Trails Be Opened?
By Jerry Smith
YES, in some places the United Four Wheel Drive Associations are still creating new Jeep trails or reopening old Jeep trails.
After an "exploration" and mapping trip on Thursday, June 29, 2017, I am ecstatic about the prospect of creating a connector trail between the Pace Lake Jeep Trail and the Z2.4 Road (Cone Mountain Trail). This would create a loop trail of approximately 30-miles.
We found that a trail shown on maps as a non-motorized trail is an abandoned 2-track that has a ton of overgrowth encroaching, but the trail is mostly still very recognizable and wouldn't take much to re-establish.


We (the Grand Mesa Jeep Club and United Four Wheel Drive Associations) are already working with the BLM, the USFS, and a private landowner to bring all of this to fruition, but that is what we do as members of the Grand Mesa Jeep Club and United Four Wheel Drive Associations.


This "connector" trail was proposed to the BLM years ago and the USFS last year at the beginning of their Forest Plan review. These things are never a "quick fix". You MUST be "persistently patient"… persist on a REGULAR basis with the expectation that government moves at its own pace.
Thank you to our supportive clubs!


The Vegas Valley 4 Wheelers club and associated regional 4WD groups pleased to inform you that our membership has selected your group as one of the land use advocates to support with a portion of the proceeds from our most recent annual fund raising event. Our non-profit guided trail ride event which is in its 36th year is called the Hump N Bump. Besides supporting our favorite land use advocates our event supports other worthy causes including the Cappa lappa Community Center, Logandale Volunteer Fire Department and the Logandale Police Department.
The Hump N Bump is an internationally recognized low speed, low impact guided family trail ride event event that promotes responsible use of our public lands and has an excellent reputation for being safe and showing our participants a wonderful experience. The Hump N Bump utilizes trails of various difficulty in Southern Nevada and the Valley of Fire State Park.
The worthy causes and the amounts we are able to donate change from year to year based on the success of our event and whom our club members and volunteers feels that need or deserve our support the most. Our fundraising comes primarily from our event raffle proceeds from products and services donated from event sponsors. Our club is a 501C3 and donations are tax deductible. If you have contacts with sponsors that may be interested in supporting our event, please tell them about our event.

Attached please find a check in the amount of $500

Our 36th Annual Hump N Bump will be November 3rd and 4th 2017 and is based from the Clark County Fairgrounds in Logandale Nevada.
For questions or information on our event please contact Hump N Bump Chairman Jeff Jorgensen @ (702) 499-9475 or W4W President Mike Geiger @ Vegasvalley4wheelers@gmail.co

Western Maine Mountain Jeepers - Donation $100
New Mexico Forest Plan Revision Update
Here are the latest developments and public engagement opportunities for each of New Mexico's National Forests as of July, 2017:
Carson National Forest: The first draft of the revised plan is scheduled to be released for public comment later this year. The Carson is also still holding informal monthly "open house" meetings at the Supervisor's office. The next scheduled meeting is July 19th from noon to 2:00 pm. You can keep up with the Carson National Forest Plan revision process HERE .
Santa Fe National Forest: There has been no change in status this past month. The Santa Fe is roughly the same stage of the plan revision process as the Carson. Their current timeline shows a draft EIS released for public comment this fall. They have announced information on a series of public open houses throughout the summer. The locations/times/dates and the place to keep tabs on everything related to the Santa Fe National Forest Plan revision process is HERE.
Gila National Forest:
The Gila National Forest is holding a pair of two-day works on "Frequent Fire Desired Conditions". While these workshops are not directly related to the ongoing Forest Plan revision, the desired conditions are very closely related to the information that will appear in the draft revised Forest Plan. These workshops are being held August 1-2 in Reserve, New Mexico and August 3-4 in Silver City, NM.
Everything related to the Gila National Forest Plan revision process can be found at the Gila Forest Plan Revision page located HERE.
Cibola National Forest:There has been no change in status this past month. The Cibola has announced that their schedule is slipping due to a short staffing situation. The draft revised EIS/Forest Plan is now scheduled to be released for public comment late this year. All of the Cibola National Forest Plan revision process updates can be found HERE .
Lincoln National Forest: No changes or updates for the past month. They are still working on the first draft of their initial "Assessment". It should be out for public scrutiny early in 2017 when they will also have a series of public workshops on drafting the "Need for Change" document. The best place to keep track of the Lincoln's Forest Plan revision process is HERE.
These revised Forest Plans for all five of our New Mexico National Forests will be the basis for our recreation on Forest lands for at least the next fifteen years. That makes them IMPORTANT!
Please continue to stay actively involved during the LONG Forest Plan revision process.

See the NMOHVA Calendar for all the upcoming event details and contacts.


Grand Mesa Uncompahgre and
Gunnison National Forests


The GMUG is finally starting its Plan Revision! Our Notice of Intent to Initiate Assessments published June 2, officially kicking off the planning process. For now, our team is sifting through information to get a picture of current conditions and trends on the Forests. This summer, we'll host a series of public open houses and webinars so we can hear from you about what's working, and what's not, on the GMUG. What changes have you noticed? What changes do you want to see? In the fall, we will publish our draft assessments for more feedback.
Planning is a long process – it will take us at least three years to revise the Forest Plan. Throughout, use this website as way to stay connected and informed.
View our June 2017 E-Newsletter (PDF)

You can get directly involved at public meetings
Australia now has an International Four Wheel Drive Trainers' Association... Master Trainer

Stephen Haughey has now been certified as a Master Trainer by the International Four Wheel Drive Trainers' Association
To place this in perspective, there are only five Certified Master Trainers in the world appointed by the I4WDTA, three in North America, One in Europe and now myself in Australia
You can rest assured that whenever you undertake an XDrive course you will be trained by the only Certified Master Trainer in Australia and receive the best Four Wheel Drive training experience combined with an enjoyable day of excitement and learning.
I look forward to seeing you again out on the tracks or on our next XDrive Adventure or Training day
Best regards
Stephen Haughey MBA MAICD GAICD JP(Qual)
Mobile: 0415 268307
Email :
stephen@XDrive.com.au
Web :
www.xdrive.com.au
The Johnson Valley Shared Use Area will be temporarily closed to the public August 1-30, 2017, while the Marine Corps conducts military training to support a large-scale exercise.
This closure period will include the time required to ensure the Shared Use Area is clear of recreation activity prior to training and confirm the land is clear of hazards prior to reopening the land for public access. The adjacent Johnson Valley OHV Recreation Area will remain open to the public during the closure of the Shared Use Area. The Marine Corps will continue to conduct outreach to ensure the public is informed of the temporary change in land use.
UFWDA can still use help.

There are several roles within our volunteer Board of Directors (BoD) that it would be good to have candidates for at our August AGM.
If you're interested, we'd love to hear from you... email Tom Mandera
How four guys introduced off-roading to Vietnam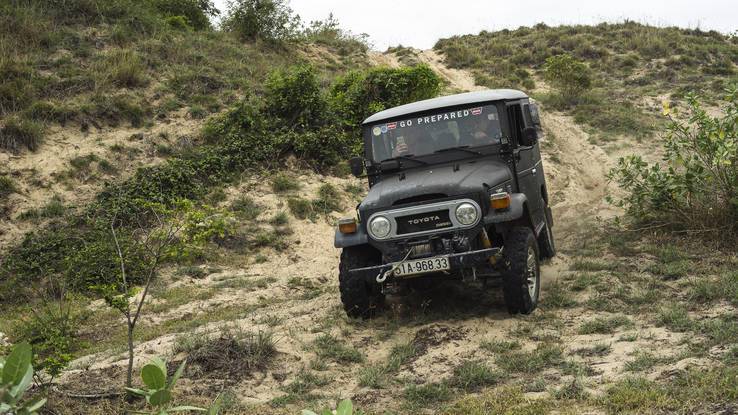 It's high noon on a scorching day in December in a muddy, lakeside park in southeast Vietnam, and a pack of off-roaders have taken over for the day. A couple hundred feet infield of the park entrance, a three-door Toyota Land Cruiser FJ60 is stuck in the mud, spinning its wheels. Meanwhile, on another end of the park with a similarly muddy puddle, a roofless, windshield-less Vietnam War-era Jeep is splashing with abandon, ripping around with the gusto of a sports car. A Chevrolet Colorado is a quarter-mile out in the lake, just sitting there. Under tent cover from the blazing, midday sun, men and women sit in a circle imbibing cold beers. A couple of high-end drones are flying overhead to capture all the activity. An intrepid Ford Ranger, bedecked in skid plates and auxiliary lights, attempts to redeem the FJ60's miscalculated entrance, but it, too, becomes quickly mired in the muck.
Actually, everyone at the weekend gathering of the Vulcan 4x4 off-road club is stuck. These off-roaders intentionally challenge themselves with nearly impossible obstacles and course designs in order to enhance their skills. In failure, they learn to succeed. To wit, the mucky bog that acts as the way into the park's off-road area is hardly the clearest path—yet each entrant insists on plowing through it, then grunting and laughing as his truck is pulled to dry land. (What's that they say about the definition of insanity?)
It's just a typical day at the shore with some good ol' boys, Vietnam-style, and it's all thanks to the efforts of the four Phan brothers who decided to introduce off-roading culture to Vietnam.
United Four Wheel Drive Associations Inc.
PO Box 316
Swartz Creek
MI 48473
The deadline for contributions to UFWDA eNews, is the 10th of each month.
Please send materials to editor@ufwda.org
To use materials from UFWDA eNews, please acknowledge the source.
UFWDA eNews is collated from many sources and may not represent nor constitute endorsement by UFWDA Inc.
Copyright United Four Wheel Drive Associations 2017
| | |