Before we discuss World Day of Prayer for Vocations, I just want to recognize the passing of Mother Mary Angelica of the Annunciation, foundress of EWTN. I quoted her in my workshop saying, "If you are not willing to do the ridiculous, God will not do the miraculous." But she was much more to me than just someone with a quote to inspire you.

Two summers ago while spending 8-10 hours a day writing the first edition of Hundredfold, I went through a major time of discernment, asking God if he really wanted me to write this book, start a website, speak at the Serra Rally, and do the million other crazy things that were put in front of me. Do you know that Mother Angelica, too, questioned all the tasks that God was putting in front of her while starting EWTN? The clear answer to her and me was YES! Do Whatever He Tells You! Let Mother Angelica inspire you, too, to keep fighting the good fight for vocations!

Mother Angelica, rest in peace.
EWTN Live, 4/13
with Fr. Mitch Pacwa
The Holy Spirit continues to surprise me…

Shortly after I arrived home from the workshop in Joliet, Illinois, I received an email from EWTN, asking me to come to Irondale, Alabama to be on EWTN Live with Fr. Mitch Pacwa on April 13th, at 8 p.m. EST, 7 p.m. CST. Can you believe it?!?! I will have a full hour to discuss Vocation Ministry, sharing all that the Holy Spirit has done through us over the last 4½ years! I hope you can tune in.


World Day of Prayer for Vocations
We are only a few weeks away from celebrating World Day of Prayer for Vocations on April 17. Keeping in mind the power of prayer, let us encourage our parishioners on this day to join the worldwide Church in praying for vocations. At St. Cecilia, my home parish, there are many ways in which we are inspiring our parishioners to pray for vocations.

When a parishioner walks in, they will see a banner calling their attention to this special day! Since it is also Good Shepherd Sunday, having the visual representation of the shepherd and the scripture verse from Matthew on it, helps to put the day in context of what God is telling us to do, "…ask the master of the harvest to send out laborers for his harvest."

You can click on the image below on the left to download our printable banners and World Day of Prayer for Vocations resources, or click the image on the right to shop for pre-made displays.


Bulletin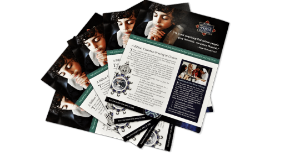 Our ministry bought bulletin inserts from Vianney Vocations this year to place in every bulletin, and they still have some left if that is on your heart and in your budget. If that does not work, make sure to place a blurb in your bulletin, drawing attention to the day. We are doing both to cover our bases. Here is our blurb:



Today we celebrate World Day of Prayer for Vocations! Will you take a few minutes out of your day to pray for more diocesan priests, religious priests, brothers and sisters, and sacramental marriages from St. Cecilia?

In the US, 3500 parishes are without a resident priest, the number of sisters is down to the amount 100 years ago, and the idea of sacramental marriage is in decline for our young people. We need your fervent prayers for an increase in vocations for our parish and our Church. Here's a

simple vocation prayer from St. John Paul II that can be said each day:



Prayer for Vocations

Lord Jesus, as You once called the first disciples
to make them fishers of men,
let your sweet invitation continue to resound:

Come, follow Me! Give young men and women
the grace of responding quickly to Your voice.
Support our bishops, priests, and consecrated people

in their apostolic labor.
Grant perseverance to our seminarians and
to all those who are carrying out the ideal
of a life totally consecrated to Your service.

Mary, Mother of the Church,
the model of every vocation,
help us to say "Yes" to the Lord Who
calls us to cooperate in the divine plan of salvation. Amen.
—Saint John Paul II
Prayer Cards


Since this day is centered around prayer, we want to give prayer cards to parishioners that will move them to pray. On the main table when you walk into St. Cecilia, you will find the Divine Mercy Prayer Card with St. Faustina's prayers for priests and the brochure for the Invisible Monastery which includes the litany that we prayed at the workshop. What would happen if thousands were praying that litany for vocations???


I shared with you about having a Family Holy Hour in the last email, but one of our members came up with a great idea at our last ministry meeting. Sometimes it can be difficult to hold a Holy Hour on a

Sunday

because of other Mass times or because the priest has other commitments. So, we will be holding a Family Holy Hour after the daily Mass on the First

Saturday

of April.

Again, you have heard me say that if a date does not work for one reason or another, don't get stuck on that date. Find one that works. Even though the Family Holy Hour would have been awesome on the actual World Day of Prayer for Vocations, the point is to give your parishioners a time set aside to pray for vocations. If you can do this in May or next August or in 2017, just know that this is a worthwhile activity.
Be assured of my prayers for you and your Vocation Ministry!

God bless you!

Rhonda Gruenewald
Vocation Ministry
Cell 281-352-4005
rhonda@vocationministry.com
www.vocationministry.com

St. Alphonsus Liguori, Pray For Us!
|