Vocations from World Youth Day



Did you hear that almost 3 million young people (mostly 18-30 year olds) attended parts of World Youth Day in Poland? The Catholic faith is strong in our young people! It is no wonder that so many priests and sisters say that attending a World Youth Day contributed to their answering the call to the priesthood or religious life when they hear messages like this:

"GOD EXPECTS SOMETHING OF YOU. He comes to shatter our own closures—if you don't give the best of yourself, the world will not change. It is a challenge. Our times do not need any more young people who are couch potatoes, rather our time needs young people with soccer cleats on their feet becoming the starters on... the team. No room for reserves. The world needs you to be protagonists of history. Life is beautiful as long as we want to live it, to leave a mark. Our times require us to defend our dignity and to defend our own future. Jesus casts you towards the horizon, never to the museum."

—Pope Francis, to the teens of World Youth Day at the prayer vigil prior to a candlelight Eucharistic Adoration.
Please pray for the youth as they arrive home into parishes, maybe your parish, that they remain open to the Pope's message and to God's call in their lives.
Each year the National Religious Vocation Conference publishes a vocation guide that is full of information about many different religious orders. Because of the support of their advertisers and sponsors, they give out this 174-page guide FREE!!!

You can read a digital version HERE and then order them HERE. Order enough to stock your church book rack, youth room, and giveaways throughout the year for a variety of events. I love to give a set to the middle school religion teachers at our parish school to use, especially during National Vocation Awareness Week (NVAW).

Keep in mind that it takes 2-6 weeks to deliver, and NVAW is November 6-11 this year.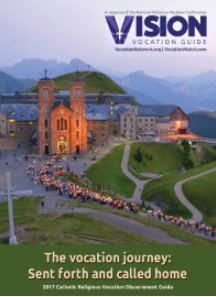 | | | |
| --- | --- | --- |
| The fall is always packed for our parish's Vocation Ministry, with our Fall Festival, Priesthood Sunday (October 30), and National Vocation Awareness Week (November 6-11). If you are a new ministry, try doing one or two activities for each event, and while you are planning, remember that www.vocationministry.com has many resources at your fingertips for these and many more activities! | | |
Don't forget to email me back with your stories of triumph or struggle. I am here to support you in this mission of Building a Culture of Vocations One Parish at a Time!

As always, know that you are in my prayers. If you think of it, please pray for me, too.

God bless you!

Rhonda Gruenewald
Vocation Ministry
Cell: 281-352-4005
rhonda@vocationministry.com
www.vocationministry.com

St. Alphonsus Liguori, Pray For Us!
|