Hail Mary, Mother of Vocations!

In May, we celebrate our Blessed Mother, so please make sure to keep her at the heart of your ministry through consecration and intercessory prayers.

It is also the time when the Church ordains new priests and deacons in every diocese, so find out the details of your diocese's ordinations and let your parish know with a message in the bulletin. Encourage families to witness young and joyful men answering God's call in a profound way! If you have never been to an ordination yourself, make plans to attend. You will be moved by the experience!
My EWTN Adventure
My experience at EWTN was incredible!

I was able to visit the Shrine of the Most Blessed Sacrament in Hanceville, Alabama, and meet Fr. Mark Mary from Life on the Rock and others who make EWTN happen each day!

It was not lost on me that I was there just after Mother Angelica passed away, may she rest in peace. I felt her presence! Also, many of your contacted me after my appearance on EWTN Live with Fr. Mitch Pacwa, and I am so grateful for your prayers and affirmation! If you have not had a chance to see the show, you can click here to watch it on YouTube.


A Victory in Illinois!
I have a success story to share with you.

As we in the vocation world know, last month we celebrated the World Day of Prayer for Vocations! I met John Matyasik, President of the Serra Club of DuPage County in the Diocese of Joliet, Illinois, when I held a workshop there in February.

Even though he was Serra Club president, he was inspired to start a Vocation Ministry at his own home parish. He reached out to me with pictures of his parish's display for World Day or Prayer for Vocations, and I was blown away. He said, "Our Parish Vocation Ministry is a seed you helped me plant." God bless you, John and all those who are working to bring parishioners to prayer for vocations!

Honor Your New Priests!
Since it is ordination time, if you have a young man from your parish who will be ordained this year, I hope you will have a reception for him to thank him for his "YES!"

A home church normally offers what is called First Mass, which is one of the newly ordained priest's initial times to celebrate the Holy Mass. After that Mass, a reception provides time for parishioners to receive a First Blessing from the priest. The event allows parishioners to see first-hand the joy of an ordination to the priesthood.

See some pictures of an ordination reception under affirmation on the Vocation Ministry website by clicking here.

A Great Opportunity for Affirmation

World Priest Day is June 3, 2016, which appropriately is the Feast Day of the Sacred Heart of Jesus!

This is a day of prayer for our priests, so think of ways that you can first pray for your parish priests as a ministry, as a parish, or as a parish school.

What if you emailed each major organization in your parish, asking them to pray in a special way for your pastor on June 3rd? What if you organized a time for parishioners to pray a rosary for priests? You can print one out by clicking here.

You can also purchase this

Rosary for Vocations brochure

from Vianney Vocations.

It contains meditations on the vocation to holiness we all share, on marriage, the diaconate, religious life, and the priesthood.
Don't forget to tell your priest you are praying for him. You never know what he is going through, sacrificing out of love for his parishioners.


You may also want to send him a
greeting card for priests
, along with any other priests in your life!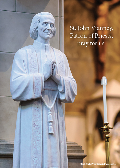 As always, know that you are in my prayers. If you think of it, please pray for me, too.

God bless you!

Rhonda Gruenewald
Vocation Ministry
Cell 281-352-4005
rhonda@vocationministry.com
www.vocationministry.com

St. Alphonsus Liguori, Pray For Us!
|