Most of you know that my family and I live in Houston, and I wanted to let you know that we are fine. My entire family was high and dry. Praise God.

Unfortunately, many from my parish St. Cecilia did not fare as well, as they boated or waded through water to see their houses with 3, 5, or 10 feet of water inside. As you have seen in the news, Houstonians help each other in their time of need. We will come out of this much stronger and with more faith in God and respect for each other. One of the most amazing stories involved a heroic Catholic priest Fr. David! Watch the video, and please say a prayer for all those affected by Hurricanes Harvey and Irma.

This is the busy season in vocation work with International Buy Your Priest a Beer Day, Priesthood Sunday, and National Vocation Awareness Week. Let's look at each one of these days!
International Buy Your Priest a Beer Day: September 9th

I know this date has already past, but I wanted to share with you that the organizers of this day have changed the moving date to a fixed date of September 9th. So, mark your calendars for next year. Did you buy your priest a beer? Of course, getting to know your priest over a beer does not have to be only on September 9th; you can do this anytime of the year. Someone pointed out that some priests do not drink beer. If that is the case, feel free to bake him cookies, take him for a hamburger, and get to know him better. Many priests tell me that they experience loneliness, and I would ask all of you to make sure your priest feels loved! He should be treated as a part of your family.
Priesthood Sunday (AKA Second Father's Day!): October 29th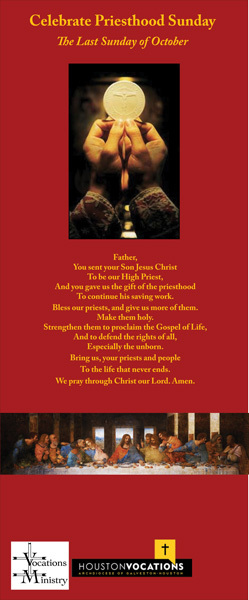 Along with the ideas on pages 194-195 of Hundredfold: A Guide to Parish Vocation Ministry, here are some ideas on what your ministry and parish can do for this celebratory day:
Encourage parishioners to pray for your priest
Coordinate a parish pot luck dinner to celebrate "Father's Day"
Coordinate a coffee cake reception following Masses
Offer an essay, poster, or poetry contest on this or similar topic: "Why Fr. _____ is so amazing!"
Include the Priesthood Sunday banner (you can download a printable version by clicking the image to the right) in front of church
Include a biography of your priest in the bulletin
Bulletin Blurbs
Example
Please join the Vocation Ministry today Priesthood Sunday in praying for our priests, praising God for their courage and their generosity. Also, please take a moment after Mass to go to the adoration chapel and fill out a

spiritual bouquet

, which is an offering of prayer for one or both of our priests. Let us show Fr. A and Fr. B our encouragement and gratitude in thoughts and deeds. God bless our priests!
Announcement before or after Mass
Example
Please join me on this special day Priesthood Sunday in praying for our priests, in praising God for their courage and their generosity. Along with prayer, the Vocation Ministry invites you to take a moment after Mass to write a note of appreciation to one or all of our priests. Let Fr. J, Fr. C, and Fr. V know something they have done that has impacted you personally to assure him of your loving care and gratitude for his presence in the life of our church community. God bless our priests!
National Vocation Awareness Week: November 5th-11th
I have exciting news for all of you! There is a new website dedicated to this special week that puts together many resources for this week in one place: https://www.vocationawarenessweek.com. So, now you have www.vocationministry.com and this new website to make this week even better than last year.

Remember, this day is all about bringing awareness to vocations in any way possible. If you are having guest speakers, make sure they are invited soon. Be creative! if you don't have ready access to a seminarian or religious sister, speak with your Diocesan Vocation to see if he has a recommendation. If no one is close by, skype them in. The interaction between seminarians, priests, sisters, and brothers cannot be underestimated! I will go into more depth for NVAW next month, so be looking for that email.
Where are Rhonda and Leticia heading this fall??? Praise Him, quite a few places! Invite those you know in these dioceses to come and learn how to create a culture of vocations at their parish.
Diocese of Owensboro, KY
September 22, 2017—Vocare Night
September 23, 2017—parishioner workshop
Diocese of Spokane, WA
September 22, 2017—Know, Love, and Serve Conference—Leticia Ramirez
Diocese of Amarillo, TX
October 14, 2017—Parishioner workshop
Diocese of Rockford, Illinois
October 21, 2017—Parishioner workshop
Diocese of Burlington, VT
November 4, 2017—Parishioner Workshop
Diocese of Lubbock, TX (2nd time in Lubbock)
December 2, 2017—Parishioner workshop
Don't forget to email me back with your stories of triumph or struggle. If you have questions, know that I am here to support you in this mission of Building a Culture of Vocations One Parish at a Time! Email me!

As always, know that you are in my prayers. If you think of it, please pray for me, too.

God bless you!

Rhonda Gruenewald
Vocation Ministry
Cell: 281-352-4005
rhonda@vocationministry.com
www.vocationministry.com

St. Alphonsus Liguori, Pray For Us!
|