DOME DIGEST
June 1st, 2020
Edited by Ben Saxton
In the midst of all the covid confusion, we at the Volleydome facilities wanted to reach out to all of our programs and update you all on what's happening beneath the bubble. So say hello to the first edition of our monthly newletter, The Dome Digest (name pending).
To all the Athletes, Coaches, and Parents who've been letting us know that they miss putting their feet on any of our sand, hardwood, or Taraflex courts, we want you to know that we miss you too!
In this first edition, we'll let you know what we've been up to, what changes we're making and how we hope to get people back to activity as safely as we can, in compliance with Covid safety protocols.
There are unfortunately many questions that are still hard to answer right now, because of how quickly the government response changes from day to day. We're doing our best to come up with appropriate strategies of our own, in accordance with these constant alterations.
Thanks for your patience over the course of this pandemic. If there's something more you'd like to see in our July issue, please don't hesitate to contact us at info@volleydome.net to let us know.
Hi All,
26 years ago we started the Volleydome on a wing and a prayer and with the stated goal of building the game of volleyball in Calgary. Since then we have tried to promote the game to players of all ages and levels of ability with great coaches, consistent programs, and fair prices. One of the main premises of our business has always been to keep the courts as busy as possible with as many players as possible so that the game could be affordable for everyone. 2.5 months ago we had 290 adult league teams coming weekly, plus over 1000 kids in 3 levels of programs playing 2 to 4 times weekly with about 100 coaches helping as either part time workers or volunteers. The sky was the limit and we were negotiating a further expansion.


Two and a half months later, after refunding more than $400,000 for programs we were unable to deliver, we are starting over. I'm getting tired of hearing about social distancing and washing my hands, but doing the right thing has always been part of our philosophy. It was very difficult having to lay off 60 healthy young coaches and deny sports to 1000 healthy kids, but those decisions have been made by the health experts and we are doing what we need to do in a much more limited world (without sport and with limited recreation opportunities). Today we are downsizing, but we are not out.


It is pretty obvious that our model of as many participants on the courts as possible is not going to work for the next year or so (until "the vaccine") so obviously our business model has to change. We will need to promote much smaller groups with little or no contact between players and we will need to control who gets into our building and what they are allowed to do so that we can be part of the solution to Covid-19 and not part of the problem.


With every change there are always some silver linings. Since we shut our doors in the middle of March I have seen all 4 of my own kids commit to keeping the Dome alive and they have been far better at adapting to the new reality than an old fogey like me. The Dome Digest is an example of them communicating their vision of what the new, not for profit business will look like. I feel very confident that the quality of their venture will be very high, even if the quantity takes a big hit during the Covid period.


I have learned many valuable life lessons through my time with sport, but probably chief among them is that "Where there is a will, there is a way". It has been great to hear encouragement from some of you and I know the will remains strong and we will all "dig" in and make it work.
Don and Mylène
We at the Volleydome facilities have always done our best to operate in an enjoyable, sanitary, and ethical environment. Over the past few months, and especially since the province of Alberta released it's Relaunch strategy, we've been working on our own 3 Step plan to reopen our facilities. As much as we would like to bring all of you back all at once, these steps are necessary to help prevent any rapid spread of covid-19. This will provide some layers of protection to our patrons and staff as provincial restrictions are relaxed.
Since the dates for stages 2 and 3 of the Alberta Relaunch are still not fully certain, we can only estimate our own dates for return, but we will be moving ahead with our own Steps as soon as we are given approval to do so.
Keep in mind, these Steps are not set in stone! With how rapidly things change day to day in Alberta, these Steps could happen sooner or later than we are predicting.

Step 1 (June)

June 1st: 4 weeks of regular Zoom movement and fitness coaching for groups/teams, led by Ben Saxton, Camille Saxton, and Randy Popplestone. Priority to Bumpin Beach athletes who have already registered. This program will lead into beach training, when it is deemed safe to allow small group outdoor training.

June 14th: Private bookings for individuals or households (outdoor beach courts) Open during limited hours, online booking and payment required (via info@volleydome.net). Single athletes for $30/hr, or families living at the same address or in the same bubble/cohort $40/hr.

Thursdays from 5:00-9:00PM

Fridays, Saturdays, Sundays from 10:00AM-1:00PM
Step 2 (estimated July/August) - (approximately AB stage 3)
Individual or Small Group Private training sessions (limited numbers, vetted coaches)

Weekly Jr. Canuck Program (limited numbers)

Bumpin Beach Volleyball Program (limited numbers)


Modified Summer Camps (limited numbers & focus on individual skills)

Dome Club coached drop-in (pre registration, limited numbers)


Regular yoga sessions (limited numbers)

Step 3 (Estimated September - November)

Adult Leagues - Beach and 3 vs 3 indoor (Limited Teams)

Modified Dome Club (limited numbers)
Canuck Clinics (limited numbers)
ActiVR (limited numbers)
Alongside our 3 Steps, some new safety protocols will be instilled within our facilities as we return to operations, in compliance with Provincial regulations.

Cleaning will be at an all time high! - all common areas, courts, equipment (balls, posts), washrooms, offices, and garbage/recycling will be frequently cleaned and sanitized.
If you're sick, stay home! - Anyone entering the facilities will need to undergo a temperature check. Those with any symptoms or feelings of sickness will be denied entry or will be asked to return home.
Pre-Payment and Refund Policy - We've always been pretty relaxed about bookings and cancellations, but with all the new limitations on numbers, no indoor building access, and having to take payments online we'll need to be stricter for a while. For the time being all court payments will be taken in advance and will be non-refundable. With advance notice or if a court cancellation is due to whether then we'll do everything we can to reschedule your booking, but won't be able to refund once a booking is confirmed.
Mandatory check-in! - All patrons will go through the front desk and be quickly assigned a court. This will help to facilitate contact tracing, and minimize confusion so that patrons can quickly be distanced from each other across courts.
Wash your hands! - All coaches, athletes, staff, will be required to wash/sanitize their hands before and after every use of the courts. Washing/Sanitizing stations will be made readily available.
Keep a safe distance! - Whenever possible, it will be encouraged that all patrons remain 2m apart from anyone not from their own household/bubble/cohort. Sadly, High 5s will be strongly discouraged.

See our full patron protocols (updated as needed) HERE.
Stay tuned to volleydome.net for a Patron Protocol video outlining the specific procedures for use of the courts during our return to play.


Other things to Note
There will be NO bathroom access during Step 1. Please be sure to take care of business before leaving the house.
There will be NO water fountain use. Please bring your own bottled water to practice.
There will be NO weight room access or access to weight room equipment.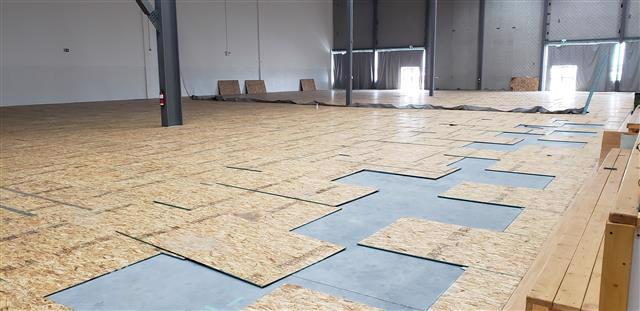 So what happens at our facilities when no one is using the courts? The above image might give you a clue: Renovations galore!
Like most people, we've had a little extra time on our hands, so we took a look in the mirror, found all the little issues that needed improvement, ate a gallon of ice cream, and then got to work.
At the GYM, our Taraflex floors were a little uneven in places, so we rolled it all up, adjusted our underfloor piece by piece, and are now putting things back together. Be prepared for a flat, pancake friendly floor when you come back to the GYM.
At the Dome, Courts 1 and 2 have been removed, and Volleyball Stuff will be relocating. The whole back third of our indoor space is being repurposed. A year ago, the Dome was on it's last legs, and frankly, we're still unsure of how much longer it will be around since we don't know how the city plans to handle it's tenants like us. Because of this, things are still uncertain at this time as to whether or not the indoor portion of the Dome will reopen at all (our July issue will likely share more details on this). In the meantime, we're exploring what we can do with the space, which leaves potential for the return of our indoor beach courts, and the addition of a multipurpose activities room for training/yoga/VR/etc.
Another new development is that Olympian Ben Saxton has returned to his roots, and is now a full-time member of the Volleydome coaching staff. He and superstar sister Camille will be heading up the Dome's new and improved beach programs, starting with our experimental Zoom training sessions (Zoomin' Beach) as soon as the light turns green. Beach programming in Calgary is something we at the Volleydome facilities have wanted to improve upon for a while now, so expect it to be a big part of our future plans.
We're also welcoming yoga instructor Emily Raymond-Saxton to the team starting in July. Trained to teach both kids and adults, Emily will be bringing elements of restoration, relaxation and movement to the Volleydome facilities. Perfect for these times of uncertainty. If you're interested in joining Emily's regular Zoom classes currently being offered by donation on Thursday evenings, send her an email at emilylouiseraymond@gmail.com.
The most major breaking news, Milou and her husband Tom had a healthy baby boy (Ozgood Saxton Richards). A spot of brightness (and future star in the making) in the midst of all the craziness that's gone on in the past few months.
We wish it was all good news, but the closures have been particularly difficult for those of us in the sport business. We've had to reeavaluate our whole model and contemplated all manner of possibilities including permanent facility closures, and things are still not entirely decided.
We'd like very much to open at full capacity, in both locations, but since this won't be the case, and outdoor activities are more viable than indoor ones, the Dome location (2825 24th ave NW) will be opening ONLY it's beach courts with Step 1.
The GYM (293057 James Jones Way) will be back in LIMITED capacity when we are able for Step 2, but dates are still uncertain.
The Dome's long term fate is yet undetermined.
Stay tuned on
www.volleydome.net
for all our future facility and program developments (including a potential new beach location in the near future)
Hey Domers, Dustin here from ActiVR.
As the Volleydome begins its relaunch plan, ActiVR will also plan to make a gradual return. We are very excited about some of the things we have on the horizon - most notably a new competitive VR basketball game: Hoops Madness!
Of course, it will be awhile before any of this happens. VR is low on the list of reopening priorities, both for Alberta and the Volleydome. Right now we have no certain timeline for reopening, but when we do return, we will be returning with new policies and special UV equipment to properly disinfect our equipment and ensure ActiVR can be used without risking safety.
We hope to see you again sometime soon (but not too soon)!

If you're curious about what ActiVR is, check us out at activr.net
If you've made it this far, thanks for reading the first edition of the Dome Digest. If you've received the newsletter that means you're an important part of our community and we hope to keep you informed and entertained. This will be a monthly newsletter, so if you don't want to receive future issues, you can click the unsubscribe button below.
The Volleydome facilities are made better by all of the people who enjoy them, and we hope you remain interested in playing here. It's a difficult time, and our future remains tied to the decisions of our country's top health experts, but we are looking forward to welcoming you all back through our doors when the time is right.

There's no place like Dome.
| | |