Gallery Exhibiton
Matt West
"Hydrological"
Opens: Saturday March 2, 2019 6-9pm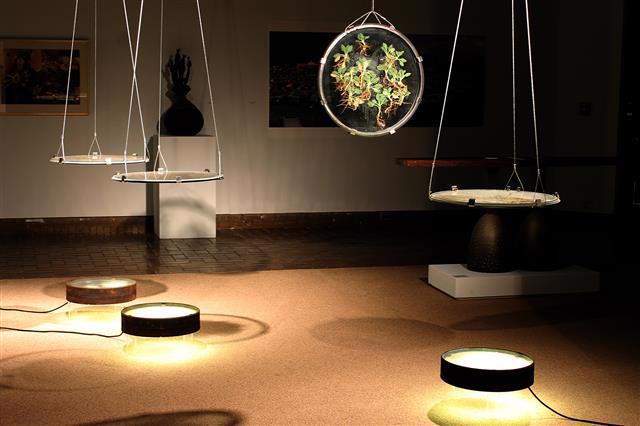 UNCA's Matt West will open a new exhibit, March 2nd at the Flood Fine Arts Center , located at 850 Blue Ridge Road, in Black Mountain, NC from 6pm to 9pm. His show titled, Hydrological is concerned with the intersection of our created environments with our natural surroundings. "With 2018 being our regions wettest year on record," explains West, 'it seemed fitting to show work relating or pertaining to hydrological systems to Flood Gallery. I have always been fascinated by dynamic water, moving to the mountains in 1995 I became involved in fly fishing and kayaking bringing my interest in waters behavior to a more personal and informed level. Since 2000 most of my work has included hydrological principles as the basis for many of my concepts from watersheds
to closed loop mechanical setups. My new work will be inspired by the watershed that both I reside within and the gallery is currently located in; the Swannanoa river, part of the French Broad Basin."
Matt West moved to Asheville in 1995 to attend the University of North Carolina at Asheville where he received his BFA in sculpture. In 2000 moved to the upstate of South Carolina to receive his MFA in sculpture from Clemson University. Following school, he and Joey Manson started Silver Creek Studio in South Carolina where they created work and fabricated large-scale sculptures for NY based artists. In 2010 he moved back to Asheville to take a position at UNCA teaching Sculpture and Ceramics while also serving as the technician for the two areas. Matt is still currently working for the University. Matt has always maintained a passion for the outdoors, pursuing hiking, climbing, and has been an active member of the paddling community for over two decades. Matt and his fiancé Lindsay Bostic live in Swannanoa where they have their studios started a small farm named Talus Slope Farm.
Matt West's exhibit, Hydrological, will open on March 2nd from 6pm to 9pm at the Flood Gallery on Blue Ridge Road and continue through April 13th. Light refreshments will be served the night of the opening. This show is free and open to the public.

Flood Gallery Fine Art Center
850 Blue Ridge Rd
Black Mountain, NC
Open Every Day in Black Mountain, NC from 11am to 6pm
http://www.ashevillecourtyard.com/ • floodgallery.org • 828-273-3332

Writers and Editors Wanted!
The Flood Gallery Fine Art Center educates, challenges and inspires the community through music, film, and contemporary art and writing.

To exhibit or submit writing and art for publication, please go to
http://www.theblackmountainpress.com or http://www.thehalcyone.com