November 18th Concert and Art Auction at the Flood Fine Art Center--5pm to 9pm--Puerto Rico Hurricane Relief

As you are aware, hurricane Maria devastated Puerto Rico, leaving thousands without electricity, food, water, or shelter.
You may not be aware that most parts of Puerto Rico are still without electricity, food, water or shelter. Our government seems to believe that Puerto Ricans are not US citizens and are treating the island as if it were a foreign country.
The people of Puerto Rico need our help to get back on their feet.

To help with this problem we are hosting an auction at:
https://www.charityauctionstoday.com/auctions/puerto-rico-hurricane-relief-art-auction-3261

We have received dozens of donations of art and services, check out the latest:

These donations from Lisa Lichtig and Patrick Hanaway are handmade beadwork and paintings by Huichol artists from Mexico. These beautiful works can be bought for under $25!



Or maybe your house or apartment could use these Phil Kurz painting donated by Cynthia Hatfield. Kurz's paintings and ink/watercolor pieces can be purchased for under $60 and perhaps won by a lower bid! These pieces range in size from 18X22 to 12X15







Or maybe you would prefer an hour long integrative massage by Louise Loveland!

How about cut coins or a handmade bamboo didjeridu or cut coins by Jarrett Leone?




Limited Edition Posada's or a papier mache puppet by Cynthia Potter?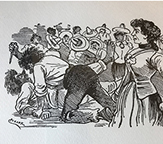 Check it out, there are also card sets for holiday greetings, photos and many other items available for you to enjoy while helping Puerto Rico dig out of almost total destruction. All donations go to hurricane relief in Puerto Rico through the Hispanic Federation's Unidos Fund a non-profit dedicated to helping latino organizations and peoples, and your bids are tax deductible as allowed by the law.


Any item not bought by 5pm on November 18th will be placed in the gallery for a silent auction during the benefit event!



Flood Gallery Fine Art Center
2160 US Hwy 70
Swannanoa, NC 28778.


http://

www.ashevillecourtyard.com/ • floodgallery.org • 828-273-3332
The Flood Gallery Fine Art Center educates, challenges and inspires the community through music, film, and contemporary art.