Gallery Exhibiton
Anything Goes...Everything Shows
12th Annual Mail Art Exhibition
Opens: Saturday Sept 29th 6-9pm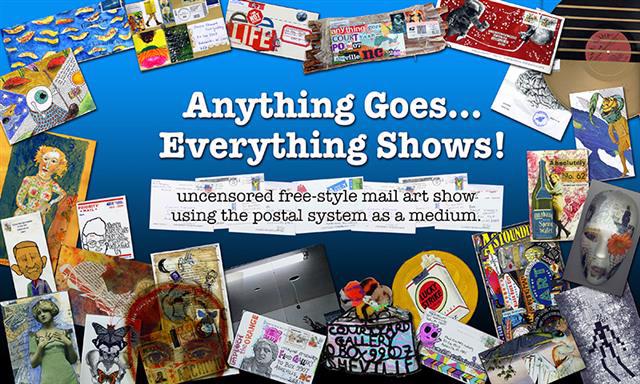 What do shoes, phones, records, bottles, dolls, sculptures, tapes, skeletons, beach balls, cricket cages, and horns all have in common? They can, and have been, all mailed to the Flood Gallery Fine Art Center.

Artists and (non-artists!) still have time to submit non-returnable artwork for the 12th annual Anything Goes, Everything Shows mail art show and all works received by Sept 24th will be exhibited. There is no submission fee. Our mail art show title says it all! ALL submissions will be exhibited in the Flood Gallery main gallery until Oct 20th, 2018. Opening reception is September 29th from 6pm-9pm Artists are encouraged to demonstrate or explore imagery of any kind and mail it in!


Anything Goes—Everything Shows is just that, an uncensored free style mail art show. Mail art is art that uses the postal system as a medium. Mail artists typically exchange ephemera in the form of illustrated letters; zines; rubberstamped, decorated, or illustrated envelopes; artist trading cards; postcards; artistamps; faux postage; mail-interviews; naked mail; friendship books, decos and three-dimensional objects.
An amorphous international mail art network, involving thousands of participants in over 50 countries, evolved between the 1950s and the present. It was influenced by other movements including Dada and Fluxus. The Flood Gallery receives hundreds of submissions from 80 countries and from throughout the US every year



Everything Shows Mail Art Exhibition
Flood Gallery Fine Art Center
850 Blue Ridge Rd
Black Mountain, NC
Open Every Day in Black Mountain, NC from 11am to 6pm
http://www.ashevillecourtyard.com/ • floodgallery.org • 828-273-3332

Writers and Editors Wanted!
The Flood Gallery Fine Art Center educates, challenges and inspires the community through music, film, and contemporary art and writing.

To exhibit or submit writing and art for publication, please go to
http://www.theblackmountainpress.com or http://www.thehalcyone.com

OCTOBER EXHIBITION:

October 27th, Flood Gallery, 850 Blue Ridge Rd, Black Mountain, NC
Main Gallery and the NEW Gateway Gallery (next door)

Saige Hopkins--6pm-9pm Oct 27th in the Main Gallery



DeWayne Barton, BLove--6pm to 9pm in the Gateway Gallery