| | |
| --- | --- |
| The evolution of sport, need for a competitive advantage, and greater education appear to be trumping ignorance and fear of the unknown | |
As you will see from some of the recent comments and videos below, today's athletes and teams turn to sports psychology and mental coaches to gain the decisive competitive advantage, recover from injury, improve confidence, gain better focus, set goals, and use imagery to perform tasks such as perfect placekicking to solid hits.

Your mind is your greatest weapon in sports! Use it or lose it! Enjoy the videos & comments below!
Tracy McGrady - 7 Time NBA All-Star, 2 Time NBA Scoring Leader
"After having micro fracture surgery on my knee, I knew it would be a long road to get my my body back into playing shape. I also knew that to complete my total recovery, I needed to get assistance from a mental coach. Dr. John F. Murray helped me regain my focus after being out of the game for a long period of time. I used Dr. Murray's techniques of positive imagery and felt the benefits immediately. It helped my game tremendously."
Bill Romanowski - 4 Super Bowl Rings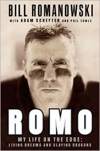 "What I always did is imagine myself being on that field over and over again making big hits, interceptions, sacks, fumbles, and when you do that over and over again, by the time you play the game you already played it 100 times in your head and you're just letting it happen ... so that is what I did, it's what fueled my success, and I wouldn't be here without it. Sports psychology is the new frontier, it's what sets athletes and teams apart, it's the difference between good and great. If you want to be great, you better be focusing on the mental part of it and the imagery part of it and make it happen many times before it actually does!"
--Bill Romanowski, 4-Time Super Bowl Champion (49ers & Broncos) (
See Romo's chat with Dr. John F Murray at Super Bowl XLV
) (
See Romo's YouTube video
)
Don Shula - Winningest NFL Coach

"You've got to continually eliminate errors and take pride in not making mental and physical mistakes. It takes extra work, extra thoughts, and extra practice to get it all done. It just doesn't happen on Sunday. You have to make up your minds to get it done and make up your minds to win."
--Don Shula, in contributing a quote to Dr. Murray's new book from his coaching days. The book is
"The Mental Performance Index: Ranking the Best Teams in Super Bowl History."
Nick Lowery, NFL's Most Accurate Placekicker in History in Early '90s
"I worked with a sports psychologist and it came down to I had to stop worrying about what I can't control .. you can't control anything but preparation, and visualizing and expecting to see any number of different environments so that when they happen I wasn't surprised, I expected it. I prepared for those situations. Absolutely there is room for more sports psychology in pro team sports. You have to have a secure head coach, a secure manager, a secure general manager who look at it as identifying what are the best states for each individual player playing .. what makes them relax and play their best? And that really helps that player. There always will be some that resist it but if you can help 5 or 6 atheltes who put themselves in an intense but relaxed state - look at what happened to the Tampa Bay Devil Rays, they went from last to first in one season."
Nick Lowery, Hall of Fame Field Goal Kicker (
See Nick's chat with Dr. John F. Murray at Super Bowl XLV
).
TO ALL WHO LOVE SPORTS AND THE USE OF SPORTS PSYCHOLOGISTS
I THANK YOU FOR YOUR SUPPORT! LET'S NOT STOP UNTIL THERE IS A SPORTS PSYCHOLOGIST ON THE STAFF OF EVERY MAJOR SPORTS FRANCHISE!