Selling Strong!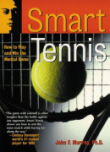 Now 10 years after it was first written, this book smart tennis just keeps right on selling. It was published by Jossey-Bass in 1999 and there are no signs of it slowing down. Sure, the Inner Game of Tennis and Gilbert's Winning Ugly are good books, but no other book really ties in the practical with the science of
sports psychology
like Smart Tennis. Go get a copy today if you don't have one!
Thoughts on Michael Jackson




The death of Michael Jackson is really sad, and the memorial service Tuesday will be one of the biggest ever and for good reason. I think with all the controversy surrounding Jackson after his accusations, we all forgot how amazingly incredible his music was. He just kept producing hit after hit, and he was a mega-force in music that will be remembered on par with Beetoven, Mozart, and the Beatles.

On this 4th of July, let's celebrate the good things about Michael Jackson, and let's keep playing his music. While in Chicago this week I found a station that played his songs 24/7. I had almost forgotten how prolific he was.

I wrote an article about Michael Jackson that I invite you to read called Michael Jackson Fame is Dangerous.


My final thoughts on this tragedy:

Rest in Peace MJ. Stop Taking Drugs To Cope with Stress. Seek Counseling Instead. Stop Glamorizing Our Celebrities Only To Drop Them Down And Watch Them Crumble. We Are Just Human. So Was He.